6 Best Hair Clippers For Edge Ups: Shape Up Tips, Buying Guide And FAQs Included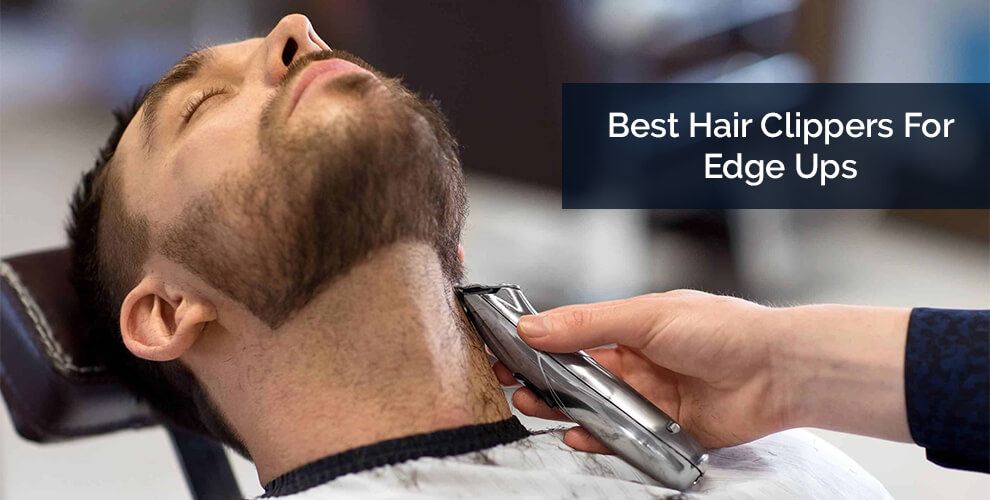 If you just got yourself a new hairstyle, but worried about how to maintain it, you are indeed in for a treat. Guess what? You can style a beautiful hairstyle without spending 100s of dollars every week at a luxury salon. How? Now, you can style your hair just the way you like it without moving out of your home with some of the best edge up clippers. What do you need for it? Well, all you need is to have one of the best hair clippers for edge ups.
Now, the problem is of the overwhelming variety of professional edge up clippers available in the market; how do you pick the best edge up clippers for yourself? Well, fret no more. We understand your worries. This buying guide will discuss some of the good edge up clippers that we found in the market. You can read through the features, pros and cons of each of these professional edge up clippers and then make a pick that best fits your needs and budgets. Hopefully, with our buying guide, you can pick a product that provides you the maximum value for the money you spend.
Table of Contents
6 Best Edge Up Clippers
1. Andis 04710 Professional T-Outliner Beard/Hair Trimmer with T-Blade
Winner For Best Edge Up Clippers
If you wish to get your hands on one of the best edge up trimmers, which is easy on the pocket, and will fit all your needs, then this Andis 04710 is the perfect pick for you. It has a brilliant design, which comes with a high-carbon body and hardened blades. Be assured this trimmer will stand the test of time, regardless of whether you employ it for home or professional use.
The unit's blades are easy to adjust. This makes it easy for the user to get a custom shaving experience every time. We have ranked this trimmer at number 1 in our list of the best professional edge up clippers because, with it, you can get consistency with every shave. It has good quality blades, which enable dry shaving as well.
It is one of the best hair clippers for edge ups, and it works well for beards, mustaches, and neck areas. Thanks to the product's immense versatility, you can get a lot done without having to splurge in multiple clippers.
Please bear in mind; though this is one of the best hair clippers for edge ups it has a thick cord, which adds to the product's extra weight. However, the good thing is the thickness adds to the cord's safety.
We want to conclude by saying that it is one of the best T outliners and a good pick for both professionals and amateurs. However, you must be careful and do not get it very close to the skin. Combining the sharp blades and the reliable motor enables the trimmer to perform a great job consistently. In all prudence, this is one of the best trimmers for edge ups, especially for the barbers who wish to achieve a finishing touch or the individuals who love grooming at styling at home.
Key features
Ideal for fading, dry-shaving, and all-around outlining
Best clippers foe edge ups with professional standard
8-foot heavy-duty cord with hanger loop
Acquainted with close-cutting carbon-steel T-blade, which can be zero-gapped
Contoured casing, which comfortably fits into your hand
Pros

Assures 7200 beats/minute
Great rotary engine
Does not allow block or drag problems.
Can run for up to 100-minutes in battery mode.
Five-year warranty
Comes with four attachments
Carbon steel blades
Competitive pricing
Powerful, quiet motor
Ideal for prolonged usage

Cons

Can feel a bit heavy
May cause redness if put too close to the skin
Could improve the power switch
No guide combs included
2.Wahl Trimmer Bump – Prevent Battery Shaver/Trimmer
Best Trimmers for Edge Ups Budget Buy
Ranked at number two in our best trimmers for edge ups list is a phenomenal clipper by Wahl. For someone new to the world of grooming, this can be one of the best hair clippers for edge ups. To be honest with you, this clipper's features will get your money's worth. Being one of the best edge up trimmers, this one comes with self-sharpening blades, which assure product longevity. Hence, this is a good pick for buyers who do not want to invest in a new clipper every few months.
Being one of the most affordable and good edge up clippers there is, it will get the trimming job done just right. It is a battery-powered trimmer. However, you will have to shop for the disposable batteries separately. This may be a hassle for people who do not like the idea of buying the battery separately. More so, the cost of shopping for batteries may make this product expensive over time.
A prime reason for this being one of the best edge up trimmers is that it comes with a no-snag guarantee. Additionally, its weight is only 9 ounces, and it is very compact. This makes it quite a good pick for those who enjoy traveling.
Overall, the Wahl Bump Prevent is one of the best picks for individuals who seek a low-cost solution to grooming. It is more than perfect for amateurs who are still experimenting with the grooming world.
Key features
You get three years warranty on it
Has three guide combs
It is cordless
Lightweight at only around 9 ounces
Pros

Affordable
Lightweight, perfect for travelers
Comes with a no-snag guarantee
Precision ground blades

Cons

Have to invest in disposable batteries separately
3. Wahl Professional 5-Star Razor Edger #805 – Great for Barbers and Stylists
Best Professional Edge Up Clippers
It is a brilliant product from the 5-star range of Wahl and is a phenomenal addition to the hairstylist or a regular day-to-day user. Because of its excellent build and attention to detail, we have included this at number two in our best trimmers for edge ups list. It is incredibly comfortable and effortless to use.
Though there are many accessories included with Wahl Professional 5-Star Razor Edger, the absence of guide combs may be a deal-breaker for certain users. More so, you do not get a soft pouch with this clipper. You will have to shop for one separately to organize the accessories that you get with this trimmer.
The trimmer comes with an 8-foot chemical-resistant cord. But please bear in mind, this trimmer is valid for use only in the USA since it is limited to 120 Volts. Hence, if you were hoping to take one of the best edge up trimmers with you abroad, this one should be off your list.
It weighs approximately 9.3 ounces and has an ergonomic body design. Its length is about 6.25 inches, which is just perfect for most users. Wahl is famous for the ideal execution of the ergonomic body shape.
One of the things that we do not like about this otherwise, one of the best edge up trimmers is that its blades need regular oiling. Hence, if you desire a more maintenance-free oriented clipper, then you may have to opt for any of the other clippers mentioned in our best edge up trimmers list.
We want to sum it up by stating that the Wahl Professional 8051 is indeed one of the better products from the brand's 5-star range. The only problem that we see with it is that it can be a bit noisy as opposed to the other best edge up trimmers mentioned in the list.
Key features
It has professional precision and delivers sharp performance that experts demand.
Explicitly designed for clean and close trim, facial hair design, and detailing with faster cutting speed.
Compact trimmer, which has an aesthetic appeal, which has a top-notch precision and function.
Great for artwork and lining
Very lightweight and easily fits into the palm for complete control.
All accessories required for professional barber use
Features a rotary motor
Chemical resistant power cord
Operates at 120V/60Hz
Pros

It has a total of eight fittings
You get a cleaning brush with it
Blades are sharp and work very fast
It supports cordless and corded functions
You get multiple adjustment support with it
Competitive pricing
Ergonomic design

Cons

Weight may be a problem
Motor is a bit noisy
May need frequent oiling
4.  Wahl Stainless Steel Lithium Ion+ Beard and Nose Trimmer for Men, Hair Clippers, Detail Shaver – Model 9818
Wahl has always been known for its exceptional range of products, and this one is no different, and that is the reason why this one has found a place in our best trimmers for edge ups list. Reasonably priced, this clipper comes with an excellent variety of accessories, which makes it quite a versatile product. With the different shaving heads and guide combs, you can avail of any cut of your choice.
Due to the exceptional range of accessories that come with it, this Wahl trimmer is indeed your one standalone clipper, which is just the best for personal grooming. It can also be a good addition to a barbershop where you can use it to give your client the finishing touches they desire.
You get four clipper heads with these best edge up trimmers, that is, the detail shaver, T-blade, brow, nose, ear, and detail trimmer. Employing these heads, you can execute the action that you desire.
One of the significant reasons this trimmer has found such a high-ranking in our professional edge up clippers list is its Lithium-Ion battery, which gives you a four-hour runtime. It is indeed awe-inspiring. So, professional barbers have the freedom to serve multiple clients before they have to recharge. The product has a dual 110 and 220 V. This implies that it can be used anywhere worldwide. Hence, this can be the right travel partner for people who like to style and groom themselves while on the go.
If the trimmer battery does run out, you can do a one-minute quick charge and use the clipper again. The clipper has an LED screen, which gives you information about the battery. Its stainless steel body has an excellent feel.
The package of the trimmer comes with a zip-lock case. This makes it easy for you to stack all accessories with ease as you get many of them with this trimmer. So, the case will help you keep them all well-organized.
Key features
Best trimmer for edge ups with self-sharpening blades, which is one of Wahl's patented technology
Offer an ideal cut for all lengths and hair types
Blades will last you long
Assures a quiet performance
Complete grooming system with 4 multipurpose attachments
Dual Voltage
Long-running lithium-ion rechargeable battery
Offers both 110v and international 220 volts.
Good travel partner
For dry use only
Pros

Good range of accessories
Four hours of battery life
Durable construction
Solid body
American manufactured product

Cons

Guide design lacks quality
The on/off button could be better
5.  Philips Norelco Multigroom Series 7000 23 Piece Men's Grooming Kit – MG7750/49
Philips is an incredibly renowned brand globally and is famous for its quality electric shavers and trimmers. This Philips multi groom 7000 is no different, and hence it has rightly found a spot in our best edge up trimmers list. It is a handy trimmer, which can be a suitable replacement for your eyebrow trimmer, nose trimmer, sideburn trimmer, body groom shaver, and, of course, the hair trimmer. Following its release, the product became a rage in the market and is one of the best hair clippers for edge ups in the market.
One of the reasons why we have placed this on our best trimmers for edge ups list is its versatility. It comes with a set of 23 attachments.
Stainless steel handle (1 piece)
Trimmer (1 piece full size)
Precision foil shaver (1 piece)
Precision detail trimmer (1 piece)
Standard metal trimmer (1 piece)
Extra-wide hair trimmer (1 piece)
Nose and ear trimmer (1 piece)
Extra-wide hair guards (6 pieces)
Beard guards (2 pieces)
Stubble guards (2 pieces)
Bodyguards (2 pieces)
Storage bag (1 piece)
Cleaning brush (1 piece)
Power cord (1 piece)
More so, each of these attachments is just good for your body grooming. All the attachments, including the trimmer, are washable. So, you can rinse it under the faucet for easy cleaning.
You can call it one of the best hair clippers for edge ups because of its super-special blades. Philips employs dual cut technology into all of its precision blades. Consequently, the blades are two times sharper than the other good edge up clippers in the market. Further, the blades have a self-sharpening properly and will last you a long time. The durability of the blades is another feature, which will impress you.
The clipper has a long runtime of five hours once you give it a full charge. It has a powerful Lithium-ion rechargeable battery, which is another reason for this being one of the best hair clippers for edge ups. You can easily use this clipper even while it is plugged in.
All the attachments of this clipper are 100% washable. So, you can use water and clean the trimmer. Just place the trimmer under running water, and you can clean it. You will also like the trimmer for its 14 reinforced trimming guards, which will guard your skin against skin irritations. You can easily trim and cut the head hair, beard, body hair, and stubble with the reinforced guards. All of these guards are marked individually.
With the stainless steel blades, you can achieve straight and clean lines, and being one of the best clippers for edge ups, it will help you trim out even the thickest hair thoroughly. The blades of the trimmer self-sharpen themselves, and they do not rust. Along with the trimmer, you get a foil head. It is known as the foil shaver that shaves fast and gives you a smooth and comfortable shave.
At times, getting rid of the ear and nose hair can be quite a daunting task as these areas are inaccessible and very hard to reach. However, with this trimmer, you can get rid of all the unwanted hair in your ears, nose without causing any cuts or irritations.
If you seek a compact, comfortable, and good-quality trimmer for personal use, this can be one of the best edge up trimmers for you. The trimmer comes with a pouch that you can use to stack and organize the 23 attachments that come with this trimmer.
Key features
Short charge time of only 1 hour and the battery gives 5 hours of runtime.
Very sharp blades that give you a close cut.
Easy to go over spots without having to repeat.
Attachments including, the foil shaver, are great for trimming edges.
Lightweight
Pros

Incredibly versatile
Has dual cut technology, which assures superior accuracy
Comes packed with 23 different attachments
Its cut guards offer additional security while shaving or hair styling

Cons

Does have abundant head attachments for beard grooming
Carrying back could be of better quality
6. OSTER Fast Feed Adjustable Pivot Motor Clipper 76023-510
Best Clippers For Edge Ups Medium Budget
Last on our best edge up clippers list is this medium-budget hair clipper by Oster. It is a lightweight clipper and weighs only 1 lb. Given its output, it is just the perfect weight. This makes it one of the ideal professional edge up clippers. The clipper has well stuck to the basics product line – classic burgundy color, which is more on the darker side and a distinctive vintage look. The cord is of super quality and is very solid.
You get three combs with it – 1/4″, 3/8″, and 1/2″. Besides, there is a bending comb, which is nifty for fading action. More so, you certainly get the usual maintenance kit with it, which comprises the little tube of clipper oil, blade guard, and the cleaning brush.
It is one of the best edge up clippers because it offers a very comfortable and smooth grip and is famous for its material quality. It is quiet and doesn't heat up. These are some other major reasons for its inclusion in our best edge up clippers list.
As it is an adjustable blade clipper, you can employ a side lever to control the Fast Feed blades' cutting length. More so, it has stainless steel, carbonized blade, which gets sharper, and will last you a long time. Its black level on the side will come in handy when you have to change the cutting length. There is also adequate space between the clippers' teeth, making it easy for you to cut through thick and coarse hair. In all honesty, it is the blade quality, which is the prime reason for the blade's inclusion in our best clippers for edge ups list.
There is no question about its versatility either. It is both cool and quiet, making it one of the best edge up clippers for personal use and professionals. However, you should also know that these best clippers for edge ups should not be your pick for bulk cutting.
As already mentioned, you get a few hair clipper guards along with it, which adds to this trimmer's greatness, which is undoubtedly one of the best trimmers for edge ups. Also, please bear in mind people who need to achieve the slick bald looks will not like it as much.
Overall, for a casual user who likes to achieve semi-pro territory, this can be one of the best hair clippers for edge ups. It is quiet, ergonomic, and will help you achieve the buzzcut, how you like it. If you are a professional just starting in the field, this can be one of the best edge up clippers for you.
Key features
Comes packed with Blade Guard, Lubricating Oil & Cleaning Brush
Has four guide combs – Blending, 1/4", 3/8", 1/2", 8 Ft Power Cord
Ergonomic Design For All Day Cutting
Cuts both dry and wet hair
Powerful, Whisper Quiet Pivot Motor
Textured Housing Provides Easy Grip
Steel Blade Adjusts Between Size 000 and 1
Pros

Phenomenal value for its budget price
Stays cool and quiet
Quality carbonized stainless steel blades
Easy to use
Great ergonomics
Solid cord

Cons

Not the best for bulk cutting
Guards are not the best
On and off switch are clumsy
You cannot use it as a balding clipper
Buying Guide To Help You Buy The Best Edge Up Clippers
You need to take a bunch of things into account when shopping for the best edge up clippers for personal or professional use. Here, we will list down a few factors of consideration that will make shopping for the best clippers for edge ups easy and straightforward. Let us address these factors one by one.
The Brand
When you shop for one of the best edge up clippers, the brand and product's functionality play a key role. A typical thought process revolves around this – a better brand = higher or better features. Also, one may select a brand which resonates the best with their personality.
But it is not always necessary that to have the best edge up clippers, you have to burn a hole in your pocket. You may have seen in our best clippers for edge ups list that there are several good edge up clippers from the top brands, which are very decently priced. So, just make a pick from your favorite brand.
Powerful Motor
When you desire one of the best edge up trimmers, it is imperative to consider this factor. Ideally, the clipper that you pick must have a motor that delivers consistent power through and through. This will simplify the challenging and strenuous task of trimming. Further, another identification for all the good edge up clippers is its quiet motor. The motor must be quiet so that the operator does not have to deal with loud noises when trimming the hair. A magnetic motor must be the type that you pick as it will yield consistent results over time.
Versatility
If you need to bring home one of the best edge up clippers, you should only invest in a clipper, which is versatile. It is the reason why all the best edge up trimmers that we have included in this list focus on more than one area. In general, the trimmer that you pick should work on tough spots, such as around the ears, sideburns, the beard, and the nape of the neck. When you choose a versatile trimmer, you will not have to splurge in multiple trimmers, and having one of the best edge up clippers will cater to your complete grooming needs.
Wired or Wireless
Another aspect that you need to consider is whether the trimmer is wireless or wired. See, this mostly depends on individual preferences. So, if you desire to have a wireless clipper's flexibility, you should pick one of the best edge up clippers that is battery-powered. We recommend picking one that allows both wired and wireless formats to enjoy prolonged usage even when the battery runs out.
Quality Blades
When you shop for professional edge up clippers, it is vital to look for the blade quality. The blades' quality determines the ability to achieve a well-defined look every time, along with the ease of trimming. If you want a top-notch product, which does not disappoint, then we would say one of the best edge up trimmers is the one that has stainless steel blades. These blades can last you a long time. More so, the self-sharpening blades are another highly desirable feature. It ensures that the useable life of the blades is significantly long.
Body Design
The edge up clippers are available in a myriad of different body types, and picking one you are the most comfortable with is vital. Hence, the body design is another factor to consider when shopping for one of the best edge up clippers.
We recommend that you thoroughly look at all the designs of the best clippers for edge ups. It will give you better clarity on how the different best edge up clippers feel in your hand. A few of the good edge up clippers will have smaller body types, while some even have a larger size. It all comes down to picking a trimmer, which you are most comfortable with.
Budget and The Price
Lastly, when you select from our list of the best clippers for edge ups, be aware of your budget, and it is best to stick to it. There are many good edge up clippers, which you can get at a pocket-friendly rates. See, the hype is transient. So, opt for quality that comes in a budget.
Tips To Use The Best Edge Up Clippers The Right Way
To achieve a perfect edge up with the best clippers for edge ups, you need a lot of dedication and an excellent deal of practice. Here are a few things that can help you get better.
Begin after clearing or cutting
Once you finish trimming, you can commence the detailing. Do ensure that there is no excess unwanted hair around the lining areas of your client. It also holds for products such as pomades or fats. Everything must be shiny and clean.
Be careful with the pressure
The blades can be quite sharp. So, do not exert a lot of pressure, as you may put your client's or your skin at risk of irritation or red spots.
Select a starting point
While some people like to start on the sides, many start in the middle of the hairline. Usually, hairdressers believe that the center is the ideal place to begin. When you start, the edger trimmer or the hairline must be horizontally placed in the hairline. Now, when you head to the sides, make vertical movements.
Best Clippers For Edge Ups: FAQs
Ques 1. What are the best barber edgers?
Ans. If barbers seek the best edge up trimmers, we recommend the Wahl Professional 5-Star Razor Edger #805.
Ques 2. How can I edge my hair at home with the best trimmers for edge ups?
Ans. Follow the steps below to edge the hair yourself.
Step 1 – Start with trimmed hair.
Before you begin to edge up, you need to consider the hair length. You cannot edge up the hairline without trimming the hair. So, trim the neckline and the sideburns before you pull out the edge up a clipper.
Step 2 – Gather all the tools and supplies.
Of course, the clipper is the most vital tool here, but you need some additional tools. While trimming, always have a comb in your pocket. You will need it to smooth the hair for extra precision.
Step 3 – Visualize the edge.
Before starting, give a good look in the mirror, and decide where you want the edge. You can even use some photos for your reference, but do not depend on them entirely. The line on your head has a pivotal role to play here.
Step 4 – Start from the left and go towards the right or vice versa
The order you follow is not very important, but you should select it beforehand and follow it accordingly. Having your edge up clipper handy, you start on one corner of your head and progress downwards, making quick cuts onto the sideburns and hairline. With every swipe, you have to take a little off. Always be patient, and know that in this, the less is always more. Further, before you go back to take more hair off, go around working on the whole line.
Step 5 – Look into the mirror.
Once you are done, stand straight in front of the mirror, and go over the line. Twist your head from one side to the next, and take a good look at all the angles. The aim here is to achieve symmetry.
Step 6: Use some liquid razor
The liquid razor will allow you to keep the hair stiff and closer to the scalp. This will help you see all the small hair that needs to be chopped off. Further, apply the gel to the hairline. Use only a little, and see your hair in the bathroom light to note any asymmetry.
Step 7: Wash it off
The clippers cannot pick the stubble enveloping the hairline. In only a few days, it will grow, and you will be able to see it. On shaving with the razor, you will nip them off in the bud. So, apply the downward stripes as in your clippers, and go around the hairline with your razor one more done. Once done, wash all the accessories.
Ques 3. Why is my shape-up clipper pulling my hair?
Ans. The clipper blades pull up the hair if you have not been maintaining them for a while. Even though they may not get rusty, but they do oxidize and get hoarser. Thus, you can apply some maintenance oil and fix them. Here are some of the best clipper oils you can choose from.
Ques 4. How often should I clean my clipper?
Ans. Well, you must clean the clipper after every use. However, if you have not used it in a while, you must still perform daily maintenance to keep it in good condition.
Ques 5. My clipper is heating up. What should I do?
Ans. Usually, even the best outliner clippers that have a super-high SPM rating get hot fast. In this, you must pace the cuts and prevent overheating by pulling on the trigger continually.
Related Read: Trimmer Vs Clipper Comparison
Conclusion
Edge up clippers are indeed a phenomenal pick and are an excellent addition for people who seek hair maintenance equipment. You can employ this tool to serve you abundant different purposes – to get the perfect beard, hairline, or even do some styling and grooming. Regardless of your expectations, picking one of the best edge up clippers from the above list will surely come in handy.
To help you make an informed choice, we have complied with the list of some of the best edge up clippers. These are all reliable items with good reviews and ratings and have desirable features. In this list, we have also tried to include products from different price ranges to help you pick one that offers you what you need in your budget. So, go ahead, make your pick, and ace your shaving game.