Short Bob Haircuts For Women Trending This Year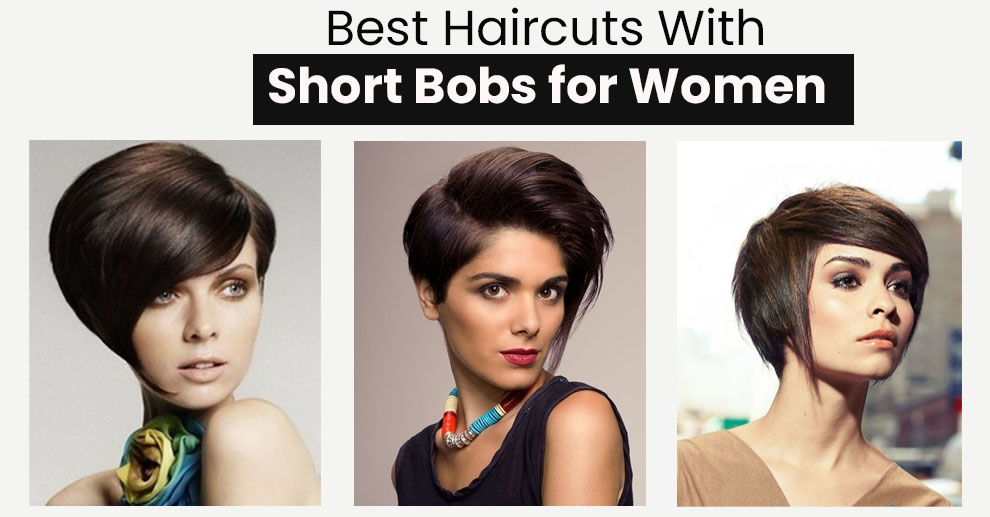 In hairstyles, trends come and go, but a female short bob haircut that sits above the shoulders and is cut between the ear is timeless. Some people find ladies short bob hairstyles intimidating, but we do not think they can ever stop being in vogue.
There are several kinds of short bob cuts for ladies, and when you opt for a short haircut, you have lesser hair to deal with on an everyday basis, and it puts all the attention on your face.
Jump To
In addition, given the variety of short bob haircuts for women, you can find one tailored for your personality. So, whether you wish to be the experimenting and innovating trendsetter, the girl next door, or the bold and sassy biker girl, you can find a suitable bob cut This guide will discuss some of the loved short bobs for women.
What Face Shape Suits A Bob?
There is a vast variety in bob cuts. Here, we will give some bob haircut suggestions for different face shapes:
1. Heart shape – A longer bob with some weight at the jawline can be suitable.

2. Round shape – A squared bob that ends right below the chin works best.

3. Oval shape – Oval shapes are one of the best short bob haircuts for women. You can try any bob cut and style it with layers, bangs, curls, and angles. It is perfect for an oval face shape.

4. Square shape – You can go with a bob cut that ends below or above the jawline.

Related: How to ask for a haircut? How to take care of your hair?

How Do I Know If A Bob Will Suit Me?
There is a fool-proof way to check if the female short bob haircut is for you and by what length you can chop your hair. It is called the 2.25 rule. It is a straightforward method, and you can try it on yourself from the comfort of your home without needing to go to a stylist. It will help decide the best short bob haircuts for women.
Take a ruler and a pencil, and work to find out which ladies short bob hairstyles & length suits your face shape.

Take the pencil and horizontally place it under the chin, in a straight line with the shoulders.
Now, take the ruler, and hold it vertically under the ear.
Note where the ruler and the pencil intersect.
So, as per the 2.25 rule, if the measure at the intersection point is lower than 2.25 inches, it implies short bobs for women will work well for you. But, if the measurement is over 2.25 inches, you can rather skip the short bob and see a hairstyle for the long hair.
After deducing whether the short haircuts are for you or not, you can head to the stylist, and they can help you decide what hair length will work best for your face shape.
Does A Bob Make You Look Fatter?
When it comes to short bob haircuts for women, there is a prevalent notion that it can make your face look fatter. However, that is not true. A few options you can try are:

1. Asymmetrical bob: where hair is longer in the front and shorter at the back

2. Updo with flyaways:Even if you have short hair, you can tie them to the top with some hair flipping on the sides for a softer, thinner look.

3. Highlights: They make you look younger and softer. Keep the darker highlights at the bottom and the lighter hue at the top.

4. Wispy bangs: Compared to blunt or heavy bangs, wispy bangs can make your face look slimmer.

5. Face-framing layers: Bob and face-framing layers can add length to the face.

6. Side parting: Regardless of your hairstyle, the side parting softens the face. It creates an off-center effect and makes your face look less round. You can team it with an asymmetrical bob or long layers for a further thinning effect.

The texture is one of the best styles to make your face look thinner.
Vertical updo adds length to the face and makes it look thinner.
Curly hair: Adding waves or spirals is another way to slim down the face. Always opt for beachy, voluminous, and lose curls.
Best Short Bob Haircuts for Women
1. Angled bob with layers
One of the best short bobs for women is the angled bob with layers. With the correct styling, you can dress it up or down by adding beachy waves or curls to make it look more appealing while you are out and about on a night out.
2. Bixie cut
An amalgam of pixie and a bob cut is the bixie cut. It is perfect when someone with a pixie cut wants to grow them out and transition to a bixie. It is a contemporary bob style. You will need maintenance every four to six weeks to maintain the shape.
3. Outgrown bob
It is one of the best ladies short bob hairstyles when they cannot decide whether they want a lob or a bob. Of course, the hair is still short in an outgrown bob, but there's enough hair to pull back as you like. It can be one of the first styles when you want to experiment with short hair.
4. Soft shag
The shaggy bob is a more new-age rendition of the classic cool-girl cut. It can make you look sassy and edgy at the same time.
5. Chocolate and blonde bob
If you are experimenting with some of the short bobs for women, it can be a go-to style. It is safe and ideal if you do not like a hairstyle that demands regular maintenance. You will need a texturizing product to wet the hair for chocolate and blonde bob.
After this, blow-dry the bangs using a round brush and then set the remaining hair with a diffuser to get perfect beachy waves.
6. Curly bob
It is one of the top ladies short bob hairstyles, beautifully adorned by Viola Davis. If you do not have the natural curls, you can sleep with braids or use a curling iron.
7. Blunt wavy bob
Short bobs for women can be attractive. If you like to add some fun and flavor to your bob, you can include some waves. It can add to the glam quotient of the hairstyle.
8. Sharp jaw-length bob
It is one of the  suitable hairstyles for fine to medium hair. It will complement oval and round face shapes.
The blunt ends in the bob will look attractive, but to stay sharp, you need regular trims. You can consider straightening your hair with a flattening iron for improved sharpness.
9. Classic short bob
The inclusion of the word classic with a female short bob haircut only adds to its timelessness. It is one of the most prevalent short bobs for women and comes with chin-length hair with an edgy silhouette at the ends. In appearance, it may seem simple but looks graceful, sophisticated, and attractive.
10. Messy Bob With Curly Bangs and Short Fringe
Do you want to look vibrant and charming when you opt for one of the short bob haircuts for women? Opt for the messy bob with a short fringe and curly bangs. It hugs the facial structure and can look good on anyone. The fringes and bangs only elevate the look further.
11. Pixie bob
It is one of the most popular short bob cuts for ladies. The style is effortlessly chic and is defined by the short hair on the sides and back, followed by longer bangs. But, pixies are versatile, and you can carry them around in different lengths to your liking.
12. Egyptian Bob
It is another one of the top-favorite ladies short bob hairstyles. More fondly known as the Cleopatra cut, the Egyptian Bob highlights the nose, cheekbones, and jawline. A fringe is cut for a neat balance of the facial features.
It is an exotic hairstyle and is perfect for women with a giant forehead, as the fringe can beautifully conceal it. It is not one of the best short bobs for women with a narrow face or an angular jawline.
13. Long-front graduated bob haircut.
The long-front graduated haircut can be one of the top short bob cuts for ladies, unsure about going all the way short. Long-front graduated bob has a shorter back, but the front hair will sit at the shoulders. You can complement it with blonde balayage or intense dark brown.
14. Blunt Baby Doll Bangs Black Hair
A female short bob haircut that can leave you looking mysterious and dazzling. The ends sit around the collarbone and give a flirty look in blunt baby doll style. You team it with the bangs, which are straight and sharp and add to the statement look.
15. Wolf cut
It is one of the more contemporary short bob cuts for ladies, comprising short sides and long hair at the back. Its front is cut at the eyebrow level, and the sides sit over the ears. The back hair beautifully sits on the nape.
16. Funky short bob hair
When someone talks about the short bobs for women, the first thing that hits the mind is simple hairstyles. However, if you want to add a funky feel to it, this cut can be your go-to choice. Adorned proudly by Emma Watson, it is a neat combination with front fringes and only two hair strands on the sides to add to the poppy flavor of the style.
17. Wavy hair with straight bangs
Pulled off by Kelly Rowland, the long, straight bangs look alluring with the cropped waves. It gives them a refined look.
18. Half-up and Half-down bob
It is one of the chicest ladies short bob hairstyles. But, you can amplify its appeal by center parting and pulling the hair back with a comb and brush for a slicked-back feel.
19. Stacked bob haircut
It is an effortless, round cut that suits almost all hair textures. You can carry it with all kinds of outfits.
20. Chin length layered bob.
There is no way you can make an error with the chin-length layered bob. It is easy to maintain and very stylish. You can pair it with a side part to give a lift to the crown. Alternatively, if you want a flatter top, the middle part can be suitable.
21. Shattered angled bob with undercut
This female short bob haircut is exceptionally fashionable. Paired with choppy layers, you get the perfect playful look. It adds a modern vibe to the classic stacked bob.
22. Pushed-back bob braids
It is an effortlessly cool hairstyle suited for black women. It is low-maintenance and in vogue.
23. Glass hair
Glass hair is one of the timeless short bob haircuts for women. In this, your hair has a sheen and razor-sharp edges. The style is perfect for women with sharp cheekbones.
24. Inverted razored bob for short hair
As a short-hair girl, do you want to push all the focus to your eyes? If yes, this is the style for you. However, it is not a simple style to replicate, and you would need a professional to help you.
25. Short French Girl Bob
It is a daring short hairstyle that requires a great stylist to replicate and get the shorter fringe to sit at the correct spot.
Related: Is Nexxus A Good Shampoo? Best Way To Cut Your Own Hair

Ladies Short Bob Hairstyles – FAQs
Ques 1. Do bobs look good with bangs?
Ans. Yes, you can complement the short bob haircuts for women with bangs. You can pick a short bob that works well for your face and add a mix of bangs to achieve that perfect hot look.
Ques 2. Can older women wear a bob haircut?
Ans. Bob haircuts for women are in high demand. Older females find them versatile, low-maintenance, and manageable.
Ques 3. What is a pixie bob haircut?
Ans. A marriage between the bob and the pixie cut is the pixie bob. It is a longer pixie with elements of a bob cut.
Ques 4. What is a French bob?
Ans. It is a blunt, super-short bob teamed with bangs. Typically, it is shorter than the shortest, chin-length bob and is in vogue these days.
Ques 5. What is a Karen bob?
Ans. An A-line cut, inverted bob, or lob is the Karen bob.
Ques 6. What is the difference between a layered bob and a stacked bob?
Ans. A layered bob may have layers on all the sides, but the stacked bob only has the layers at the back.
Ques 7. Name some short bob haircuts for black women?
Ans. Some short bob haircuts for black women are:

Black and Brown Asymmetric Bob
E-Girl Side Highlights Bob
Burgundy Asymmetric Bob
Medium Bob With Side Part
Middle Part Straight Hair Bob
Middle Part Wavy Bob
Blonde Bob
Side Part Natural Hair Bob
Black Wavy Short Hair
Rose Gold and Black Wavy Bob
Dark Green Asymmetric Bob
Pastel Blue Bob
Platinum Blonde Long Straight Bob
Purple Bob
Natural Hair Long Bob
Elegant Short Bob
Ombre Hair Bob
Dark Purple Straight Hair Bob
Straight Pink Bob
Straight Bob with Bangs
Ques 8. What are some of the best short bob haircuts for older women?
Ans. Some short bob for women who are older are:

Blonde Bob with Side-Swept bangs
A Sleek, Layered Bob
Graduated bob
A Blunt Bob
Versatile Lob
Part Pixie, Part Bob
A Rounded Bob
A Classic Bob
Natural Bob
Shoulder-Length Beach Waves
A Blown-Out Layered Bob
A Middle-Part Bob
A Cool Shag
An A-Line Bob
A Bob With Subtle Layers
A Youthful Bob
A Voluminous Bob
A Curly Bob
An Asymmetrical Bob
A Sleek, Slicked Bob
Related: Trending Men's Haircut, Type 3 Curly Hair Male Hairstyles, How long does it take to go bald?