Best Men's Eyebrow Trimmer: Key Features, Prices, Reviews With Buyer's Guide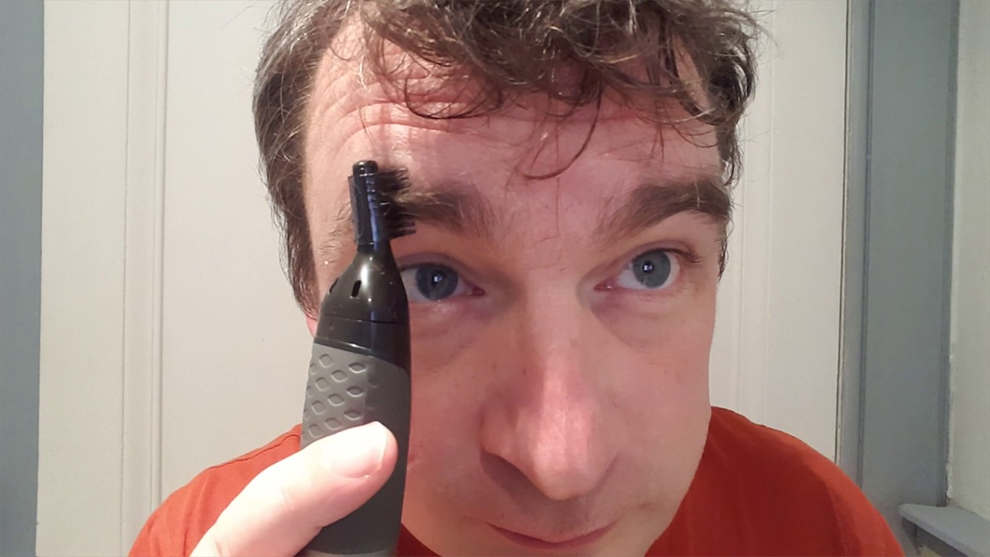 Gone are the days when having well-shaped brows was only a fad amongst women. Today, men are more conscious about their looks, and grooming their eyebrows is an important part of manscaping. And rightly so as no one admires unkempt bushy eyebrows or hair growing out of all places it shouldn't. You may have lived with it for years and tried to accept it, but let's face it, somewhere deep down maybe you too wanted to get it well groomed.
Also, none of the gentlemen would deny that while they tend to lose the hair on their heads quite fast, the hair growth in other unwanted regions such as nose, eyebrows, or ears tends to go into overdrive. Though you have the option to get them plucked, shaved, or waxed, trimming is any day a much easier way to tame your rogue hair.  Not only is using an eyebrow trimmer pain-free but it does not require any professional stylist to rid yourself of unwanted hair and enhance your facial features.
Today, you have an array of options in men's eyebrow trimmers that can easily groom hard to reach areas. Plus, there are different technologies that you can invest in such as cordless models, waterproof eyebrow trimmer for guys, trimmers with in-built vacuum for easier cleaning, etc. If you too are on the lookout for the best men's eyebrow trimmer then you have come to the right place. Not only will we give you a fair review of the top men's eyebrow trimmers available in the market, we will also list down the top features that you should be looking for in an ideal eyebrow trimmer for guys.
Quick Navigation
So, let us begin with the features, pros, and cons of the best 8 men's eyebrow trimmers that you must check out.
Top Picks For Best Men's Eyebrow Trimmer
| Preview | Product | Buy Now |
| --- | --- | --- |
| | Philips Norelco Nose Trimmer Series 3300, Nose and Eyebrows, 2 Eyebrow Combs, NT3355/49 | Check price on Amazon |
| | Wahl 5545-400 Ear, Nose, and Brow 3-in-1 Trimmer | Check price on Amazon |
| | Philips Norelco 5100 Washable Men's Precision Groomer for Nose, Ears, Eyebrows, Neck, and Sideburns | Check price on Amazon |
| | Remington MPT3700 WETech Waterproof Dual Blade Precision Trimmer | Check price on Amazon |
| | Remington NE3250 WETech 100% Waterproof Nose, Ear, & Eyebrow Trimmer with Wash Out System | Check price on Amazon |
| | Wahl 5640-600 Micro Groomsman Personal Trimmer | Check price on Amazon |
| | Panasonic ER-GN30-K Men's Trimmer | Check price on Amazon |
Ultimate Buying Guide For Men's Eyebrow Trimmers
This list of eye brow trimmer for men should considerably cut down the time and effort that you will put in searching for the best men's eyebrow trimmer. However, apart from knowing the most popular brands and their top male eyebrow trimmers, you must also be aware of the features that a trimmer should ideally have. Make a note of the following points before you head out for the purchase.
Trimmer Type – Corded/Battery-Operated/Manual
Motorized male eyebrow trimmers have both corded and battery-operated options available from the top manufacturers. However, the cordless battery operated ones are usually preferred as they do not require a power outlet in the bathroom, they can be used in the shower, and are also easy to carry and use on the go. However, the batteries tend to wear out quickly and need to be replaced frequently. Most of the batteries can last from 40 to 90 minutes.
So, either you can invest in rechargeable batteries or go for the corded designs. Also, if you are ready to compromise on the speed and do not want to be limited by power then you can go for the manual trimmers which are equally good at doing the trick. Also, manual eyebrow trimmers for men are more durable as they do not have any electric component that can break down.
Blade Material
Select an eye brow trimmer for men that guarantee the longevity of its blades. Trimmers come with stainless steel, platinum, or titanium blades. Usually, platinum blades stay sharp for years and also work better for dealing with coarse hair and to give a smooth shave. They are also resistant to corrosion which makes them more durable. However, if you have sensitive skin that is prone to acne, then you should go for male eyebrow trimmers that come with hypoallergenic blades.
Versatility
Though there are different trimmers available for grooming different areas of your body, they are a waste of money. Look for a trimmer that is multipurpose. There are men's eyebrow trimmers that come with different attachments to deal with hair of the nose, ears, sideburns, necklines, as well as pubic area. So even if a model is slightly more priced than the average, it is worth investing if it offers functionality.
Accessories Included
Also, check out the accessories that come with the male eyebrow trimmer. Some of the common accessories that you must look for are a guide comb, a cleaning comb, a soft pouch to carry the trimmer for travel, batteries, and a user manual. Some companies also provide a styling guide to help you achieve the perfectly trimmed beard.
Wet/Dry Function
Going for a waterproof make is any day better than a dry use trimmer. A water-resistant eyebrow trimmer for guys can also be used in the shower which can help you save time for grooming and cleaning yourself up.  Some models only have waterproof heads that can be cleaned by dipping in water. So, choose as per your ease and requirement.
Maintenance
One of the biggest hassles of using trimmers is cleaning them after use. Some models require their blades to be oiled regularly to maintain optimum performance. Some of the eye brow trimmer for men can simply be washed under running water and that's about it. However, some models today also integrate an in-built cleaning mechanism or a vacuum chamber that sucks in all the hair, however, these makes are also expensive. So, go ahead with a model that is maintenance-friendly if you are not very fond of putting elbow-grease to keep your groomers clean.
Hair Type
People with coarser hair should also keep this consideration in mind while selecting a men's eyebrow trimmer. Some trimmers may get caught on your hair and tug it which can be extremely painful. So, check that the blades are durable enough to deal with the thicker hair shafts. Also, if you have fine hair, choose a model that comes with dual trimmers for precision trimming such as the Remington MPT3700.
Warranty Cover
All electrical gadgets are prone to wear off with regular use. So, choose eye brow trimmer for men that come with a long warranty cover. Not only will it give you peace of mind if you decide to go for a high-end model, but the warranty cover offered by the company also reflects the confidence of the brand in its product.
Price
And of course, one feature universal to every product that you buy is its price. Ideally, you can get a good model in the price range of $10 – $20. So set a budget in mind and then compare the specs of the top men's eyebrow trimmers to decide how much you are willing to pay for it. Some features may seem lucrative but they are not worth spending. Remember, a higher price does not always equate to higher quality.
Conclusion
With that, we round up our list of the most popular men's eyebrow trimmers that can help you take your grooming game to the next level. However, one word of advice for using a trimmer is not to go overboard. For instance if you are using it for your nose hair, do not try to go down too deep.
Talking about our final verdict on the best eye brow trimmer for men, while we have listed the top makes from different manufacturers, but one size doesn't fit all. Everyone has different grooming needs with different hair types which require different kinds of trimmers. However, features that everyone looks out for is performance, efficiency, ease of use, and value for money. So, if you ever get stuck between your top two choices, our buying guide should come in handy. Happy grooming!