10 Best Women's Eyebrow Trimmers: Women's Eyebrow Trimmer Reviews, Buying Guide and Trimming Tips Included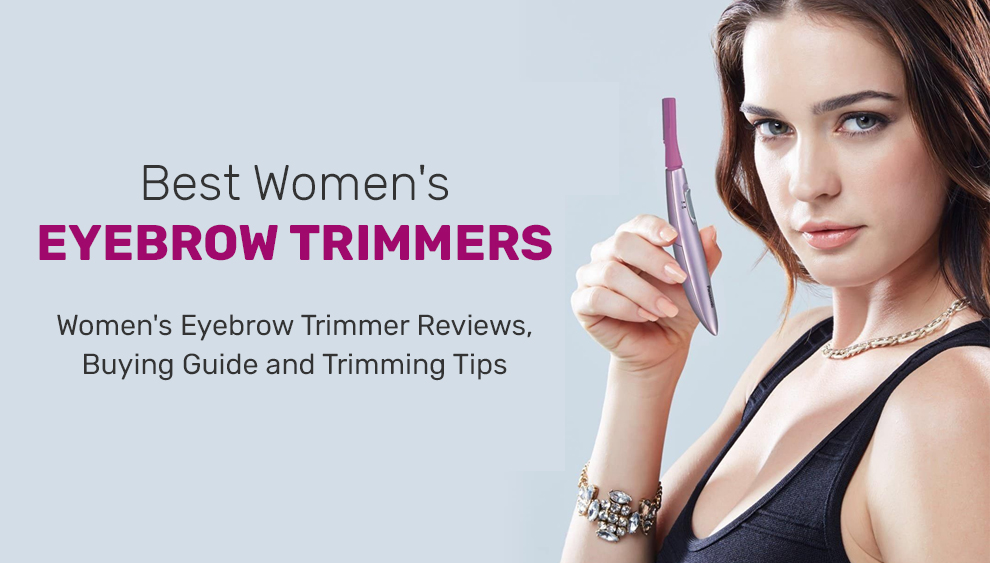 Does it not seem quite impractical for you to run to the salon every time you need to get your brows done? Well, it sure does. So, what is the solution?
Well, shopping for a good eyebrow trimmer is the answer to it all. It is a cost-effective solution which is painless and allows you to have the desired brow shape all by yourself.
Now, the bigger question is, which is the best women's eyebrow trimmer that fits in your budget and gives you the desired results? See, there are many options to choose from, all these trimmers have a set of unique features which makes them worthy enough to be included in the list of best ladies eyebrow trimmers.
However, with the overwhelming variety of trimmers, to help you make an informed choice, we have come up with a list of some of the best women's eyebrow trimmer reviews.
Quickly Navigate Through The Best Eyebrow Trimmers
Let us get started and take a look at these trimmers one by one. Hopefully, with our listed women's eyebrow trimmer reviews, making a choice will be easier for you.
Best Women's Eyebrow Trimmer Reviews
1. Panasonic Eyebrow Trimmer ES2113PC with Pivoting Head – Best Eyebrow Trimmer
Best Eyebrow Trimmer
Do you need the best eyebrow trimmer that isn't bulky and even fits well in your bag? If yes, then this one from Panasonic might be the right pick for you. This trimmer comes with an ultra-thin powerful stainless steel rounded micro blades (0.10mm), which you can rely on for a smooth trim. The blade is hypoallergenic which makes it a 100% safe to be used on sensitive skin.
This AAA battery-operated device weighs around 0.6 ounces and roughly measures 1.1 x 0.7 x 6.1 inches.
Being the best eyebrow trimmer, it gives you a smooth trim everytime. The pivoting head enables you to conveniently move around the areas of your face, chin and neck for a clean look. You also get multiple attachments with this trimmer, such as 2 eyebrow shapers combs, one being 8mm & 6mm and the other set being 4mm & 2mm.
Key features
Sleek & compact design
Smooth pivoting head
Ultra-thin, hypoallergenic blade
Comfortably fits in hand
Does not slip from the hand
Pros

Cordless
Comes with two snap-on grooming attachments
Compact & lightweight
Gentle on all skin type
Comfortably fits in the hand
Causes no irritation even on sensitive skin

Cons

Changing the blades can be a bit tricky
Battery not included in the package
2. Wahl Ear, Nose And Brow Trimmer 5545-400 – Best Eyebrow Trimmer Runners' Up
If you have already done your share of research to find the best eyebrow trimmer, we are quite confident that the name of this brand will not seem new to you.
There are quite a lot of things that we like about this trimmer, and that is why we have included this in our list of best ladies eyebrow trimmers. When we were doing the women's eyebrow trimmer reviews, we were delighted that this trimmer indeed delivers what it promises. Its fine stainless steel blade will painlessly cut every fine piece of the hair and are super easy to clean under running water.
The battery operated 5545 trimmer is indeed one of the most elegantly designed and stylish trimmer on the brand's catalog which measures around 1.5 x 4.65 x 8.89 inches and weighs 4 Ounces. It is suited for both wet/dry use.
This brand is the most preferred one by professional. With Wahl you get self-sharpening blades which give you a precise trim with every use. This trimmer is ideal for eyebrow, necklines, sideburns and comes with a rotary attachment for ear & nose hair too.
You get one specialised attachment for nose hair. Hence, the grooming experience remains totally hygienic. You also a battery with the package to start with your trimming sessions. In addition to this, you get 2-position guide combs for trimming your eyebrows correctly.
The only problem that we experienced with this trimmer is that it is a bit noisy.
Key features
Ideal for eyebrows, nose & ear hair, necklines, and sideburns
Comes with 3 cutting heads
Rotary head for nose & ear hair trimming
Hygienic grooming with separate attachment for nose
Allows both wet and dry usage
Two-position guide combs
Battery operated
Pros

Can be used in shower
Travel-friendly
Easy to clean
Easily detachable heads
Self-sharpening precision blades
Hygienic grooming
Does not cause any hair pulling or tugging

Cons
3. Schick Hydro Silk Perfect Finish Trimmer, 8-in-1 Grooming Kit for Women
Best Multipurpose Pick
The next best eyebrow trimmer on our list is the Schick Hydro Silk Perfect Finish Trimmer. It is a phenomenal trimmer that can help you trim and shape your face, eyebrows, and bikini area effortlessly. This 8-in-1 grooming kit measures 1.5 x 4.13 x 7.87 inches and weighs merely 0.02 Ounces.
As this trimmer is battery powered, waterproof and cordless; it can accompany you while you're travelling. It gives you a quick comfortable shave every time you use it. It comes with one handle and five attachments. Also included in the kit are a cleaning brush, storage pouch and a touch up razor.
The face trimmer you get with this item is ideal for chin, upper lips etc. The eyebrow trimmer & comb let you trim down the brow hair to your preferred length with precise shape with ease. You also get a bikini trimmer & comb with this one for removing unwanted hair from your bikini region smoothly.
Overall, it is an amazing multipurpose pick for both wet and dry use. Just remember to buy it from a trusted seller as there are counterfeits & unhygienic refurbished products doing the rounds in the markets for these.
Key Features
Waterproof
Battery operated
Wet and dry use
Quiet motor
Assures a comfortable and close shave on bikini area
Touch-ups razor included
Leaves smooth skin
Removes fine hair
Pros

Can be used on both wet and dry hair
One handle with multiple attachments
Compact and very easy to use device
Ideal for eyebrow, bikini region
Dual-sided trimmer

Cons

You will require practice to get used to it.
4. Philips Precision Perfect HP6390/51
How can we talk about the best women's eyebrow trimmers, and not include the Philips Precision Perfect HP6390/51?
So, here we have this incredible battery-operated trimmer (battery included) which is just 0.75 x 0.75 x 5.5 inches in measurement and 1.76 Ounces in weight. It is so compact that it fits right into your purse or even a hand clutch making it your best bet for travelling.
The trimmer comes in handy for both shaping and trimming your brows. You get 2 eyebrow shaping combs to decide upon your preferred length for trimming. There is another attachment you get for precisely shaping your brows too. You get a cleaning brush to keep your trimmer free of dirt.
Key features
Remove the unwanted facial hair gently
Ideal for trimming and shaping hair (attachments for both included)
Battery powered
Compact and discrete design to fit in a clutch or purse
Safe to use on lips, eyebrows, chin and entire face
Comes with a travel cap and cleaning brush
Pros

Precise trimming design
Travel-friendly
Easy to use

Cons

Needs new batteries frequently
Does not have trimmer attachment for bikini region
5. Conair Satiny Smooth Ladies Lithium Ion Precision Trimmer, Purple
The next trimmer on our list is the Conair Satiny Smooth Trimmer. It is indeed one of the best ladies eyebrow trimmer in a pretty purple finish. It is again a battery-operated device with stainless steel blade. It measures around 1.38 x 3.5 x 7.88 inches and weighs approx. 2.82 Ounces. It isn't as lightweight as its many counterparts.
The reason why it gets a place in the best eyebrow trimmers list is that you will get a trimmer so powerful with this product, that it is sufficient for your all-round shaving needs for face, body, and bikini area.
For the ease of eyebrow trimming, you get 2 eyebrow combs with the trimmer and a separate nose & ear attachment. You can also use this trimmer for the bikini line or getting rid of the unwanted hair from rest of your body painlessly, quickly, and discreetly.
Key features
Lithium-Ion battery operated
For dry trimming only
Includes wide blade for full body grooming
Suitable for face, body, and bikini area
2 eyebrow combs
Separate ear attachment
Pros

Comes with two eyebrow combs and a nose or ear attachment
Cordless

Cons
6. Veet Sensitive Precision Electric Hair Trimmer – Best Eyebrow Trimmer (Budget Pick)
Best Budget Pick
Ease of use and precision are two most important factors when selecting the best women's eyebrow trimmer. Our next pick stands out in both these criteria.
This is one of the highly rated products on Amazon which is a 3.9 x 1.3 x 7.4 inches big and weighs 5.29 Ounces. It gives such amazing results with each trimming session that one cannot switch to another product once they have used this one. It is economical in price, suitable for sensitive skin and comes with all necessary attachments.
Apart from eyebrow trimming, it is also suitable for underarms and bikini area even under the shower,
The eyebrow shaper combs are available in 2mm and 4 mm lengths. The best part about this trimmer is that the cutting blades attached to this trimmer do not come in direct contact with the skin. Hence, you don't have to worry about nicks and cuts.
Another important feature to mention is the trimmers two-sided adjustable head, which moves around from left to right. This makes it effortless for you to style and shape your eyebrows to perfection.
The trimmer comes with a set of 8 accessories, a cleaning brush, a travel beauty pouch and batteries.
More so, the attachments that come with this best women's eyebrow trimmer are easy to change and maintain.
Key features
Dermatologically tested
Sleek wand design
Comfortable to hold (anti slip body)
Cutting blades do not touch the skin
Suitable for sensitive skin
Good for face, underarms and bikini area
Waterproof
2mm or 4mm comb options available
Pros

Wet/dry shave
Multipurpose
Budget friendly
Does not cause skin cuts
2mm or 4mm eyebrow comb
Easy to clean
Quick touch-ups every time
Two-sided adjustable head

Cons
7. Best Splurge: Sharper Image All-in-One Trim System
This stylish Conair trimmer is another deserving candidate in our best eyebrow trimmers list. It merely weighs around 0.4Pounds and measures 8.5 x 4.63 x 10 inches.
The first feature to highlight about this rotary head trimmer is its hypoallergenic blades. You get 5 attachments with this trimmer, all suitable for both dry and wet use. The hypoallergenic blades allow you a smooth irritation free shave on your face, bikini area, underarms, legs, hands, etc.
One concern that you may have is that it isn't very economical. So, if you're looking for a budget pick, this isn't the right choice for you.
Key features
All in one trimmer (face, bikini, legs)
Satiny white look
Battery operated
Has five attachment heads
Hypoallergenic blades
Great results without the irritation of shaving and waxing
Travel-friendly
Pros

Nick-free results
Close and comfortable shave

Cons
8. Finishing Touch Lumina Lighted Hair Remover with Pivoting Head
The next best women's eyebrow trimmer is the Finishing Touch Lumina Lighted Hair Remover. It is a compact trimmer 1 x 1 x 5 inches in measurement and 0.35 Ounces in weight.
With this best ladies eyebrow trimmer and its small head attachment you can trim the hard to reach areas with ease. It comes with a AAA battery and 2 comb attachments for shaping & trimming your brows.
It is safe to use on sensitive regions and gives a fine smooth shave with every single use. The added advantage is the light which helps you look at the fine hair carefully and trim.
Key features
Compact
In built light
Pivoting head
Will not make the hair grow back thicker
Cordless operation
Close fine trimming experience
Removes the hair pain free
Pros

Compact design
Top head comes with built-in light
Very easy to handle
Cordless
Suited for sensitive areas
Irritation free trimming

Cons

Not good with thick coarse hair
Does not trim very close to skin
9. Reazeal Rechargeable Eyebrow Hair Remover
When you look at this best ladies' eyebrow trimmer for the first time, you will feel like you are looking at a fountain pen as it is that compact. Measuring around 5.98 x 1.69 x 1.26 inches and weighing 2.89 Ounces, it is a revolutionary product in the personal grooming industry.
It is highly portable and compact and fits in well even in the tiny pockets of your jeans. This is a rechargeable device so you don't have to worry about buying new batteries every now and then. It is specialized for eyebrow and upper lip trimming. This trimmer is easy to operate. All you have to do is hold your skin tight and run the trimmer over it in circular motion.
However, it does give you a very clean look. Also, if not used in the right circular motion, it can end up picking your skin causing irritation.
There are so many products with similar design but not all of them are good. We have attached the link to this particular piece. Do read the reviews well if you're buying it from any other e commerce platform other than Amazon.
Key features
Precision hair removal tip
Ideal for brows & upper lip
USB-Rechargeable Eyebrow Remover
Built-in Ni-Cd AAA battery
Portable
Compact
Pros

Small and compact
Painless
Easy to carry
Gentle on skin

Cons

Overheating
Not very durable
You might have to go over an area a couple of times
Need some getting used to
10. Philips Satin Compact Women's Precision Trimmer, Instant Hair Removal for Face & Eyebrows, Fine Body Hair, HP6389/00
Last on this list of best ladies eyebrow trimmer is the Philips Satin Compact Precision Trimmer. It is an excellent choice for women seeking a perfect eyebrow trimmer which is both pretty and functional. It measures around 0.98 x 3.23 x 7.17 inches and weighs 2.5 Ounces.This trimmer is cordless & battery powered which runs on a single AAA battery.
Its 1/3" trimmer can be easily used on the sensitive areas such as lips, eyebrows, chin, and forehead. The click-on attachments in these best women's eyebrow trimmers come in handy at all times. You get a click-on comb to trim your eyebrows up to 2-4 mm
Further, for finer hair on other body parts there is also an additional 1-inch trimming head included in the kit. Further, with this trimmer, you get a travel cap and a nifty cleaning brush.
Compared to Philips PrecisionPerfect HP6390/51 this can be used on other body parts with finer hair as well.
Key features
Precise 1/3″ trimmer
1" additional trimmer for other body parts and fine hair
Suitable for lips, chin, cheeks and forehead
Cordless and AAA battery powered
Click-on comb attachments
Pros

Fair price and good quality
Lightweight
Cordless use
Battery-Powered

Cons
Buying Guide – How To Pick The Best Eyebrow Trimmer?
Honestly, we understand that merely reading the women's eyebrow trimmer reviews will not help you decide which amongst the listed trimmers is the best eyebrow trimmer for you. Each trimmer listed above has its own pros and cons, but there are a few things that a good trimmer should certainly have.
Ease of Use
The design of the trimmer should be as such that you can hold it easily in your hands and give your brows the desired shape with ease.
Portability
Another notable feature that the best eyebrow trimmer should have is portability & compact size. It should be easy to carry while travelling and handy to carry in a bag or purse.
Value for money
If one trimmer satisfies all your shaving needs, it is a good investment. Most of the best eyebrow trimmer included in our list double as ear and nose hair removers too. Some even come with bikini trimmers and leg shaver attachment.
Check Out The Trimmer Blades
Look for a trimmer that has self-sharpening low maintenance blades which give you a close shave everytime you use it. If you have sensitive skin, be extra cautious and go for hypoallergenic blades.
Cleaning
A trimmer that comes with a cleaning brush is easier to clean. Moreover, the design also plays an important part in the cleaning process. A complex design will have more hair getting stuck here and there unnecessarily.
Dry/Wet Use
The best eyebrow trimmer will be the one that is waterproof because it is easier to clean. Also, a waterproof trimmer can be used both in shower and otherwise.
Battery Life
It is best to pick a trimmer that is battery operated, yet comes with a rechargeable option. In that way you don't have to worry about running out of battery.
Accessories & Attachments
The greater the number of attachments you get with the trimmer, the more you can do with the trimmer. The different comb lengths allow you to do hassle free trimming for different lengths. Also, if you get a travel pouch with the trimmer, it enables you to store everything at one place conveniently.
Expert's Guide to Shaping and Trimming The Eyebrows
Knowing how to use the eyebrow trimmer is just as crucial as owning the best eyebrow trimmer. Shaping and trimming the brows is quite a challenging task. One small mistake, and all your efforts will go down the drain.
Step 1: Read the instructional manual that comes with your trimmer. Understand how it works.
Step 2: Prepare your skin. Once you have taken a shower or dampen the hair, it gets softer and easy to work upon.
Step 2: Apply a shaving gel or cream, if needed. Although it is not mandatory for eyebrow trimming.
Step 3: Create an outline for the perfect shape.
Step 4: Put in the correct attachment and start with the actual trimming. Keep the skin tight while starting from the inward portion to slowly moving outward. Keep it gentle and light to prevent irritation
Step 5: Finish off with cleaning your face with running water. Pat dry and apply a light moisturizer. Do not rub the area by any means.
Bottom Line
It is imperative to understand that all of us have different trimming needs when maintaining our brows. We hope that with our women's eyebrow trimmer reviews mentioned above, it will be more comfortable for you to find the best eyebrow trimmer for your needs. However, if you think that these trimmer reviews are not enough to help you decide, read through the buying guide again, and then from the choices above, you can 100% make your pick.