Coconut Oil As Aftershave: Coconut Oil Benefits, Precautions, and Tips For Usage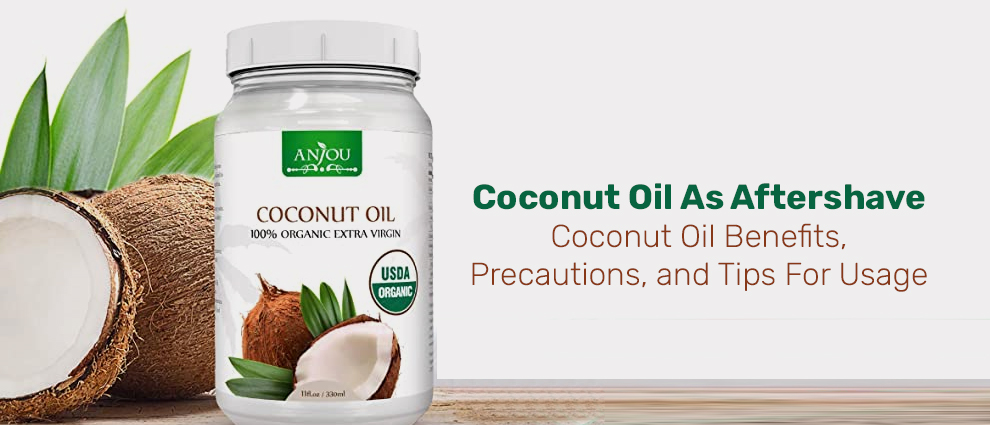 Your shaving routine isn't complete without an aftershave. While there are a number of aftershaves available on the supermarket aisles to choose from, a lot of people now-a-days are replacing their store bought aftershaves with a natural one. If you too are one of them, we have quite the right deal for you. Why not use coconut oil as aftershave?
You can substitute your aftershave with particularly extra-virgin coconut oil which is light in texture and hydrates the skin well without leaving behind a greasy feel.
Now, before we answer the big question – why is coconut oil good for after shaving and how can you use it, let's first understand why is an aftershave at all necessary to use?
Quick Navigation
Is It Necessary To Use Aftershave?
As is clear from the name, aftershave is something you use post shaving. The primary benefits of using an aftershave are the following:
It hydrates the freshly shaven skin
Its astringent properties help shrink the pores
The anti-bacterial nature helps fight the bacteria accumulation in the skin
See, when you shave, you tend to leave behind several tiny cuts & bumps. The exposed skin and pores often tend to get bacteria & dirt accumulated in it. The aftershave you use helps you to get rid of this dirt and disinfect your skin.
You may experience a slight tingly sensation when you apply an aftershave. For anyone who has just shaved, an aftershave is mandatory. Regardless of whether you are susceptible to razor burns, bumps, or ingrown hair or not.
Is Coconut Oil A Good Aftershave?
Using coconut oil for after shaving is an excellent choice to make because it offers all the benefits an aftershave has to offer at a lesser cost. In this section, we will address the question – is coconut oil good for after shaving in detail. A simple answer to which is, yes, coconut oil for after shaving is a great pick. It works as a non-irritating, gentle substitute for an aftershave.
Using coconut oil after shaving is a good idea because it has a bunch of properties, which make it right for after shave use. First and foremost using coconut oil as aftershave will leave you with a smoother skin as it comprises of many free fatty acids that are incredibly hydrating. Some of the them are palmitic acid, linoleic acid, and lauric acid.
Several studies have put forth the many benefits of using coconut oil after shaving. However, most of the studies that pertain to the use of after shave coconut oil recommend the use of virgin coconut oil. It is because this type of coconut oil is not chemically altered and is sans any extracts or artificial substances.
Some of the reasons why coconut oil for after shaving is a good idea are:
Freshly shave skin might be slightly inflamed. Coconut oil helps in reducing skin inflammation
It helps in collagen formation and hence speeds up the process of skin healing in case of razor bumps
It also acts as an antioxidant.
It works as a phenomenal anti-bacterial protectant helping the skin to stay dirt free
Coconut oil can help deeply hydrate and moisturize the skin. It creates a skin barrier preventing the skin from drying out.
It soothes the burning skin and heals razor bumps
It is packed with antimicrobial and antifungal properties.
It stimulates hair follicles with natural proteins
When Should You Not Use Coconut Oil As An Aftershave?
Coconut oil for after shaving is excellent, but there are a few instances wherein using coconut oil after shaving is not the best. Thus, we do not recommend using coconut oil post shave if:
You are allergic to coconut oil.
If you have an acne-prone oily skin
If you do not like the fragrance of coconut oil
See, if you have acne-prone oily skin, we would recommend you to speak to your dermatologist before you use coconut oil as aftershave. However, if the fragrance is a problem, you should instead give coconut oil a pass, especially in its natural form.
How To Use Coconut Oil As An Aftershave?
For using coconut oil after shaving, all you need to do is take a small dollop of coconut oil in your palms. Then rub your palms together to warm them up. Now, you can massage the freshly shaven area with your hands. It's that simple to use coconut oil as aftershave.
Store Bought Aftershave Vs. Coconut Oil – Which One Should You Choose?
Store bought aftershaves do a fair job, however, they are not free from synthetic fragrances and ingredients. The alcohol component used in these aftershaves may even dry your skin out. If you have sensitive skin, the after shaves with artificial fragrances in them can even cause skin irritation.
On the other hand extra-virgin coconut oil does a great job at hydrating your skin without the use of alcohol or any other chemical additives. It has lauric acid in it, and the antimicrobial properties of lauric acid work very well as a disinfectant.
So, coconut oil gives you all the benefits of using an aftershave without the downsides.
Other Ways To Use Coconut Oil In Skin Care & Grooming
In addition to using coconut oil as aftershave, there are plenty of other ways you can include it in your skincare and grooming routine:
Using coconut oil for creating an exfoliating, moisturizing lip scrub
Use coconut oil in place of shaving cream
Use coconut oil to condition your beard
Use coconut oil as a pre-shave oil
As a substitute for makeup remover
For deep conditioning your hair
As a natural moisturizer
Which Coconut Oil Should You Buy For Your Grooming Needs?
If you have made up your mind to go for an all-natural aftershave solution, here are some of best buys.
Bottom Line
Coconut oil has protective and hydrating properties, which can soothe the irritated skin after a shave and even accentuate the hair's appearance when used regularly. So,  is coconut oil good for after shaving? Well, yes, it is.
Though we want to point out that coconut oil for after shaving may work for some, while it may not give the desired feel & results to others. So, before you use it as a balm, beard oil, or aftershave, do a patch test. Since it is pocket-friendly, and will surely cost you less than any other regular aftershave, and is 100% natural, it is worth trying.