Different Types of Male Haircuts For 2022

Gone are the days when men just had a handful of hairstyles to choose from. The modern man is spoilt for choices when it comes to haircuts and hairstyles. There are different kinds of haircuts for guys out there for every hair texture, personality and facial aesthetic.
With so many options available, it may get a bit tricky to choose the right haircut.
In order to find the perfect hairstyle, it is important to know about the looks that are trending today. To help you out, we have curated a list of 23 super stylish haicuts. Check it out!
Jump To
Different Types of Haircuts for Men
1. The Blow Out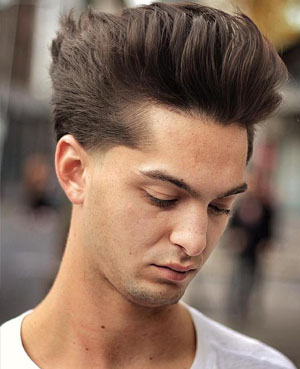 The blow out is one hair trend that we seemed to have carried with us while stepping out from the last decade to this one. This revived trend is perfect for those who don't mind being the center of attention.
It looks best on men with round-shaped faces. The best part is, that you can tweak this trend to suit your style. Full volume blowout, messy blowout, quaffed blowout, wavy blowout, straight blowout…the options are endless.
2. Drop Fade

If a stylish but tailored look is what you are aiming for, go for this variation of the classic fade look. The drop fade, as obvious by the name, drops behind the ear, adding a clean arc to the fade and creating a dramatic and precise finish. You can combine this cut with different types of haircuts for men with other hairstyles for that 'wow' factor!
3. Undercut

From being a simple DIY haircut to becoming a style statement on its own, this super classy hairdo doesn't quite go out of style.
It works well for all hair types and can be combined with a variety of trends including long slick back, comb over, brush back, and fringe, to name a few. Since this hairstyle allows a fair level of haircut, it can be made to suit any type of face structure.
4. Crew Cut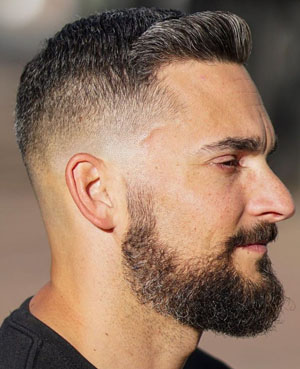 When it comes to hairdos, style and practicality may not be the easiest combo to find. But worry not! The classic crew cut is all that and much more!
The term was first used back in the 1930s and 40s to describe the hairdo of Ivy League students who were a part of the crew team (rowing).
If you want a no-fuss hairstyle with a hint of sophistication and style, this is just what you need. It's uber-masculine, super easy to maintain and style and works well for formal as well as casual settings.
The style works really well for men with square-shaped or oval-shaped faces.
5. Bald Fade

Gents, if sleek, smart and stylish is how you want to present yourself, then the bald fade hairstyle is just the thing for you. the thing for you.
Moreover, the style is quite versatile and can be modified to be subtle and simple or complex and striking, depending on your choice.
6. Quiff Haircut

This hairstyle became popular back in the 1950s and has successfully survived the test of time. No matter what your face shape or hair type is, there is some variation of a quiff out there that will work perfectly well for your features.
The reason why this hairstyle is more common among celebs than regular folks is that it is not really a casual style, but more of a fashion statement.
So, if you are looking for different kinds of haircuts for guys that'll make you stand out, this hairdo is just perfect for you.
7. The Taper Cut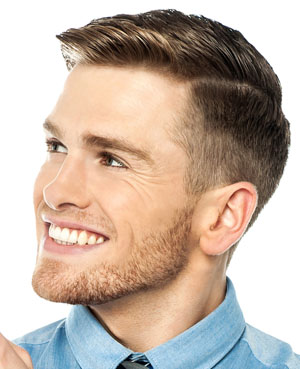 The classic taper cut is the right choice for you if you want to play it safe but not be boring. It is not too wild or chaotic, low maintenance and never really goes out of style.
Also, you can modify it to your liking. What else can a man ask for…right? You can ask for a low, medium or high taper or go for the extremely popular taper fade…the choice is yours!
8. Comb Over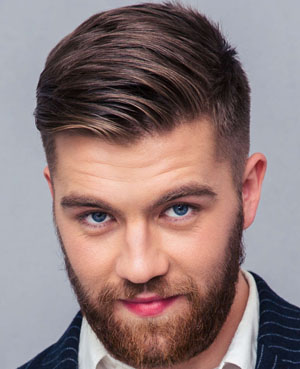 Next up on our list of different types of haircuts for men is the super chic comb over hairstyle. If you think this hairstyle is reserved for older men or sales professionals, well think again.
Thanks to its stylish versatility, the Comb over has long been reinvented to suit the style of modern men looking for a contemporary look with a vintage touch. Spotted on the likes of Justin Timberlake, George Clooney and John Hamm, this haircut goes well with almost every face shape, especially square and oval.
The best part is, it is quick to style and relatively easy to maintain. Comb over goes quite well with an array of other styles including fade pompadour, and undercut, to name a few.
9. Pompadour

Think of pompadour and probably the first image that pops into your head is that of the King of Rock and Roll rocking this hairstyle like nobody's business.
While the haircut still remains closely associated with Elvis Presley, the origin of this timeless hairdo goes way back…to 18th century France.  Of course, the recent revival of the hairstyle meant that it was drastically modified to match the preference of men today.
Pair up modern pompadour with an undercut or fade or with a beard and you have the ultimate macho hairstyle.
10. Faux Hawk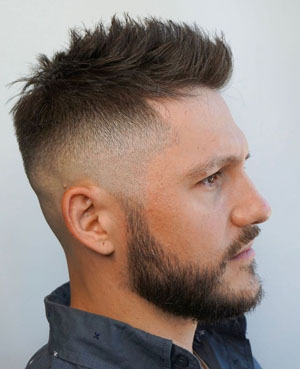 Now, a faux hawk may not be as punk as a full-blown mohawk, but it is no less stylish. in fact, this chic, badass hairdo is the go-to style of a number of leading celebrities like Elijah Wood, Taylor Lautner, and Josh Duhamel.
You can play it down to fit in a formal setting or style it up to stand out in a casual one…the possibilities are endless. You can keep it short, long, spiky, or curly and pair it up with a fade or undercut, depending upon your face shape and your hair length and texture.
11. Buzz Cut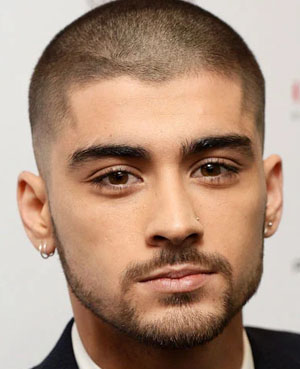 Earlier, buzz cut simply referred to a haircut where all your hair was shaved down with a clipper.
Over the years, the style has been slowly reinvented by adding various elements. The buzz cut we know today is aesthetically and structurally different from the hairstyle that was largely reserved for police and military personnel back in the day.
The haircut looks best on people with evenly proportioned oval, diamond or square-shaped faces.
12. Dreadlocks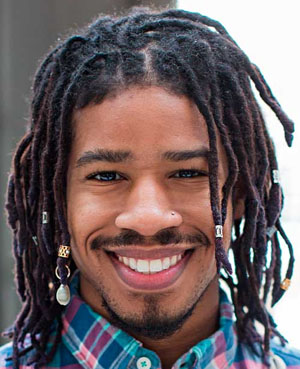 This bold hairstyle has not only stood the test of time but also witness a series of transformations and fresh modern twists to suit the style of the modern man. Own this style by choosing a variation that will suit your facial shape and features.
A few different kinds of haircuts for guys in this category are irregular strands, thin hair tapered temple, dyed dreadlocks, afro dread with mild fade, undercut dreadlocks with dyed ends, and dyed dread with faded temples.
13. High/Low/Mid Fade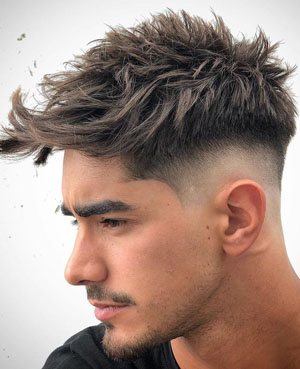 What makes fade haircut one of the best options for men is the amazing versatility this look offers. It can be combined with an array of other men's hairstyles to give you the trendy and chic look you've always desired.
14. Spiky Hair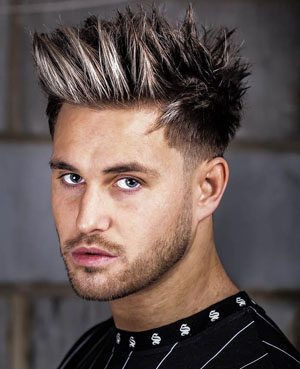 While the rock-hard pointy spikes are certainly a thing of the past, there are other different types of haircuts for men for this sharp hairstyle that are very much in style.
Currently, it's all about soft and stylish spiky hairdos that won't take ages to achieve. These kinds of men's haircuts can be combined with several other styles including fades, taper, faux hawk, and pompadour.
15. Manbun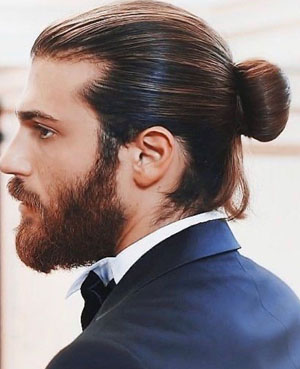 If you are all about standing out from the crowd and don't mind the added responsibility of looking after long hair, then this haircut is perfect for you.
Unlike most popular men's haircuts, the man bun is not a modern version of some retro or vintage trend. It stands on its own.
The style is further divided into several types including messy top, infinity, straight bun with thick long hair, loose open-ended frizzy bun, and dreaded bun with faded sides.
16. Ivy League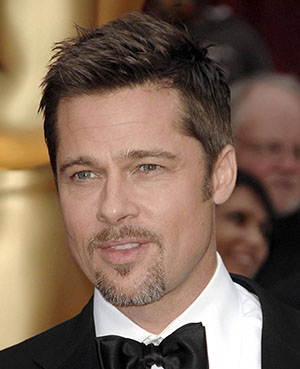 A few different types of male haircuts in this category are classic, textured, modern, short, medium and long.
From attending a meeting during the daytime to living out loud at the bar in the evening, this sleek and preppy haircut will carry you throughout the day in style.
Ivy league haircut is, in fact, a form of the crew cut. The only difference is, that the former is usually longer all over and can be combed into a neat side part.
17. French Crop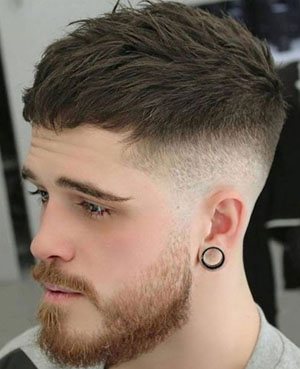 If you are looking for different kinds of men's haircuts for short hair that works for practically every hair type and face shape, look no further.
The French top is an incredibly versatile style that is super easy to achieve and easy to maintain.
Some of the popular different types of male haircuts that are variants of this hairstyle are classic French top, long French top, French top with a comb-over, textured French top, disconnected French top and French top fade.
18. Fringe Hairstyle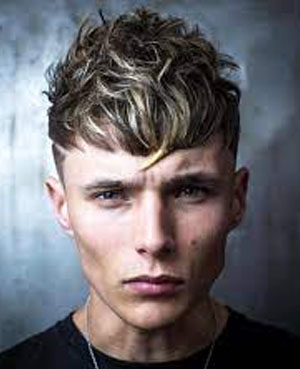 This stylish hairdo is in a class of its own. From tousled and unkempt to polished and refined, there is a fringe hairstyle out there to suit every occasion, face shape and hair type.
Go bold hardcore textured fringe or keep it classy with straight fringe, the choice is yours.
19. Caesar Cut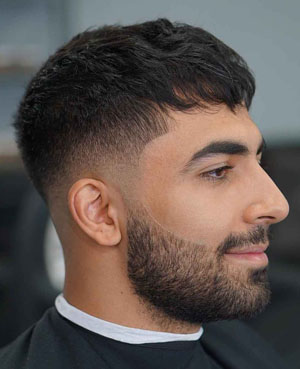 Trends come and trends go, but classic styles like the popular Caesar cut don't really have an expiration date. This cool haircut is just perfect for adding a stylish edge to plain boring short hairstyles.
20. Top Knot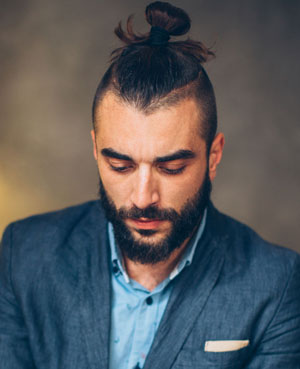 To put it simply, a top knot is a man bun with a twist…literally! It's basically a smaller bun tied exactly at the top of the head. This is a great choice for people who love the idea of a man bun but don't have the length to get one.
21. Long Men's Hairstyle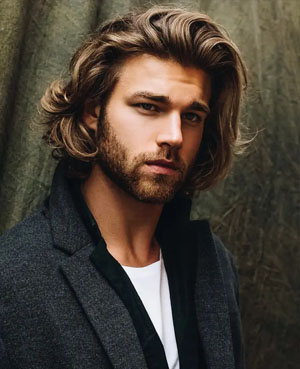 If the idea of spending all that extra time on maintaining and grooming your hair doesn't scare you, then you can totally rock various kinds of men's haircuts and hairstyles for long hair.
A few popular choices in this category are beachy, curly bob, dreadlocks, sleek and side-parted, 90's grunge look, shaggy, updo, man bob, wet look, tousled, braided piglets and simply straight. piglets and simply straight.
22. Man Braid
This edgy and versatile men's hairstyle is not only out of the ordinary, but surprisingly easy to maintain.
From safe and subtle styles to brave and bold looks, man braids can be extremely versatile. Side braids, box braids, braids with ponytail, braids with dreadlocks, braids with top bun…the choices are infinite!
23. Mullet Cut
The last one on our list of different types of male haircuts is this bold hairstyle. Whether this style is still in 2022 is a bit controversial.
While some believe the mullet has seen better days, others are of the view that if worn the right way, this haircut can amp up your style quotient like no other.
For all we know, this cut might be back in style soon and it's better to be prepared! As compared to its older version, the modern mullet is shorter on the sides and the top.
How To Choose A Haircut From Kinds Of Men's Haircuts?
Choosing the right haircut for yourself can be tricky. What looks good on your favorite celebrity may not work out so well for you.
To make sure the haircut you choose suits you well, here are a few factors you need to take into consideration:
The shape of your face and facial features.
Hair texture and nature
Your preference in terms of length (long, short or medium)
Whether you want a hairstyle that's easy to style and maintain or are you fine with a hairdo that takes longer to groom.
Some haircuts might be too fancy to pull off at work.
How To Ask For Different Types Of Haircuts For Men?
To make sure your hairstyle does not mess up your hair, it is vital to provide them with a clear set of instructions. Here is what you need to keep in mind when asking for different types of male haircuts:
Make sure you take the right name. Some men's hairstyles seem strikingly similar. Know your taper from your fades and your buzz cut from your crew cut. Make sure to do your research beforehand and know your terminologies.
Carry a picture of the hairstyle with you. A picture is worth a thousand words. Better than giving unclear instructions, give your stylist a picture of the hairstyle you want before getting a haircut.
Tell your stylist how you want your hair on the top, bottom and sides. Also, tell them how to trim the neckline. The key is to be clear and specific.
Different Kinds Of Haircuts For Guys: FAQs
Q. What is the most popular men's haircut?
A. Just like fashion trends, men's hairstyle trends keep changing from one season to another. Different types of haircuts for men that are in style currently are the quiff, the undercut, the pompadour, the drop fade, and the taper.
Q. What are the best short haircuts?
A. Some of the best different types of male haircuts for short hair include crew cut, buzz cut, high and tight, ivy league, a pompadour, textured crop, quiff and slick back.quiff and slick back.
Q. What are the 4 types of hairstyles and hair types?
A. The four types of hair types are straight hair, wavy hair, curly hair and coily hair.
Q. What are the different hair cutting techniques for men?
A. A few popular haircutting techniques for men include blunt cutting, clippers, razors, scissors or clip over comb, freehand, thinning, and texturizing.
Q. How should men style short hair?
A. There are several different types of male haircuts to choose from when styling short hair. Some of the trending short hairstyles are the quiff, the pompadour, the slicked back, spikes, the taper fade, the side-part, the fringe and the brushed up.
Q. Are long hair difficult to maintain?
A. Taking care of long hair may seem like a chore, especially when you are accustomed to keeping kinds of men's haircuts that are short or medium length.
There are certain things you need to do to keep your long locks in top condition. You need to find the right shampoo and conditioner to keep your hair well-nourished and 'well-behaved.'
Make sure to never blow dry your hair without applying a heat protectant first. Invest in good hair oil and leave-in conditioner for your hair. If you plan on tying your hair, make sure to avoid tight pulling and tight knots and ponytails as these can end up damaging your locks.
These are a few basic things you need to take into consideration when caring for different kinds of haircuts for guys with long hair. Keeping long hair definitely means a longer grooming routine.
However, with the right hairstyle and hair care routine, long hair can definitely amp up your style quotient.
Q. Are long hair for men back in trend?
A. Long hair for men is definitely in style. The trick is to find the right haircut to suit your face shape and hair type from different types of male haircuts.
Different types of haircuts for men with long hair that are trending this year are beachy, dreadlocks, updo, shaggy, wet look., windblown, boxer braids, sleek and side-parted, long and curly, and simply straight to name a few.