15 Most Trending Different Kinds of Beards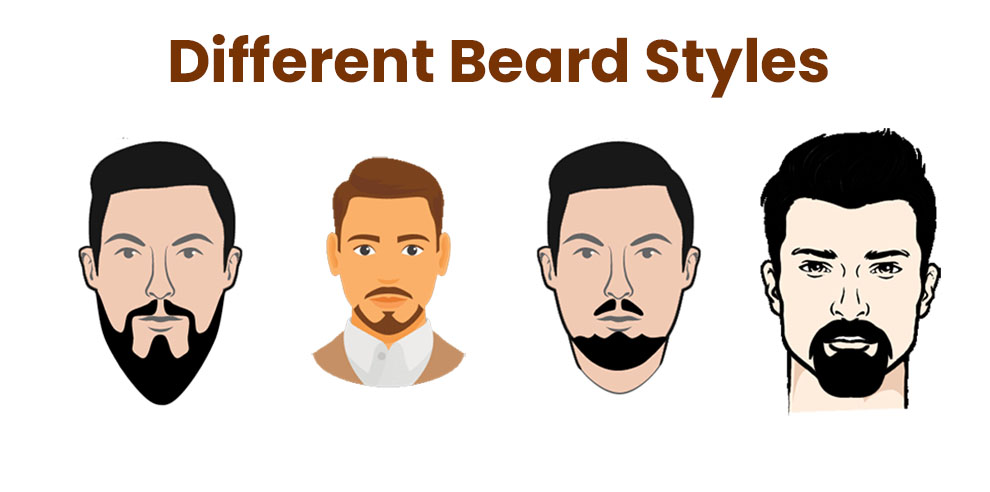 To be honest, sporting a beard never goes out of fashion. From popular celebrities to your regular folks, men often turn to beards to revamp their looks and style.
The only thing is that the kinds of beards that are considered to be 'in' keep changing from time to time.
While a goatee or a stubble was all the rage sometimes back, now the air seems to be shifting in favor of long and natural beard styles. Thus, in order to pick the right beard style, it is vital to know about all your options.
To help you out, here is a list of 15 different type of beards that you must know about!
Jump To
15 Different Beard Styles For You To Choose From
Here are a few different types of beard styles with names that may compliment your style and personality!
1. Anchor beard
The first option in our list of different types of men's beards is this simple and subtle style. Deriving its name from the sea anchor, this style is for people with beards that extend along the jawline. The beard is then styled to a point.
To achieve an anchor-like shape, this point is attached to a pencil mustache. The only thing you need to take care of to rock this style is to make sure not to grow sideburns. Those with oblong or square-shaped faces can pull off this style well, while rest of you can try other different type of beards we have listed below.
2. Balbo beard
If you consider yourself to be somewhat eccentric (or if Robert Downer Jr is your fashion idol!), this beard style is just the thing for you.
This style comprises a caped chin along with a long mustache. The mustache is, however, cut off from the somewhat inverted T-shaped beard. The beard is partway shaped like an inverted T.
In these kinds of beards, a bead of hair from the chin takes note of the area beneath the lower lip. The hair beneath the patch under the lip is allowed to grow just like the lower part of a regular beard. People with narrow chins can consider going for this style.
You might like – How to grow a handlebar mustache?
3. Ducktail beard
Next up on our list of different type of beards is this stylish variation of a full beard. A Ducktail beard is a unique combination of a rugged and well-groomed look.
It gets its intriguing name from the way it resembles a duck's tail at the bottom. In this popular beard style, the upper portion of the beard is trimmed shorter whereas the part on the chin area is allowed to grow longer.
4. French beard
This beard style generally extends to the apex of the chin. The hair growth depends on different kinds of facial hair type you have. The area with the French cut stays prominent while other areas of the face may or may not have a bit of facial hair.
This style includes different types of men's beards such as hard man, French beard with chinstrap, heavy and tight French beard, sparse French beard, soul patch wide beard, thick French beard, and square French beard to name a few.
5. Goatee
This super popular beard on our list of types of beard styles with names keeps coming back in trend after every few years. A Goatee features a patch of hair growing right below the lip.
Usually, the goatee is as big as the width of the person's mouth. The bead of hair below the lip is allowed to grow down into the hair growing on the chin. The patch is rounded off at the chin's bottom while the sides are kept vertical or slightly curved.
6. Garibaldi beard
If keeping it unkempt is how you like it, this style is for you. The Garibaldi beard is a full beard (up to 20 cm long) rounded at the bottom, paired with an integrated mustache. This beard gives the appearance of a long natural beard without really having much length.
7. Circle beard
These kinds of beards are neat and round with short hair. A Circle beard works well for men with square faces or those who want to conceal their soft jawline.
The distinct round shape is formed by the combination of a rounded goatee and a mustache. It is quite easy to maintain and is perfect for guys who want to sport a beard without the hassle of maintaining it.
8. Scruff
The best thing about this beard is that it gives you a very macho appearance without taking ages to grow. Scruff or light stubble beard can give you a rugged and relaxed look or a sophisticated one if you don't mind doing some basic trimming.
To keep this low maintenance short beard, all you need to do is shave its bottom whenever you see the hair is starting to grow down towards your Adam's apple.
9. Van Dyke
Another popular contender in the list of different type of beards is Van Dyke. This classic beard is the combination of a goatee and a mustache that is not connected. Unlike most modern beards, a Van Dyke does not cover a lot of skin, leaving you smooth and hairless cheeks. These kinds of beards look best when kept defined.
10. Long beard
Usually, a long beard is when your facial hair is over 6 inches. This beard is a lot of work and takes a long time to grow. This category includes different types of men's beards.
11. Stubble
Another popular option in the list of types of beard styles with names is the stubble. A Stubble is what you get when you let your facial hair grow back for a few days after shaving.
With a little maintenance and trimming, a subtle can look quite stylish. This beard style can further be divided into various types of beard styles like long stubble, short stubble, heavy stubble, medium stubble, and light stubble, to name a few.
12. Imperial beard
Different people have different kinds of facial hair growth. If you have impressive facial hair growth and want to show it off, these kinds of beards are the style for you. This beard is really a mustache that is connected to the facial hairs that grow on the cheeks. The chin and the sideburns remain bare.
13. Mutton chops
This outdated but once popular beard style is really sideburns that extend all the way down to the corners of the beard-keeper's mouth. To get this style, let your sideburns grow freely to reach the corners of your mouth.
Now, remove a part of the sideburns in order to create an (imaginary) line that is defined at each corner. The bottom edge of your sideburns needs to be defined clearly along the edge of your jawline.
14. Chin strap
Another outdated style from different type of beards, is the chin strap. It starts from the hairline of one side of the face and ends at the hairline of the other side. These kinds of beards do not cover the entire chin and grow along the edge of the chin and jaw.
15. Bandholz beard
This style consists of a free-growing, full beard that is connected to a mustache.
Related: Best mustache trimmers
How To Style a Long Beard?
Here's what you need to do to keep your long beard looking healthy and stylish.

Wash your beard regularly and use beard oil to keep it hydrated.
Indulge in daily grooming to keep your beard looking clean and well-kept.
Use a customized beard comb or brush to style your beard. Shave and trim the edges regularly to keep your beard even. Use scissors to get rid of strays.
You can give your beard any style you think will work well on your face. A few popular long beard styles are the hipster beard, braided beard, long goatee, and Viking.
To trim all kinds of beards, start by brushing your beard in the direction of the hair. Now give it a desirable shave by shaving and trimming along the beard. Don't forget to trim your mustache, cheek line, and sideburns for a striking look!
Tips For Maintaining Different Kinds Of Facial Hair (Beard Types)
Follow these simple but essential tips to maintain different types of beards:
1. Wash your beard: Your bread, especially if you have a long and full one, can trap dirt, crumbs, debris, sweat, excess oil, and whatnot. It can get pretty gross and sticky if not washed regularly.Wash your beard at least 2 to 3 times a week. You can use either customized cleansing products or just your shampoo would do.
2. Keep it hydrated and conditioned: A beard oil can help you keep your beard soft and shiny. It will also moisturize the skin beneath your beard and prevent common problems like itchiness and flakes. Use coconut oil sparingly on your beard if you do not have a commercial beard oil.
Did you know? You could also use coconut oil as an aftershave.
3. Trim regularly: An unkempt beard looks stylish, no doubt. However, if left attended for too long, these kinds of beards may start to look dry, unhealthy, and unattractive.
Use a pair of scissors or beard trimmer to remove stray or extra long hairs and maintain your beard style.
4. Clean your neckline: To maintain various types of beard styles, you may have to clean up your neckline every once in a while.
5. Stay healthy: A healthy you mean a healthy beard! Eat a balanced diet, exercise regularly, drink ample water, and get enough rest for a healthy body and a thick and healthy beard. A healthy lifestyle also promotes good hair growth!
Related: Best Bay Rum Aftershave
Facts and Questions
Q. What type of beard is most attractive?
A. When it comes to beards, there is no 'one-style-fit-all.' Different types of beards work for different people. The kind of beard that will suit a person usually depends on their facial shape and structure.
However, every season has a few kinds of beards that make it as the top choice among 'beard-keepers.'
A few styles that are quite popular currently are Van Dyke, Viking, Five O'Clock Shadow, Short Boxed, Baldo, and Long beard.
Q. How do I choose my beard style?
A. The most important thing that you need to consider while choosing amongst different types of men's beardsis the shape and structure of your face.
You may also want to think about different kinds of facial hair growth patterns. For instance, people with sparse facial hair may want to avoid certain styles like a full beard or long beard.
Another factor you may want to take in while choosing amongst different type of beards is how much time and effort you are willing to spend on it.
While some styles like a long beard are hard to grow and maintain, others, like stubble or a scruff, take much less time to grow and require minimum maintenance.
Choose a style that compliments your facial features and is consistent with your personality!
Q. What beard length is most attractive?
A. This is a matter of personal preference. While some people can rock a long and full beard style, others are better off sticking to short and medium-length beards.
Q. What is a Viking beard?
A. The Vikings were great warriors of Scandinavian origins who were known for having long hair and full and long beards. This is where this uber-masculine style of beard originates from.
Basically, a Viking beard is a full, long, well-groomed beard. There are various types of beard styles that come under this category.
Q. What is a yeard?
A. A yeard is what you get when you grow out your beard for a year, without shaving or excessive trimming. The word 'yeard' is a combination of 'beard' and 'year.'