Gillette ProShield Vs. ProGlide Review: Differences, Similarities and Features Compared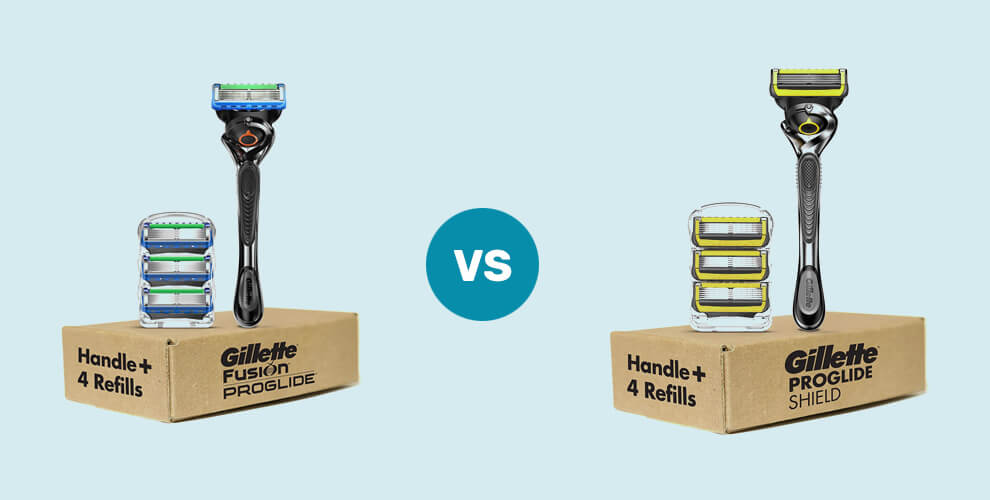 Gillette is not an unknown name for anyone who uses razors regularly for their shaving needs. Both ProShield and ProGlide are two amazing product lines from Gillette that have features one better than the other. It makes it very difficult to pick one from these two. One special feature to mention here is that, the razor handle of these two can get attached to a number of different varieties of cartridges
Both of them are known to offer a smooth close shave; there does exist just a slight difference between Gillette ProGlide and ProShield. So what is the difference between Gillette ProGlide and ProShield which gives an edge to one over the other? Let us find out!
We will first compare the two (ProShield vs. ProGlide) on the basis of their features and later give an individual review of both the items.
Table of Content
Gillette ProGlide Vs. ProShield Features Compared
| Features | ProGlide | ProShield |
| --- | --- | --- |
| Image | | |
| Number of Blades | 5 | 5 |
| Refills Per Pack | 4 | 4 |
| Lubrication | LubraStrip | Active ProShield |
| Lubrication Layer | Single | Double |
| Weight | Light but heavier than ProShield | Lightweight |
| Cooling Technology | No | Yes |
| Precision Trimmer | Yes | Yes |
| Lubrication Before Blades | No | Yes |
| SkinGuard for Sensitive Skin | No | No |
| Lubrication After Blades | Yes | Yes |
| Sensitive Skin – Skin Guard | No | No |
| Price | Check price on Amazon | Check price on Amazon |
Gillette Fusion ProGlide vs. ProShield – Comparing The Two Models
The same manufacturer designs both Gillette Fusion ProGlide and ProShield. Both of them have a lot of features which are shared between the two. However, through this ProShield vs. ProGlide review, you will also find out that some distinctive features separate the two from each other.
Let us discuss these features to move ahead with the ProShield vs. ProGlide review to help you find which of the two performs better.
Blades
We will start the Gillette ProShield vs. ProGlide by comparing the number of blades in these two products.
1. Blades – placement
For both of them, the initial four blades are lightweight as compared to the fifth one. These first four blades are the sharpest and the thinnest blade offering from the brand. The fifth blade finalizes the cut with a neat and firm layout.
2. Blades – number
As you may have figured from the previous point, both of them have five blades each. Consequently, both of them will offer you a smooth and close shaving experience. In both of these, the blades are tightly placed together. Thus, it will always result in a close trim.
3. Blades – performance
The fine amalgam of the five blades is powerful enough to cut through the thickest hair while providing you with the closest shave that you deserve.
Verdict
ProGlide – But why?
Now, if in Gillette ProShield vs. ProGlide, we have to pick a winner from the two, we would like to point out that even though the two offer you a similar shaving experience, the ProGlide has a much better movement over the skin.
Working With Different Shaving Products
In this Gillette ProShield vs. ProGlide aspect, both razors are ideal for all types of shaving products. So, pick anything you like from shaving cream, shaving gel, or shaving foam, and you are good to go.
Verdict
Tie – But why?
Both of them are adaptable to all kinds of shaving products.
Weight
Weight sure is vital for every beginner because if the razor weight is more, it will be uncomfortable to hold and use for long hours. When doing the Gillette ProShield vs. ProGlide comparison, this is possibly the only difference that you cannot tell by simply looking at either of the two razors. In reality, however, ProShield is slightly more lightweight than the ProGlide.
Verdict
ProShield – why?
In the Gillette ProShield vs. ProGlide weight factor, the winner for us is ProShield. Of course, if you ask someone randomly, they will not call ProGlide a heavy razor either. It is a lightweight razor only, but compared to ProShield, it has a heavier frame design. This increases the steadiness and control you have over the razor.


Performance
As far as the performance goes, both of them are quite alike. This is partly owing to their five sharp blades, which work well in shaving and gliding.
Verdict
Tie – why?
Performance-wise, there is no one better than the other. They are both unique in their own way, yet similar.
Precision Trimmer
Moving ahead in this comparative overview, we will discuss the next feature, which is the precision trimmer. Nestled at the top-end on the cartridge of both the razors, it aids in ensuring a neat trim or shave. You can even use for edging in some inaccessible contours of your pace.
Verdict
Tie – Why?
In this aspect both of them are equally precise to help you achieve a look you want.
Lifespan & Durability
A good razor will last you around thirty shaves before you get a replacement product. However, it depends primarily on the quality of the shaving cream and shaving oil you use when you shave. Quality products with rich lubricants help preserve the razor's life and, consequently, it will need less frequent replacements.
With a one month lifespan per razor, both the designs are durable and long-lasting. For this reason, most men shop for a package with several refills and only shop once or twice a year.
Verdict
Tie – why?
In this aspect of the Gillette ProShield vs. ProGlide comparison, we again feel there is a tie between them. So, it would not be wrong to say that the price you bear for either of them for the replacement shall be more or less the same.
Pressure Required
Despite ProGlide being heavier, it is also important to note that the heavier razor certainly offers a better and a more steady grip while channelizing the razor to work. This means that the degree of pressure you apply is not much.
On the other hand, the lighter razor may be slightly harder to use, especially if it is your first time, as you will have to exert more pressure yet understand not to press the razor too hard against the skin. Moreover, if you exercise too much pressure or dig too deep, it can result in a cut.  But, the ProShield truly is an exception to this. Even though the razor is light, the safety sure is a significant benefit owing to its dual lubrication.
Verdict
ProShield – why?
Because of its double lubrication, it is safer to use on the skin even when you apply slight pressure.


Lubrication Strip
A lubrication strip is needed because it adds the requisite moisture to every stroke. Consequently, it gets safer and more comfortable for the user to glide the razor. This is particularly important for beginners and users with susceptible skin.
In-depth analysis of the Gillette Fusion ProGlide vs. ProShield helped us understand that there is a generous single layer lubrication in the former, which accentuates the safety and comfort that you possibly need for shaving.
On the other hand, the latter comes with double lubrication both before and after the blades. This dual lubrication is safe to use even without the use of shaving cream or gel.
Verdict
ProShield – why?
In this aspect of Gillette Fusion ProGlide vs. ProShield, the winner is the obvious ProShield. In our opinion we give preference to how much a razor can guard your skin. This is precisely what its double lubrication strip does.


Handle Compatibility
The versatility of being compatible with multiple handles is indeed an innovative feature that enables users to switch between the cartridges they feel the most comfortable with instead of investing in a new razor.
This versatility is found in both ProShield and the ProGlide cartridges. You can use these cartridges in any Gillette Fusion razor handle.
Verdict
Tie – Why?
In this aspect of our Gillette ProShield vs. ProGlide comparison, we feel both are at a tie as the blades fit in well in any Gillette Fusion handle.


FlexBall Technology
FlexBall technology for the Gillette Fusion series is an incredible value addition, which accentuates the usability and maneuverability of the razor. In both ProGlide and ProShield, you get the FlexBall technology.
Verdict
Tie – Why?
In this aspect, the Gillette ProShield vs. ProGlide stands at a tie, because the feature is common in the two.


Comfort Guard Vs. Extra Lubrication
In this last part of the Gillette ProShield vs. ProGlide, we will compare them based on some exquisite aspects. The latter comes with a unique comfort guard. On the other hand, the former, has two lubrication layers. It goes without saying that ProGlide's comfort guard is good, but the presence of dual lubrication only streamlines your experience. Since, it keeps the skin nicely hydrated, cutting and trimming becomes easier.
Verdict
ProShield – Why?
So, in this aspect of the Gillette ProShield vs. ProGlide comparison, the winner is the ProShield. Because, as we said greater hydration due to double lubrication does add to smoother shaving experience.
What Features Do ProGlide and ProShield Have In Common?
We have seen the Gillette ProShield vs. ProGlide comparison in detail and it seems like they have more things in common than differences.
ProShield and ProGlide, both are lightweight models from Gillette.
Both are equipped with a precision trimmer at the back.
Both of them have a microcomb that guides the hair into the blade for a close shave.
The two of them can be used with a non-drying shaving gel for best shaving experience.
The blade cartridge of both ProShield and ProGlide are compatible with all the razor handles of the Fusion range.
Both work on the FlexBall Technology.
Gillette Fusion ProGlide vs. ProShield – What Is The Difference?
If truth be told, when we compared the two models we realized that there is very little fundamental difference between the two. Here, we will list some distinctive features of these two razors that make them different.
The first most important difference is that ProShield has a double lubrication system. It has lubrication system both before and after the blades.
Secondly, ProShield is slightly lighter (maybe by a few ounces) compared to the ProGlide.
The Gillette Fusion ProShield offers better skin protection while you shave with its dual lubrication strip system.
The LubraStrip used in the Gillette ProGlide is 25% bigger in size and even made with more advanced lubricant materials.
ProShield Vs. ProGlide Reviewed With Pros & Cons
Gillette ProGlide
If you seek an affordable and a more inexpensive way to trim your facial hair, you will love the Gillette Fusion ProGlide Men's Razor. It is a traditional men's style razor for men who do not like to use a cordless electric shaver or those who do not want a second product to do the touch-ups for the facial hair or the beard.
The razor has anti-friction blades and a built-in precision trimmer, which ensures a more accurate edging. It comes in handy for men who have a neatly trimmed sideburn, beard, or other facial hairstyles. Its blades are ProGlide has a protective blue plastic enveloping them. There is also a small blue strip of lubrication, which makes shaving a lot more simpler. With every refill, you get a month-long of incredible shaves.
Below the crown region, there is an orange flex head. You can use it for fresh blade insertion. You can move its head in either direction, which makes gliding around the face easier. Consequently, you can conveniently reach even the most inaccessible areas.
The razor has an ergonomic handle with rubber grips. Also, it is relatively more extended than the traditional razors. Hence, maintaining a grip should not be hard.
It is engineered with the blade heads, which is actually five blades installed in the parallel fashion. Each of these blades has been designed to offers the sharpest, most refined, and the closest possible shave. Since there are five blades, they offer less pulling or tugging during the complete shaving process.
In this shaver, the razor blades have been redesigned to provide a low cutting force razor blade to ensure that the shaving experience is a lot more simplified. Each blade of this razor has been coated with a low-resistance coating, which enables the blades to cut more easily through the hair without tugging or grabbing.
So, for anyone who cherishes a traditional razor blade, this can be a good pick. Overall, it is a g
Pros

FlexBall Technology
Anti-Friction blades
Precision Trimmer
Enhanced LubraStrip
Microfins stretch the skin and microcombs guide the hair for a close shave
Super sharp blades
Refill blades last up to a month

Cons

Single layer lubrication
Does not have a sensitive skin guard
Gillette ProShield
If Gillette's claims are to believed, their Gillette Fusion ProShield is the most advanced razor blade. With the Gillette Fusion ProShield, you are assured due protection and precision every time you shave. Most of the razor blades have only three blades. You will notice a crucial change when you use this razor blade that comes with five blades.
With Gillette Fusion ProShield, precision shave is also accredited to the yellow framed strip surrounding the razor blade. It is known as the Shield, which will guard your skin from razor burns and irritation.
You can do both wet and dry shave with your razor. So, you can take some water and soap or add some shaving products to your routine while using this razor. As a replacement, you can even use gels, creams, lotions, and foams.
This shaver's handle is spectacular in looks. Composed of plastic material that dark grey hued and the yellow markings on it only adds to its appeal. Blades, on the other hand, are silver. Shaver also has a flex ball that is yellow-hued and gives flexibility for the razor to move around seamlessly. This movement helps it perform better at the contours of your face, and it effectively shaves off all the hair that is accessible to you.
Further, with this razor, you get double moisturization, which simplifies the complete shaving process. The yellow shield will offer you lubrication both before and after the blades and even during the shave.
It does not mean that if you are shaving the neck, chin, sideburns, or jawline, it won't do a brilliant job. It will virtually get every hair on the face. So, you do not have to do any touch-ups following it.
If you flip the razor blade around, you can employ the precision trimmer on the backside. It is ideal for effectively shaping the latest facial hairstyles or beard. You can do the right edging, and you can shave it all with just one tool.
Pros

Double lubrication (Before and after blade)
Lightweight
FlexBall Technology
Precision Trimmer
Thinnest anti-friction blades
Microfins and microcombs

Cons

Costlier replacement blades
Mostly the refill does not last for a month as expected
The blades dull out fast
Conclusion
Let us conclude this Gillette ProShield vs. ProGlide by stating that both these items are of top quality with only minimal differences in weight and lubrication. Hopefully, you found this Gillette ProShield vs. ProGlide review helpful to make a pick between the two. Until then, please keep it safe, and keep it smooth.