How To Give Yourself A High and Tight Haircut?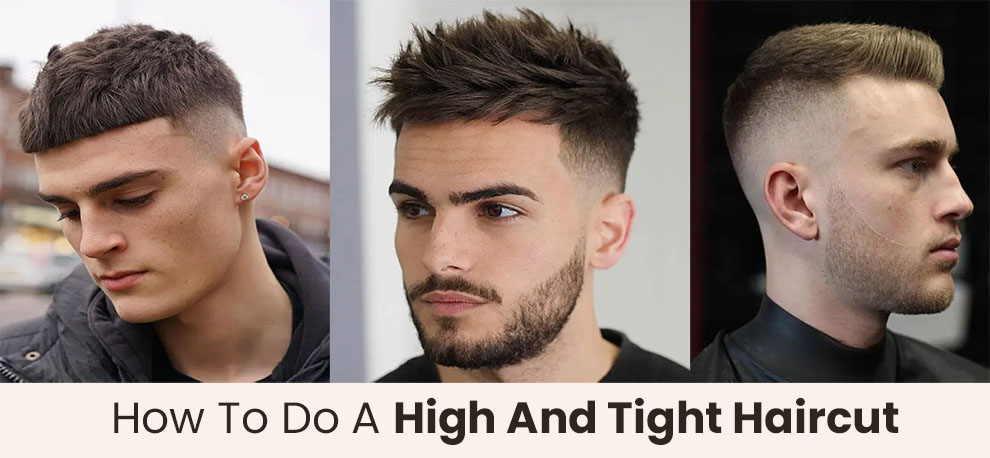 All men have different hairstyle preferences. Some guys like being updated with the latest styles in vogue, while others prefer a low-maintenance style, no matter how many trends come and go. There is a high and tight haircut for those who enjoy an easy-breezy hairstyle.
There is an array of options available for this hairstyle. So, typically, there is a high and tight style to suit every man's individualistic taste and preference. But not all high and tight cuts will be easy to style. It is what can seem daunting for men.
Jump To
This guide will help you learn how to do a military high and tight haircut. But, before we detail how to give yourself a high and tight haircut, what is a high and tight haircut? Read below to find out.
What Does High and Tight Mean In A Haircut?
We understand you want to learn how to do a high and tight haircut, but do you understand, what it means. Continue reading to know more.
A simple military haircut is a high and tight hairstyle. It is one of the shortest hairstyles for men, and in this, there is a longer hair strip on the crown, followed by shaved sides and back. It is one of the classic salon cuts and is a proud variant of the buzz cut. But it is not a flat-out buzz cut.
Back in time, we saw it on the men in the military significantly because of its ease of styling and minimal maintenance. However, it has sneaked its way into civilian life over the last few decades. So, if you, too, want a hairstyle that you give yourself, high and tight can be a way to go.
As no fading is involved, most men tend to style their hair at home. But, how do you cut a high and tight haircut? We will discover this in the subsequent sections. However, to learn how to do high and tight haircuts at home, you must have a pair of functional hair clippers.
But, if you do not have the confidence to learn how to give yourself a high and tight haircut, you can always reach out to a salon professional. Typically, most barbers around the world are well-acquainted with this style. So, they can effortlessly mimic one for you.
What Length Is A High And Tight Haircut?
You can find several variations in the high and tight style, but the most prevalent one involves clipping the back and the side hair very close. So, the length is approximately 1.5 mm or 1/16 inch or even shorter than that. The hair sits just above the temples.
What Size Clippers To Use For A High and Tight?
How to do a high and tight haircut with clippers? If you have a quality clipper, you can learn how to do high and tight haircuts at home. A professional barber typically starts by fading the sides. Ideally, the side hair must be between the length of #0 to #3.
But, the hair on the crown will employ guard sizes between #3 to #5, depending upon your preferred lengths. It will help you achieve the cut length you seek and get proper fades.
How To Give Yourself A High And Tight Haircut?
How do you cut a high and tight haircut? Before discussing the step-by-step, let us list the materials you need for the haircut.
What do you need?
Want to learn how to do a high and tight haircut? Before we detail the steps, it is vital to gather the supplies. Fortunately, not much is needed for you to perform a high and tight hairstyle.
But, you must have at least an inch long of hair on the crown region. If your hair is shorter than an inch, it will look more like a buzz cut. Beyond this, you will need the basics:
Razor
Trimmer
Comb
Scissor
Spray bottle
How Do You Cut A High and Tight Haircut?
Follow the guide below to the T, and you will learn to give yourself a high and tight haircut.
1. Step 1 – Commence with the top strip
Select the area over the temples where you want the hair to be the longest. You can opt to keep it as narrow or as wide. Pick the same spot on either side of the temples for an even look.
2. Step 2 – Tackle the sides
Take an electric clipper having an adjustable blade setting. Now, make a diagonal-shaped fade with a clipper. You can use guard #1 or #2 for it. Start from the temple and take the clipper down to the center of the crown's base.
Ensure that the lines are equal across the head. Having a mirror can help with it. Alternatively, you can also use your hand to feel that there is no longer hair remaining.
3. Step 3 – Use a blade to create a clear distinction between sections
Those with longer hair can commence with the larger blade guard and progressively aim for a shorter cut. So, run the blade across the shaved area.
Start from the front and head to the back and straight. Keep the blade perpendicular to the floor to establish a clear distinction between the sections.
If your hair is a few inches long, you can collect the hair with your hands, in a section or two, and trim it with a scissor, followed by a clean-up with a clipper, making it easier to eliminate the significant chunk of the hair. If you want both the back and the sides closer to the skin, run the clippers without a guard.
4. Step 4 – Trim to the scalp and progress towards the crown.
Begin at the neckline from one end, and go on to where you want the longest strip to begin. For precision, be very careful as you reach the top. Then, if you do not have much hair, you can run a freehand clipper with guides 0.5 and 0, traveling from the top to the baseline.
Do not make multiple passes, and go from one side to the other to ensure that you give an even cut. You can also request someone to help you with the hair at the back.
5. Step 5 – Shave the back and sides with a razor.
Start trimming without any guide. You can use a clear shaving gel on the back and the sides. Make upward strokes, and occasionally rinse the razor to maintain its sharpness.
6. Step 6 – Cut or trim the top.
Lastly, put on the guard to the desired setting to achieve the top length, and that is all.
With that, you know how to do a high and tight haircut at home.
Types Of High and Tight Haircuts
Below we will enlist a few of them high and tight haircuts:
Burr Cut
Slick Back Fade
Caesar Cut
Short comb over with a mid-fade
Spiky Hair
Slick back undercut
Pompadour fade
Short high tight with a medium fade
Curly Faux Hawk
Bowl cut
Soft high and tight for older men
Short buzz cut
Ivy League Cut
Naturally Spiky with a Drop Fade
Hipster cut with beard
Front Swept and Temp Fade
Tapered undercut
Front swept with shaved sides
Short Pompadour with Undercut
The high and tight military cut
Related: Best Cordless Hair Clippers

Styling Tips on How To Do High and Tight Haircut At Home
You have learned how to do a military high and tight haircut at home. Now comes the tricky part – the styling and the care. Ideally, it is a very low-maintenance hairstyle, so you do not have to put so much effort into its styling. But, if you style your hair, it makes it manageable between two trims. You will have to trim your hair every three weeks to maintain the look.
You can use hair wax on the front hair to give them the desired look and style. For instance, a spiky look can do wonders to your high and tight hairstyle. Also, when you cut the hair, apply some hair wax to the crown region.
You can collect all the loose strands and stack them together to add more height to the top and make the afterlook appear tight.
Frequently Asked Questions
Ques 1. How to ask for a high and tight haircut?
Ans. We have provided a step-by-step guide on how to do a high and tight fade haircut at home. But, if this seems nothing more than mumbo-jumbo to you, you can even reach out to a barber to get this style done professionally.
Fortunately, this military hairstyle has been around for many decades. It adds to its popularity. When you know how to ask for a haircut, with the mere mention of the name, the barber will know what you need.
Most professionals locally are familiar with the style and can easily mimic it for you. However, you will have to decide on the cut's length before they get started. You can choose between a short military or a relatively long one.
Styling the high and tight cut also depends on you. You can keep it messy or sleek and refined, depending on the event ambiance and your mood.

Ques 2. Is there a difference between a fade and a high & tight?
Ans. Yes, there is a difference between a high & tight and a fade. The former is a more general term that refers to how you cut the hair on the top, back, and sides.
On the contrary, the fade is for the sides and the back. Many people like to opt for a union of these two styles, which looks stylish and visually appealing.
Ques 3. What is a scissor fade?
Ans. A scissor fade is a basic fade hairstyle. As is apparent from the name, it uses shears and not the clippers. In this style, you cut around the nape of the neck. Then, you go upwards with a tapered comb to shave as close to the skin as required. Stylists use this technique when they need a tailored look to cater to a specific head shape.
Ques 4. What is a two-block haircut?
Ans. A two-block hairstyle adorns a short back, larger crown, short sides, and a longer top. These may remotely resemble tapered cuts and fades, but there is a difference between them as the different hair lengths do not blend seamlessly.
Ques 5. Is high and tight a buzz cut?
Ans. A high and tight hairstyle is one of the variants of the buzz cuts. Today, multiple personalizations come in the high and tight hairstyle that distinguishes it from the buzz cut.
Ques 6. Will a high and tight haircut with a beard look good?
Ans. Many men try a high and tight haircut with a beard, and it looks bold and stylish.
Ques 7. How do you blend fade lines?
Ans. The scissor-over-comb technique can help you neatly blend the fade lines. Start by wetting your hair, place the comb at a forty-five-degree angle, and start combing in the upward direction.
You can go about an inch or two towards the crown. Now, take the scissors, and cut all the extra hair in the smaller section to create a fade line.
Conclusion
We hope with our guide above; you know how to do a high and tight fade haircut at home. As stated, there are several kinds of high and tight hairstyles, and each of them is trending these days. As men have become more informed about hair health, they want them on the head longer.
So, if a man knows he cannot dedicate enough time and effort towards their maintenance, they would opt for low-maintenance options like high and tight hair.
So, if you think a high and tight haircut is for you, do not stress too much and get it done. If you do not want to go through the hard work yourself, reach out to a professional, and get the desired style.