How Can Men Grow Hair Faster – Tips & Techniques!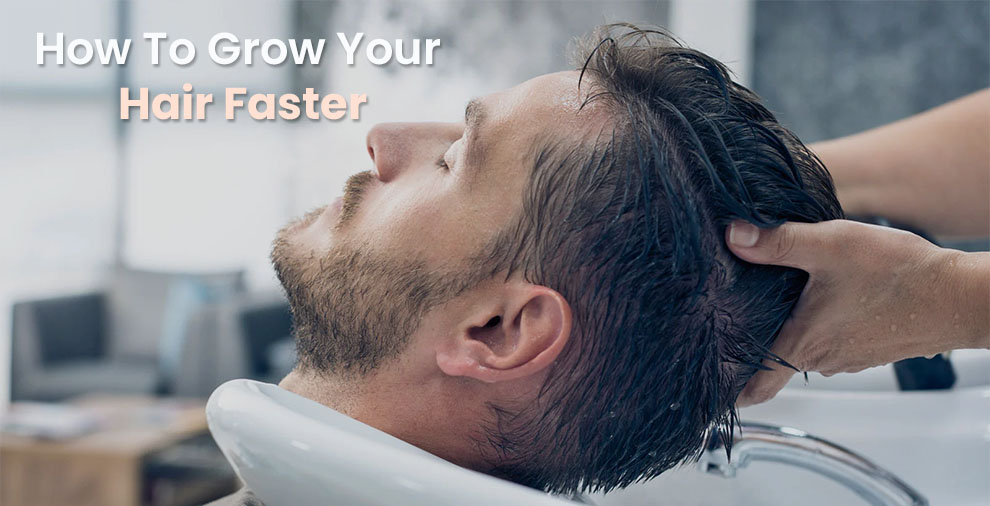 These days hair loss is a hot topic in research and there is no doubt in that. Unlike older times, today both men and women start experiencing hairfall problem in their early 20s. In fact, men start suffering from the problem of hair loss faster leaving them bald as they age.

While most men are able to rock their bald look but many of them still want to grow their hair faster. How can I grow my hair faster men often keep wondering!

Whether you want to hide a bald patch at the bottom of your scalp or maybe you got a really short haircut at the barbershop. You might be feeling nostalgic about the voluminous hair from your youthful years. But no matter how older they get, how to grow your hair faster and longer men keep asking.

Jump To

To be clear, men's hair grow about half an inch every month. This means men hair grow about 6 inches hair each year. However, the growth of hair certainly vary for everyone.

If you follow certain tips consistently, then you can sustain your hair growth and keep them healthy. This means following healthy tips for hair care and improving your diet.

How To Grow Hair Fast In Males?
When it comes to growing hair faster there are some hair care methods that every male can easily follow. Before you go through effective tips on how can men grow hair faster, let's take a look at some general hair care tips.

First of all, you should give regular washes to your hair. Also use antioxidants to condition your hair and promote faster growth. This will most likely improve your hair density, prevent any premature damage as well as promote hair length.

In addition to this, there are some more effective practices that males should follow for healthy hair growth. Here take a look.

1.Have A Good Haircare Regime
We often hear – how to grow your hair faster men keep asking. Well! Paying attention to your hair care routine is very important for healthy hair growth.  It will help you understand about your hair care needs and wants. Plus, following an effective hair regime will save you from common infections.

It's true that most men like to wash hair every day maybe due to itchy or sweaty scalp. This is common with males living in areas where summers get extreme hot making people sweat buckets.

But washing hair everyday removes their natural oil. So, it is best to wash your hair every other day using shampoo. Make sure to use conditioner everytime you have a hair wash.

It will prevent hair dryness and aid in healthy growth. Focus on taking a highly nutritious and protein diet. Don't forget to take the major minerals and vitamins. For instance, deficiency of Vitamin D and B leads to hairfall. So, when wondering how to grow out your hair faster men make sure to check your haircare routine.

2. Have A Healthy Diet
As we have already mentioned above, eating the right food is very important for faster hair growth. What you eat highly affect the health of your hair. So, make sure to have a good nutritious diet that includes foods like meat, nuts and eggs.

Being rich in biotin these food items lead to quick hair growth. Along with this it's important to take foods rich in Vitamin D and fatty fish. This is your effective solution for how to make male hair grow faster naturally.

Likewise, minerals and nutrients such as iron, zinc, copper, calcium and magnesium also boost hair growth. The absence of important minerals like zinc and iron weakens the hair follicle and fasten hair loss.

3. Stay Hydrated
It may sound unbelievable, but a single hair strand consists of almost 25%of water-weight. Hence, dehydration is one of the major causes for hairfall. When your hair lacks moisture, they get split ends and become weak.

This automatically affects the hair growth or may even lead to complete hair loss. So, be sure to drink at least 2 liters of water every day to strengthen your hair. This is an essential tip for men who keep wondering how to make male hair grow faster naturally.

4. Avoid Regular Hot Treatments
Don't use heat for hair styling regularly. Using heating tools like hair straighteners, curling irons and dryers to style your hair can rip them off their natural moisture. This in turn will eventually weaken your hair follicles.

Be sure to avoid styling your hair using heat. It is a simple answer to the question "how to grow your hair faster men keep imploring?"

Likewise, you should avoid using bleach and chemicals in your hair. Using chemical hair treatment certainly makes your look attractive. However, it will lead to problems like splitting protein molecules and damaging your hair.

So, if you are struggling with severe hairfall problem, avoid using peroxide treatments, highlights, perms and dyes in your hair.

5. Do Not Overuse Hair Gels & Other Styling Products
As we mentioned above, application of hair styling products can definitely help in creating cool hairstyles. But they can technically, weaken every hair strand from the roots. For example, applying hair gel prevents the hair strands from breathing and make them prone to damage. Just like this, when you use hair gel or other styling products in excess it can leave your hair dry.

Some of these products have higher alcohol content which can lead to dandruff and dry scalp. And things get worse when you use dryer on your bleached hair. Avoiding hair gels and too much products is the perfect answer for how to grow your hair faster men need to know.

6. Oiling & Scalp Massage
We often come across men asking that how to make male hair grow faster naturally. Well! The most easy-to-do solution is to give you hair a good scalp massage on regular basis. According to a recent study it improves blood circulation and influence dermal papilla cells present at the roots of hair follicles.

Giving a soothing scalp massage at least two-times a week can strengthen your hair follicles. This will directly stimulate the dermal papilla cells and improve the thickness of your hair.

Consider using coconut, argan, olive, castor, onion or almond oil to enrich your hair with major nutrients and keep them shiny. Oiling is an effective treatment for the common issue how to grow your hair faster and longer men need to understand.

7. Hair Food & Supplements
So, how can men grow hair faster? When you take a diet rich in minerals, nutrients and antioxidants it will help in improving hair growth. Some good and delicious sources of antioxidants include beans, blueberries, spinach, kale and legumes.

This is another good practice for men with common question that is how to make male hair grow faster naturally.

However, take care to limit your intake of processed fats, alcohol, sugar and preservatives. It will add on to your oxidative stress levels and potentially increase hair loss.

Don't forget to take your vitamin and mineral supplements on regular basis. For instance, people with deficiency of iron can take iron supplements. While people with diseases like alopecia areata should take Vitamin D supplement and consult a dermatologist.

8. Trim Out The Dead Ends For A Neater Look
Cutting off the split or dead ends of your hair is very helpful to promote faster hair growth. This is indeed helpful for all hair types especially people with natural curls. Since their ends weaken if not trimmed out for a clean look.

Trimming off dead ends not only make your hair look fuller but also prevent breakage. How can I grow my hair faster men keep wondering and this is the perfect solution for it.

9. Use A Satin Pillowcase
In today's climate, it is normal for people to shed a lot of hair throughout their day. It might be due to increasing pollution or temperature rise in certain areas.

Other than this there are many other reasons that contribute to hair loss like stress, hereditary baldness, alopecia and more. But do you know that your pillowcase can also be a factor facilitating hair loss?

This may sound absurd but it's true. When you use pillowcases with harsh fabric covers it can make your hair tangle up and leads to hairfall. The best thing that you can do is use a satin or silk pillowcase. So next time when you find yourself thinking, "how can men grow hair faster", try replacing your pillowcase.

10. Lifestyle Changes (Limit Smoking Drinking)
How to grow your hair faster men always keep asking to reduce risk of heavy hair fall. It's better to change your lifestyle that includes eating healthy food and quit smoking.

Remember smoking can make your hair follicles weak and prone to damage. Also avoid drinking alcohol, sugar, preservatives and processed fats frequently. This often increases the risk of oxidative stress and premature hair graying or hair loss.

11. Manage Your Stress
So, how can I grow my hair faster men keep on imploring. Well! In today's busy life it's normal for men to feel stressed out. This is where it is important to learn about some effective stress management tips.

Otherwise, it can facilitate the rate of hair fall. And, how to grow out your hair faster men try to figure out. Of course, this is often difficult but if you follow the tips shared in this article you will certainly get results.

Moreover, you should look for different effective ways to manage stress. Some of the popular things that you can use is exercising, walking, dancing, writing or deep breathing and meditation.

In addition, you can follow your hobbies to ease your stress levels. Consider participating in a theatre group, start an art/craft project, plant a garden or volunteer for a social welfare programme.

12. Sleep Well
How to grow your hair faster men ask with poor sleep cycle. Sleep is an important factor that goes unnoticed. Taking a good night sleep is very important to promote healthy hair growth.

A good sleep cycle will help you cope up with the stress levels. It also limits the release of telogen effluvium which leads to hairfall.

Having a poor sleep quality also reduces the quantity of melatonin, a growth hormone for healthy hair. When you sleep peacefully it will help you boost the amount of protein and also release enzymes that enhance hair growth.

Now, there are some workaholic people with questions like "how can men grow hair faster". The good news is that with lifestyle, dietary changes, and a suitable sleep routine you can attain normal body functions and healthy hair growth.

How Long Does It Take Hair To Grow?
According to The American Academy of Dermatology, on an average hair grows about half inch every month. Overall, this means that six inches every year for a hair on your head.

If a person is suffering from Alopecia areata, then it is difficult to predict the period of regaining hair. Sometimes hair starts growing back again but then again start to fall out.

Furthermore, if you are suffering from any stress-related issue, then too it's common to experience hair loss. Stress hormone like telogen effluvium usually get released when you go through any stressful moment.

It can last up to six months after that there are higher chances of getting your hair back. However, in case of ongoing stress situation hair loss can be permanent.

Related: How to grow a perfect handlebar mustache? Types of beard cuts for men

How To Grow Your Hair Faster and Longer Men's FAQs
Q. What does 3 months of hair growth male look like lengthwise?
A. If we talk about hair growth in 1 month, it grows between 0.5 and 1.7 cms. This is equal to around 0.2 to 0.7 inches. So, in three months, you can expect something around 0.6 – 2 inches.
Q. How to grow hair faster in a week? Is it even possible?
A. On an average, hair strands grow at a rate between 0.3 to 0.4 mm per day. So in a week a hair strand can grow around 1/10th of an inch or slightly more. But, this is usually not very noticeable. Of course, there is no magic potion to make your hair grow faster in a week.
But if you keep following the tips given above you will definitely get effective results. However, the rate of hair growth differ from person to person.
Q. What is awkward stage hair?
A. It is the hair growth stage between 5 to 8 months, when you start getting your hair back and it doesn't look good.
Q. Should I trim my hair while growing it out?
A. Yes, cutting off your hair ends while growing out will help you get rid of any broken, split or damaged ends. This in return will give a neater and well managed look.
Q. How do men avoid mullets when growing hair out?
A. During the period of growing hair out mullets start appearing at the bottom of the head back. In this case most men get the mullets trimmed from time to time to keep them in check.