How To Properly Care For Your Hair and Maintain Them?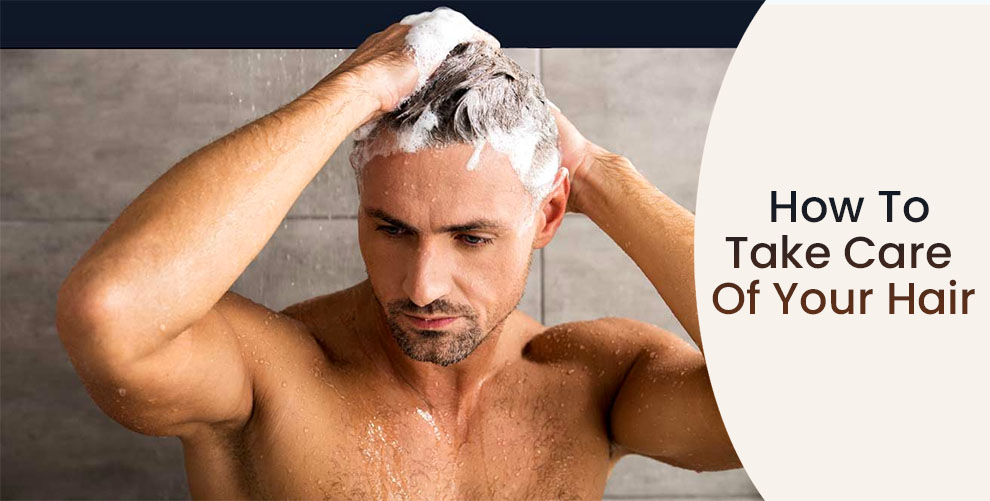 Do you dream of healthy and shiny locks just like what the models flaunt in the TV? Well, that's not something that is farfetched. Your dream can be turned into reality by giving some much deserved love and care to your hair.
How to take care of your hair men wonder! Is the hair upkeep difficult, how to do it and many more such questions keep haunting their minds.
Jump To
After consultation with beauty experts, we have compiled a list of hair care tips that you can include in your hair care regime. Following these tips can help you find out – how to have a healthy hair care regime?
How To Take Care of Hair Naturally?
To find out how to maintain healthy hair, go through our easy and simple steps to give that shine and luster to your hair naturally.
1. Oiling
We agree that conditioner works wonders on your hair, but oiling and massaging your hair improves blood circulation, relaxes your mind, boost shine and nourishes your hair. It also repairs split ends and improves the overall health of your hair.
You can choose from coconut oil, castor oil, almond oil, olive oil etc. If you are wondering how to keep your hair healthy and growing, be rest assured, oiling can do the work.
2. Washing regularly
Who doesn't want to know how to take care of your hair daily? The first and foremost step to a healthy scalp is to wash your hair regularly. However, avoid washing more than once a day. Washing your hair will keep away the dirt and excess oil.
The right frequency of washing depends upon your hair type. If you are the one with oily scalp, washing your hair on alternate days helps, whereas if you have dry hair, limit your washing to twice a week.
3. Right shampoo
Using the wrong shampoo and styling product can damage your hair significantly. Always look for products suited for your hair type. If you are looking for an answer to the question – how to maintain healthy hair, go for a sulfate-free shampoo, and also one without parabens, to avoid harmful chemicals.
Those with colored or chemically treated hair should use shampoos recommended by their hairstylist.
Make sure to shampoo only your scalp where all the oil production happens. Washing any more than needed will strip your hair of all the oil and dry out your hair too much.
4. Conditioner
This is one of the most passed around secrets of hair care. Apply conditioner only on the ends of your hair. Going higher than mid-length will add oil build-up. If you want to keep your hair bouncy and light, comb your hair ends while applying conditioner.
Always make sure to rinse off the conditioner with cold water as it is good for your hair strength and shine. So, now you know how to maintain healthy hair.
5. Deep conditioning once a week
How to take care of your hair men & women both ask! To be honest, though you condition your hair after every wash, deep conditioning your hair once a while will give you silky, smooth hair.
Wash your hair, squeeze out the excess water and towel dry your hair. Take a good amount of conditioner and apply generously on your hair ends.
Use a wide toothed comb. Run it through your hair for the conditioner to reach everywhere. Now, clip up hair together and leave the conditioner for 30-45 minutes. Rinse it off thoroughly and see the magic.
6. Drying washed hair
Whenever you get a chance, air dry or towel dry your hair. Take breaks from using heat on your hair. Using heat for long-term can cause lasting damage to your hair. Avoid sleeping in wet hair or comb wet hair.
Avoid rubbing your hair with towel excessively. Use a microfiber towel or an old t-shirt to dry your hair as they are softer on hair than the traditional towels.
7. Detangle and comb wet hair
Make sure to comb wet hair with utmost care because wet hair is fragile and break easily. They are three times more vulnerable to breakage. Use a wide toothed comb for detangling. Run it from the roots to the ends of your mane as gently as possible.
8. Go easy on the heat
How to maintain healthy hair without compromising on styling? While blow drying, start off on the lowest heat setting and gradually increase the heat as and when needed.
9. Trim your hair regularly
Cut your hair regularly – every 10 or 12 weeks for healthy hair with no split ends. Spilt ends arise from regular wear & tear, chemicals from styling products, using heat, stress, pollution, smoking and so on. Trimming will ensure that you have healthy hair.
10. Lifestyle changes
Lifestyle factors play an important role in your hair health. Stress is a key factor that impacts your hair health. Constant stress attacks hair follicles and can lead to hair falling out.
So, keeping your stress under control is essential. Calming rituals like meditation, yoga can help relax your nerves and improve resistance to stress.
Environmental factors like exposure to toxins and pollution can be harmful to hair follicles and impact your hair wellness. Practices like washing your hair after getting exposed to pollutants, wearing hat or cap outdoors, or using a good conditioner containing protective ingredients can help protect your hair from environmental stressors.
11. Cut down on smoking & drinking
Smoking or exposure to second-hand smoke and excessive drinking are also harmful to hair. Quitting smoking will not only improve your lung health but also your hair health.
12. Reduce your stress
So, if you are wondering how to keep your hair healthy and growing, you know what to do. Reducing stress, and spending time in nature are important ways to keep hair healthy and strong at any age.
13. Use a silk pillowcase
Likewise sleeping on cotton and linen pillows can cause hair damage as they have rough texture. For proper hair maintenance, silk and satin pillowcases are the best.
14. Diet
As the saying goes, "You are what you eat." Many people ask us – how to maintain healthy hair, the most effective treatment of maintaining healthy hair and scalp is a healthy diet.
You should eat at least 45 grams of protein each day. Lean meat, beans, dairy products, fish, eggs are all good sources of protein. Protein deficiency can cause dry and brittle hair.
Just like protein, zinc deficiency can also cause hair fall. Include walnuts, Brazil nuts, pecans, almonds and cashews in your diet. Eat plenty of fruits, vegetables and leafy salads.
Omega 3 is excellent for stimulating hair follicles and improving scalp health. It is found in fish like salmon, herring and sardines. Yogurt, flax seeds, cottage cheese, cereals and salads are good sources of omega 3.
15. Stay hydrated
Drinking at least two liters of water is extremely important for the strength and growth of your hair.
16. Exercise
Last but not the least, exercising daily will help with hair growth as exercise improve blood flow and circulation throughout the body.
Hair Care Secrets – How to take care of hair daily?
If you are interested to know how to maintain healthy hair, we have compiled a list of few easy and simple beauty tips that you can follow.

Brush before shower
Once in a while apply warm oil and wrap your hair in a towel.
Massage your scalp often
If you use a helmet, try to keep your hair clean and sweat free
Avoid hot showers and go for lukewarm water.
Only shampoo your scalp
Apply conditioner to hair length and tips rather than scalp
Wash oily hair frequently and dry hair twice a week
Go for sulphate-free shampoo
Use a wide toothed comb for detangling your wet hair
Apply little conditioner to your hair before swimming
For instant volume, switch your middle part to a side one.
Allow your hair to dry by itself
Pour a little beer in your wet hair. Massage your scalp with your fingers for 20 minutes.
Mix equal amounts of warm water and apple cider vinegar and apply it to your hair. Wait for 5 minutes and then rinse it
If you have dry or brittle hair, use egg to condition your hair.
Change the place where you place pins and clips to avoid breakage
Avoid tying your hair too tight.
Use caps or hats while stepping out in the sun as sun rays can damage your hair.
Opt for hair scrunchies instead of plastic hair bands.
Use a serum or leave-in conditioner.
Cut your hair every 6 weeks
How To Take Care Of Hair Naturally In Winter?
Winter is that period of time when the weather wreaks havoc upon your hair. Wet and cold weather can be harsh on your hair; it can cause frizzy or dry hair, can lead to breakage of strands or you can get an itchy and flaky scalp. To learn how to take care of your hair men & women need to understand a few things.
So you need to be extra careful in the cold season  when it comes to taking care of your hair. Here's how to properly care for your hair in the cold months:

During winters, your scalp tends to get itchy and dry due to lack of moisture. This may cause dandruff, flakiness and scalp irritation, which may further cause hair fall. A warm oil massage can make wonders to your hair as it enhance blood circulation and nourish your hair follicles.
Protect your hair from the harsh weather by using a scarf or a cap.
Keep the scalp and hair hydrated by drinking plenty of water
Avoid using curling irons or straighteners
Make sure to use lukewarm water as hot showers can cause flakiness and dry scalp
As your hair becomes damaged and dry during winters, if you ask us how to maintain healthy hair, hair masks would be the answer. Hair masks can reverse the effects of dryness. Use hair masks once weekly for making your hair soft and shiny even during winters.
How To Take Care Of Straightened Hair?
When it comes to your hair you might find yourself boggled with this question many times – how to keep your hair healthy and growing. On top of it, if you hair is chemically treated, then it becomes all the more challenging to keep your hair smooth and healthy.
Straightened hair tend to become weak and brittle, hence taking care of them is hard work. To learn how to take care of your hair men & women need to be extra cautious. Here are few things to keep in mind for those with straightened locks:

Maintain a healthy diet that includes plenty of antioxidants and good fats to strengthen your hair
Switch to sulphate-free shampoo as products with sulphate can be extremely harsh for your hair. Try and shampoo your hair less frequently, like twice a week. Instead try to condition more often or go for hair spa once in 15 days to protect your hair from sun and pollution.
Post straightening, your hair become dry and brittle, so deep conditioning once weekly or once in 10 days can go a long way to keep your tresses healthy and strong. Also, using a good quality leave-in hair serum after shampooing can help.
Stay away from styling implements. If you need to use a blow-dryer, go for cool mode.
Avoid swimming or long periods of exposure to sun right after the straightening treatment
Go for a trim every six-eight weeks for getting rid of any split ends
Don't twist & tie too tight
How To Take Care Of Hair Naturally – Curly & Wavy?
How to maintain healthy hair curls can quite be a task. Unlike straight hair, curly hair tends to easily become dry, coarse and frizzy, making it difficult to take care of.  The only thing that can tame your curly mane is a good hair care routine. Let's find out how to take care of your hair that's curly.

Choose specific shampoo and conditioner for curly hair including aloe vera, keratin, shea butter, jojoba oil etc
Condition your hair before and after shampooing as curly hair tends to lose out moisture very quickly.
Avoid hot water for washing your hair
Use a wide-tooth comb to avoid breakage
Don't heat style your hair & get regular trims
How To Take Care Of Long Hair At Night?
If you have long hair, sleeping without properly securing it can lead to breakage and damage. Let's look at some of the tips on how to take care of hair daily.

Use a silk or satin pillowcase
Cover your hair with a silk or satin hair wrap or scarf while sleeping
Braid your long hair before bed.
Make sure to brush your hair before sleeping
Tie your hair back with silk scrunchies instead of elastic hairbands at night
Secure your hair with a fabric headband and apply a bit of warm oil on hair ends to protect them from friction and prevent spilt ends
Avoid tight or messy buns at night
Use a leave-in conditioner with keratin or protein before securing your hair for the night.
Related: Short Haircuts for Black Females, Trending Men's Haircut
FAQs About How To Properly Care For Your Hair
Q. What is the best hair care routine?
Ans. The best hair care routine is oiling your hair before cleansing it. Cleansing should be followed up with a good conditioner. After conditioning, make sure to detangle your hair with a wide-tooth brush. Make sure to use a heat protection spray while using heat styling tools. If you don't work with styling tools, apply a good serum and use a wooden comb to detangle.
Q. Which oil is best for hair?
Ans. What oil to use depends on your hair type and needs. There are a number of oils that are good for hair like coconut, sesame, jojoba, almond, castor, argan, moringa, etc.
Q. How to take care of your hair after washing it?
Ans. Post wash, gently pat your wet hair with a towel and loosely wrap the towel around your hair to remove the excess water. Apply a leave-in conditioner or serum to retain the moisture.
Run a wide-toothed wooden comb through your wet hair from top to end. While styling your hair, make sure to use heat protecting serum before using heating tools.
Q. How to take care of damaged hair?
Ans. For damaged hair, you need to be extra careful. Starting with diet, have a protein & vitamin rich diet. The first step is to follow a gentle hair care routine. It starts with oiling your hair, then using a gentle cleanser using products free from sulfates, parabens, dyes, alcohol and artificial fragrances.
Wash your hair regularly to get rid of dirt and dead skin cells. Never use hot styling tools on damaged hair. Apply serum on your hair and the ends. Make sure to trim your hair every 6 to 8 weeks.
Q. How to take care of bleached and dyed hair?
Ans. Before shampooing your colored hair, wait for three days. Make sure to use sulphate-free shampoo and conditioner meant specially for colored hair. Avoid hot showers. Wash hair only twice a week. On days when you don't wash your hair, you can go for dry, color-safe shampoo.
Q. How to take care of your scalp for hair growth?
Ans. For a healthy, longer and stronger hair, scalp care is the key. Massage your hair with onion oil for strengthening the hair follicles, preventing hair loss and promote hair growth.
Wash your hair every 2 -3 days. Make sure to pick a shampoo that suits your scalp type. Reduce the stress on your scalp while detangling by using your fingers and adding a serum in your hair care routine.
Q. How to take care of hair naturally after a sweaty workout?
A. Your hair becomes stinky, sweaty and oily post workout. Take a warm water shower using a shampoo and conditioner to clean your hair.
If you are not up for a shower, use your towel to soak up your sweat and use a dry shampoo on your hair.
Since your hair might be oily after a workout, use a boar bristle comb to brush your hair which will distribute the oils to the middle and ends of your hair.