Philips Norelco Shaver 4500 Vs. 4100: Which One Should You Buy?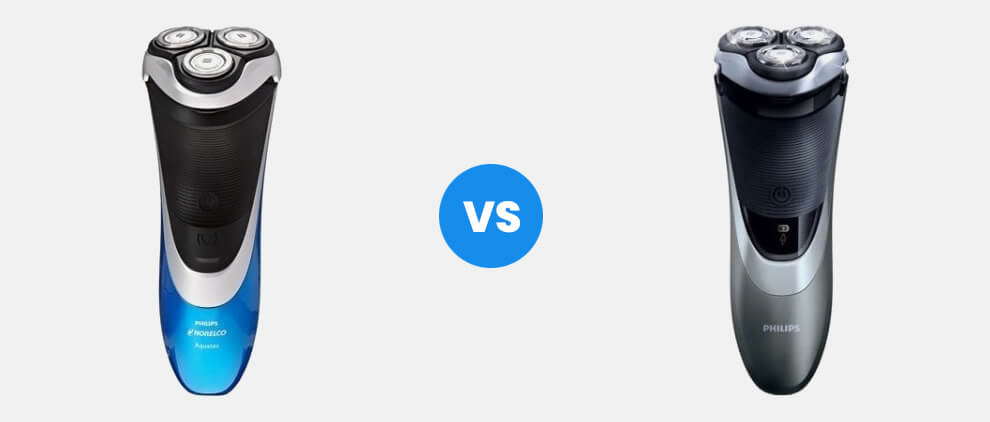 There are so many shavers available in the market, and amidst this overwhelming variety of options, making a choice is not easy. Unfortunately, the bigger problem is – you do not know what might work well for you.
Why? Because we all have different skin and hair types. What works on one may not work well for the other. Also, we all seek different features from different shavers. Thus, understanding the difference between the available options and making an informed choice will help you save a good amount of time and certainly some bucks.
Key Takeaway At A Glance
Both use AquaTec seal, Skin Protection, and Lift and Cut technology. Apart from these, both 4100 and 4500 also use the Flex and Float technology. 4500, however, also has a pivoting head which is missing in 4100.
If you desire something that is light and effortless to move around, then our suggestion would be the 4100 model as it is lighter than Norelco 4500.
From Norelco 4100 Vs. 4500 comparison, we can conclude that both have similar performance. However, for people wanting a more recent model, 4500 is the one to buy.
So, what should you do to make all your worries go away? Shop for a shaver from a brand that most certainly promises to offer you the best quality at the best price. There are a few brands that have stayed the ground for many years like Philips, Wahl, Oster, and Andis.
Here, in this article, we will do a Philips Norelco shaver 4500 vs. 4100 comparisons? Users have a lot going when they have to choose the ultimate best Philips shaver, especially when it comes to their Norelco range. Why did we choose to do this? See, these are the two of the most popular picks from the brand's Norelco range.
In This Article:
In this Norelco 4100 Vs. 4500 comparison, we will compare the brand's two models on various parameters to help you make a better pick between Philips Norelco shaver 4500 vs. 4100. Let us take a closer look at each of them and read through them in detail to assess if the 4500 model is worth the additional splurge.
Philips Norelco Shaver 4500 Vs. 4100 Features Compared – What's Better?
Feature
4100
4500
Image
Dimension
1.85 x 2 x 6.13 inches
2.2 x 2.2 x 5.75 inches
Ideal For
Flex & Float system for wet/dry shaving
Pivot, Flex & Float system for wet or dry shaving.
Battery Run time
50 Min
50 Min
Item weight
0.39 Pounds
0.6 Pounds
Blade style
Dual Precision blade, which tackles both long and short hair.
Pivoting head blade that allows effective and quick shave.
Style
Comfortable-cut system
Close-cut system
Waterproof
Yes
Yes
Razor Type
Rotary
Rotary
Cut System
Comfortable lift and cut patented system
Close-cut system
Pop up Trimmer
Yes
Yes
Color
Blue/Black/Silver
Matt
Shockproof
Yes
Yes
Contouring System
4
4
Warranty
2 Years
2 Years
Washable
Yes
Yes
Charge time
1 Hour
1 Hour
Quick Charge Option
Yes
Yes (3-min quick charge for 1 cordless shave)
Charge time
1 Hour
1 Hour
Special Feature To Mention

It can run up to 17 days if used for short periods (cordless use)
45-day risk free trial

Up to 17 days shaving time
45-day risk free trial

Display Type
Led
Led
Accessories
Electric shaver, Cleaning brush, Power cord, Protective cap
Docking station, Cleaning brush, Power cord, Protective cap, Electric shaver
Price
Check Price on Amazon
Check Price on Amazon
Philips Norelco 4100: Detailed Review
Norelco 4100 shaver weighs around 0.39 Pounds and measures 1.85 x 2 x 6.13 inches. It comes with two highly durable stainless steel blades and a rotary motor. The same model was earlier in the market with the name PowerTouch. It is a great pick for first time shavers as well. You get this shaver in a bright mix of Blue, Black, and Silver. Its AquaTec seal makes it suitable for both wet and dry shave.dry shave.
Key Attributes
Flex and float technology for easy contouring
Ideal for both wet and dry shave (AquaTec technology)
Very easy to clean and wash.
Can tackle sideburns with pop-up trimmer
'Patented Super Lift and Cut Tech' lifts hair for a closer shave
Durable dual precision blade quality for long and short hair
LED battery indicator
Norelco 4100 – Key Features In Detail
Patented Super Lift
The shaver also has a super lift stroke and a dual-blade, aiding in cutting hair beneath the skin level. Patented super lift will allow you to lift the facial hair, and thus, help cut close to the tiniest hair.
Flex and Float System
This system allows you 4 directional contouring on your face giving you the closest shave each time.
DualPrecision Blades
This shaver comes with 2 very durable Dual Precision blades. These blades ensure that they cut well through long as well as short hair with equally good results.
Quick Charge
There is a quick charge feature wherein simply charging the razor for 3 minutes can help you complete the pending shave in an emergency.
Long Battery Life
This incredibly renowned 4100 series comes with a lithium-ion battery that has a super large battery capacity, allowing long-term usage. Runtime of the shaver is 50 minutes or 17 days if not used continuously.
Easy Operation For A Hassle-Free shave
Another impressive thing about this series is that it is very easy to operate and allows a hassle-free shaving experience every time.
AquaTec Seal (Wet and Dry Shave)
Known for its dual precision heads and AquaTec seal, 4100 Norelco smoothly functions on both dry and wet faces.
Skin Protection System (No Nicks and Cuts)
The Skin Protection System of Norelco 4100 ensures that the blades are gentle on the skin and do not cause any irritation, pulls, or razor burns.
LED Display (On/Off)
The razor has an LED charge option, which helps save battery life. It is located on the front end of the shaver. The button is engulfed by rubber for a good grip.
Superior Performance
If you need a trimmer that can provide you a super-comfortable shave with a good battery backup, then this can be the perfect go-to choice.
Superb Design
The Norelco Shaver 4100 is very comfortable and lightweight to hold. It has a beautiful color scheme. You can find a good balance of silver, aqua blue, and black colors. However, the back is bland, and only has a pop-up trimmer.
Cleaning & Maintenance
The Philips 4100 model shaver has excellent cleaning storage and a seamless washable layout, allowing easy cleaning of filthy hair in no time. Added to it is the cleaning brush that ensures effortless cleaning.
There is also a protective cap you get with this shaver model that helps you best care for your shaver, and add to its longevity. It comes in handy while traveling too.
Value For Money
The brand has excellent shaving benefits and a myriad of features available for you. So, your money is well spent on the right device.
Warranty Support
Philips Norelco 4100 shaver comes with a 45-day trial option (money back guarantee-conditions apply). More so, the brand gives you a warranty of two years. So, if there is a manufacturing defect in the product, you can get an assured replacement.
Norelco 4100 Summarized: Key Attributes, Pros & Cons
Pros

Skin protection system makes it a perfect pick to prevent skin irritation.
The shaver has a pop-up trimmer for mustaches and sideburns.
You get a lithium-ion battery with it.
Quiet operation
Long lasting battery
AquaTec Seal for wet/dry shave
Quick charge feature
Up to 17 days backup
Comfortable to hold
Durable
Money back guarantee – 45 day trial (Conditions apply)

Cons

The built quality could have been better.
Users have complained of receiving a refurbished item. So, buy from an good authorized seller only.
Philips Norelco 4500 Electric Shaver: Detailed Review
Another great pick from Norelco range is the model 4500. It measures 2.2 x 2.2 x 5.75 inches and weighs about 0.6 Pounds.
It is comfortable to hold, can work in a sink or a shower, and is full of features that make it a sweet deal. Now, let us take a quick look at the features of Norelco 4500 in detail.
Key Attributes
Dual precision technique lets you trim and cut both small and long-length hair.
AquaTec Seal allows it to undertake both dry and wet shave.
Works well with or without shaving gel
Adeptly cuts hair beneath skin level
Flex and Float system for 4 directional contouring
Does superb trimming and cutting for all kinds of facial hair
Washable
Well priced
Skin Protection System
Quick charge benefit
Runtime of 50-minutes
LED on/off button for battery-indications
Norelco 4500 – Key Features In Detail
Pivoting Head
This is the most important and discriminating feature you get with 4500. The kind of performance and design you get with Norelco 4500 is unparalleled. It can tackle all lengths and densities of hair adeptly. On its pivoting head there are three rotating trimming blades, which work incredibly well to adjust to your face contours and help you achieve a close shave without any compromise on speed and comfort.
Pivot, Flex and Float Head
This design lets you shave as close to the skin as possible that too in no time.
Ideal For Both Dry And Wet Shave (AquaTec Seal)
The shaver's AquaTec seal makes it perfect for undertaking shaving in the sink and shower. You also do not need any cream or gel, but using it is certainly better for a wet shave.
LED Display
It has an LED display with a battery-low indicator, which gives you a precise peek into the remaining battery.
DualPrecision System
This system enables the shaver to conveniently shave through long and short hair.
Helps With More Than Just Beard
You can use this trimmer for your sideburns and the mustache, all thanks to the pop-up trimmer.
Patented Super Lift
The super lift feature working with a dual cut blade helps you shave below the skin. It gives you a smooth shave underneath.
Battery Support
The battery capacity of Norelco 4500 is incredible and is adequate to give you an effective shave on an everyday basis. Further, it has a supreme charger for easy charging. For a complete charge, the shaver takes only 60-minutes, and that gives you a 50-minute backup.
Quick Charge
There is a quick charge feature, which can come in handy if you are in the middle of a shave. So, all you have to do is put your shaver on a three-minute charge, and you can complete the shave.
100% Washable
Another excellent thing about the Philips Norelco 4500 series is that it is 100% washable. So, you can put it under the water anytime when you have to clean it.
Accessories
You also get a cleaning brush to wipe off the remaining hair pieces after a shave. There is also a protective cap included in the package.
Warranty Benefits
The shaver comes with full two years of warranty. So, if there is ever a problem or if you receive a broken or wrong product, you can get it replaced immediately. Hence, you always have a safe assurance that your interests are guarded if you ever receive a faulty or poor-quality product.
Philips also provides you with a 45-day money-back guarantee (conditions apply).
Affordable
Philips is known to offer top-quality products. So, with Norelco 4500, you get the best quality at a very reasonable and affordable price.
Norelco 4500 Summarized: Pros & Cons
Pros

Pivoting head
AquaTec Seal
Comes with a cleaning brush and trimmer
Flex and Float technology
Has a 45-day moneyback guarantee.
Skin protection technology
Comes with a Lithium-ion battery.

Cons

Slightly on the expensive side.
Are There Any Differences Between Philips Norelco 4100 vs. 4500 ?
Now, let us take you through the Philips Norelco shaver 4500 vs. 4100 differences to help you make the selection. As is apparent, there are many similarities, but it is the minor differences between the two, which make one better than the other. However, please take note, better does not necessarily imply that one can outshine the other.
It simply means that if you put your desires and expectations in place, you can find one trimmer better than the other. Now, let us get started and address the Norelco 4100 Vs. 4500 differences to help you make an informed choice better.
Weight and Dimensions
If you observe closely, the 4500 model is undoubtedly bulkier of the two. However, the differences in weight and size are almost negligible. Norelco 4100 has 1.8 X 2 X 6.13 inches dimensions and weighs about 0.39 Pounds. Whereas Norelco 4500 measures 2.2 x 2.2 x 5.75 inches and weighs 0.6 pounds.
Packaging Style
Philips Norelco 4100 Vs. 4500 is different on the packaging front. Since they are packaged at different stages, the packaging for the two is different. You get the former in a simple recyclable brown box. On the other hand, the 4500 comes in plastic frustration free packaging.
Pivot Head
On comparing Norelco 4100 vs. 4500 we found that the latter comes with a pivot had along with the flex and float technology. The pivot head is missing in the Norelco 4100.
LED Indicator
In the next aspect of the Philips Norelco shaver 4500 vs. 4100, we will compare the two based on the LED indicator present on the shaver's body. The former has a two lights on the body, while the latter has a single light indicator. So, in 4500, you will see is a green light, when the battery is full, and a red light when the battery is low.
Year of Release (Which is more recent?)
There is a distinction between Norelco 4100 Vs. 4500 in the production run too. But, of course, the 4500 model is more latest and came into the market only in 2015; the 4100 model has been in existence since 2012.
Charge Dock
Next, as for the Philips Norelco 4100 Vs. 4500 distinction, there is also a difference in the charging dock. The former does not come with a dock, but you can shop for it separately. In 4500 model, you get a charging dock, which is annexed to the wall. However, some customer reviews suggest that they did not receive it with the package.
Price
All the incredible features set in both the models come at a reasonable price tag. However, Norelco 4500 is the more expensive one out of the two.
Similarities Between These Two Philips Norelco Shavers
Upon comparing Philips Norelco shaver 4500 vs. 4100, we have realized one thing. Both of them are very identical. So, before we take you through the Philips Norelco 4100 Vs. 4500 differences, we will discuss some critical aspects in which the shavers are the same.
Replacement Heads
The shaver's head should be replaced every 12 months regardless of how often you have used it. This holds for both the shavers.
Li-ion Battery
Both of them work on slightly older battery technology, that is, the lithium-ion tech. Consequently, it may not be as fast as the models running on the newest NiMH technology, but it has its benefits.
Multipurpose Use
This trimmer can be used in beautifying more than just your beards. You can use it both in the shower and in the sink to maintain the sideburns, neckline and trim the hair from the nose and ear.
Same Replacement Parts
For both 4500 and 4100 Norelco models, the replacement parts are same. Mostly, people use the SH50/52 head.
Same Motor
Both of the two shavers operate with the same chassis and motor.
Similar Appearance
Both the two shavers have an identical housing and look very similar except for the color.
Flex And Float System
Both the shavers come with an exquisite system known as the Flex and Float. With these exquisite components, you will be able to glide through the hard-to-reach areas of the face, below the chin, and around the jawline.
Pop Up Trimmer
A prime reason for the popularity of this trimmer is its horizontal pop-up trimmer. It is a time-saving component. All you have to do is slide the plastic cover, and take out the trimmer attachment.
Skin Protection System
Both of them have the same skin protection system to lower the chances of skin irritation.
Travel-Friendly
Both the 4500 and 4100 models are travel friendly. Furthermore, each of them comes with a protective cap. So, if you travel frequently, then the case can be quite helpful for you.
Dry And Wet Shave Possible
Both trimmers have an AquaTec seal, which makes it easy for you to use it in the shower and even at the sink. Thanks to its dry and wet shave feature, these shavers are hugely versatile.
Simple Cleaning And Maintenance
The cleaning process is also easy. You can open the side button and rinse it under water. If you use as directed, there's not much maintenance needed.
Philips Norelco Shaver 4500 Vs. 4100: FAQs
Ques 1. Which Philips Norelco Shaver Is The Better?
Ans. In all honesty, there is no clear answer on which of the two is better because it all comes down to the features and specifications that you need and your color preference. And there being no major differences between the two, you can pick any. However, 4500 being the more recent one has some additional tweaks to make the performance better.
Ques 2. Which Is Better, Philips Norelco Or Braun?
Ans. There is a crucial difference between the two brands. In the Braun, you get foil shavers. On the other hand, the Norelco caters to your hair with its exquisite three-blade rotary heads. Depending on what you need, you can decide which of the two is better.
Ques 3. Which Is The Best Philips Razor?
Ans. Again, the best is quite a subjective term, and what may be best for you may not be best for your friend and even anyone else you know. However, in our understanding, we have not ever found a razor better than the Philips Norelco.
Ques 4. Can The Philips Norelco Razors Be Used Under The Shower?
Ans. One-hundred percent. They are waterproof and shockproof. So, you can use them under the shower with ease.
Norelco 4100 vs. 4500: Final Verdict
So, this brings us to the end of Philips Norelco shaver 4500 vs. 4100 comparisons. Finally, after analyzing the features and the performance, we have concluded, there is not much difference between the two. The two have a similar shaving head, motor, and other main features.
However, when it comes to making a pick between Philips Norelco 4100 Vs. 4500, there are a few things that differentiate the two, and that is their color scheme, LED indicator, price, weight, and dimensions.
We have tried our best to put forth the Norelco 4100 Vs. 4500 comparison. Make the best pick!