Philips 9300 Vs 9700 Detailed Review With Pros and Cons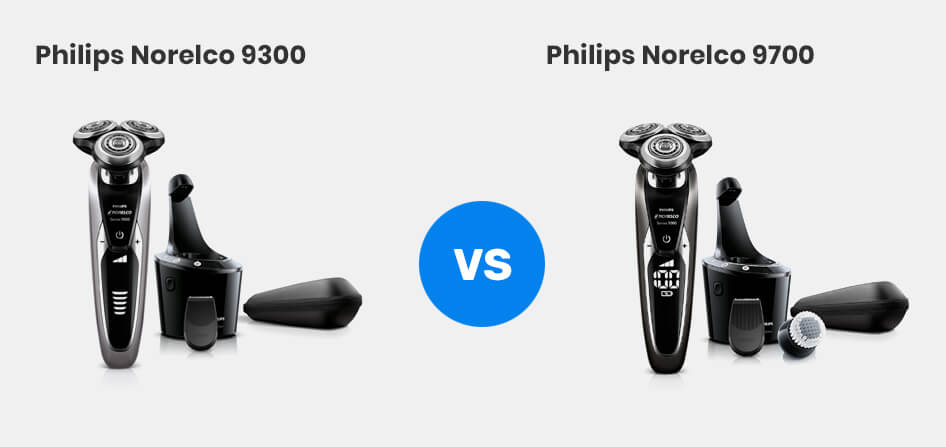 When it comes to design, features, and shave quality, the Philips Norelco 9000 series is unprecedented. However, similar to most other modern shavers, even the Philips 9000 series has more than one option for you to pick from.
In the brand's 9000 models, it can be challenging to comprehend the different models' differences. And we have been flooded with questions about four particular models – the 9300, 9700, 4100, and 4500. This article will take upon the Norelco shaver 9700 vs 9300 because they are hugely similar, but there are some differences, which make one better than the other. We have a Philips Norelco 4100 vs 4500 comparisons too, don't forget to check that out too.
The only way to understand which of the Norelco shaver 9700 vs 9300 is better is by comparing them side by side. So, in this head-to-head Norelco shaver 9700 vs 9300 comparisons, we will first take you through a detailed overview of Philips Norelco 9300, then Philips Norelco 9700 review, and finally address the Norelco shaver 9700 vs 9300 differences and similarities.
We assure you by the end of this Norelco shaver 9700 vs 9300 comparisons, you will know exactly what sets them apart, and there will undoubtedly be one that stands out and which one is worth the buy. We are certain that amongst Philips Norelco 9300 vs 9700, you would want the best and may not want to invest in the second best, right? So, read below to find out which one comes right at the top.
Table of Contents
Philips Norelco 9300 Review
The 9000 Philips Norelco line was released in 2013, and it did not take too long to be immensely popular. International Forum of Design lauded it with the consumed product design award, and that is when the series became the center of attraction. One of the initially launched products in the series was Philips Norelco 9300, and in this section, we will give you a quick Philips Norelco 9300 review.
The Philips Norelco 9300 is a visually appealing shaver, which comes in an attractive steel gray, black, and chrome design, which stands out from the very moment you take it out from its packaging. This is not a bulky shaver, and its rubberized handle and grip design at its back only makes it very ergonomic for you to handle it nicely and conveniently.
The innovation listed out on the packaging and its pleasant first impression is not just what the Philips 9300 provides you with. An interesting point that we want to put forth in this Philips Norelco 9300 review is that this device can cut up to twenty percent more hair per pass than the other shaver models or brands in the market.
It is majorly because of the new and improved V-Track blade inside the three rotary heads. Each of its heads is packed with dozens of precise and small blades, which self-sharpen as they cut and the two tracks. All of the tracks have been designed to serve different purposes. The inside track tackles the longer hair, and the outer track takes care of the smaller hair.
It is a vital upgrade in the 9000 series because many lower-end models from the brand come with a single track. Of course, that does not mean that the lower series, such as the Philips 7000 series is bad. It is just that those models will take a little longer for you to complete your shave.
The magic for the 9300 model, or even the whole of the 9000 series, is widely accredited to its rotary heads. The 8-directional contouring system of the 9300 is an amalgam of cross pivoting platforms. It implies that Philips Norelco stacked the different tilting plates one over the other in an engineering feat, absent in most other shavers. Further, the four cross-pivoting plates were also included for the maximum contouring detection out of every Philips shaver in the market.
Through our experience with 9300, what stood out for us was its 8-directional heads. While you shave, it seems like a compact robot palm hugging your face as you shave. A standout thing about Philips Norelco 9300 is that you do not have to go over one area more than twice because the shaver will rarely ever miss any hair in the first pass.
Pros

Handle feels comfortable in the hands.
Different speed levels to play around and tailor your shaving routine.
Blades are fantastic. They won't tug the face.
The blade angle makes them efficient and gentle.
Cleaning dock is good – it lubricates, cleans, and preps the razor for a shave.
Quick charging is great when you are out of juice.

Cons

Compared to the razor's size, the cleaning base feels quite large.
Floating head does not work very well after a few uses.
Furthermore, the Philips Norelco 9300 also comes with many additional features, which are absent in the other Norelco series from the brand. For instance, the presence of additional personal comfort settings makes it quite a pick.
Only by pressing the button can you modify the shaver's speed motor up to three times, making you switch from Gentle to Normal and Fast. This is indeed one of the best picks for someone who has sensitive skin or needs a quick shave before a sudden night out.
More so, the shaver's indicators also are way ahead of any average product. Philips does not even call them indicators. For them, it is the digital user interface. From there, you can get every vital information about the shaver, such as the battery life, a travel lock notice, and an indicator to tell you when you have to replace or clean the shaver head. The cleaning station works just as well as advertised.
Also, the package even contains the cleaning station and different trimmer attachments. The attachments function well and assure a better trim compared to even the shavers with a flip-up trimmer.
One key lowdown about the Philips Norelco 9300 is that you will have to switch out the shaver head for using it. Of course, it is no big deal, but when you shave in the shower, switching heads can be a tad bit off-putting.
Overall, the Philips Norelco 9300 is a sleek shaver, which is high on convenience and tech. You only holster the shaver onto the device once a week, and it will sanitize, clean, and dry the shaver in just a few hours. Lastly, you get a travel case with a hard shell and a charger, which is excellent while you are on the road.  It goes without saying, it is worth the buck.
Philips Norelco 9700 Review
Taking the Norelco shaver 9700 vs 9300 comparisons forward, we will now give you a detailed overview about Philips Norelco 9700. Before we get to this Philips Norelco 9700 review's intricacies, we would like to give out a little disclaimer.
When we studied through the Philips Norelco 9300 vs 9700 comparisons, we understood that the 9700 model has quite similar features to the 9300 model. Since they are both a part of the 9000 lineups, this does not come as a surprise. Now, the question is, what exactly does the 9700 model offer you. Keep reading to know more.
Firstly, we will talk about the looks and the color-scheme because that is one of the first things that you will notice about the product when you first look at it. So, in all honesty, when it comes to selecting between Norelco 9300 and 9700, we like the color-scheme of 9700 more. It is an incredible starker chrome on the black, which will look particularly spectacular if you have a white-themed bathroom.
Further, the ergonomic grip of this Philips model is just as well-executed as the previous model. Holding a shaver in our hand could not have felt more comfortable than this. This is of prime importance for someone who likes to shave in the shower.
Now, as you go inside the shaving head, you will notice slightly more complex engineering. Compared to the other Norelco products, the 9000 has one impeccable thing. It packs everything that they possibly know about shaving to assure that the shaver has an irritation-free, refreshing, fast shave.
To begin with, the rotary foils of this shaver comprise two separate blades and tracks. This is double what you get with the lower-end models as they stick with one set of tracks and blades. The second track enables the Philips Norelco, 9700 model, to capture better thanks to its short and long hair. It also has a specialized inner track to tackle long hair. It comes with self-sharpening blades, which indeed cuts better and stays sharp for long.
Pros

Display console is incredibly detailed, and presents good information.
Rotating blades work well.
Blades are sharper and more efficient than in the 9300 model
Cleaning dock is upgraded in terms of their power to clean fluids.
Its flexing head makes it travel to all your face contours, legs, and faces.
Can be used for both wet and dry shaving, owing to its AquaTec technology.

Cons

You have to be careful with the cleaning unit, as it tends to malfunctions at times.
Following a few month's usage, the cleaning fluid turns brown, which is not good for the razor.
Further, we genuinely believe that the Philips 9700 is a superb shaver. We have tested it for both wet and dry shaving, and the shaver performed exceedingly well. Its head is giant enough. So, even if you use it for a wet shave using shaving cream, gel, or foam, it won't clog up its rotary heads.
Further, the presence of a three-speed motor enables you to pick the desired speed aggressiveness of the Philips Norelco 9700 during the dry shave. Maneuvering it around across the facial contours is easy and effortless because of the eight-directional contouring system's presence. Furthermore, the product has twice the pivot action and the tilt compared to the Philips' 4000 line and about a quarter more when compared to the Philips' Norelco series.
You will appreciate these additional contouring components the most while you shave through your jawline and chin. Not for once do these rotary heads leave your skin. More so, if you are someone who despises the need to make multiple passes when shaving with an electric shaver, then 9700 is the perfect choice for you. Its V-track precision blade cut or trim the hair effortlessly in twenty-percent less time when compared to the electric shavers.
Now, when we were assessing both these models, one thing that we noticed was the digital interface. So, amongst these two, the 9700 model has a more upgraded display with a new and improved battery percentage indicator. Further, Philips has also included a more precise indicator system for alerting the blade replacement and cleaning or the travel lock.
In the 9700 packages, you get the same sturdy-built trimmer attachment with a SmartClick oil control cleansing brush and a SmartClean system. Both the cleaning system and the trimmer work phenomenally well. Its cleansing brush works decently too.
Philips Norelco 9300 Vs 9700 Comparison Table
| Features | Philips Norelco 9300 | Philips Norelco 9700 |
| --- | --- | --- |
| Image | | |
| Type | Rotary | Rotary |
| Color | Black | Black |
| Self-sharpening blades | Yes | Yes |
| Quick charge | 5-minutes | 5-minutes |
| Directions | Eight | Eight |
| Settings | Three | Three |
| Precision Trimmer | Yes | Yes |
| Cleaning brush | No | Yes |
| Wet and Dry | Yes | Yes |
| Smart Clean | Yes | Yes (PLUS) |
| Display | LED | LCD |
| Charging time | One hour | One hour |
| Blade system | V-Track Precision Blade | V-Track Precision Blade PRO |
| Speed Settings | Low, medium, and fast | Low, medium, and fast |
| Run time | 50 minutes | 50 minutes |
| Replacement blade | SH90/62 | SH90/62 |
| Warranty | Two years | Two years |
| Price | Check Price on Amazon | Check Price on Amazon |
Philips Norelco 9300 Vs 9700 – Key Differences
To understand Norelco shaver 9700 vs 9300 differences, we have tried our best to detail them, attribute by attribute. This Philips Norelco 9300 vs 9700 comparison will cover all the critical characteristics from ergonomics to battery life. In this manner, you will understand their differences and similarities. Now, let us address Philips 9300 vs 9700 differences.
Ergonomics and Design
We will talk about the two models ' visual look and feel in the first point of difference between Philips Norelco 9300 vs 9700. Only by looking at the two shavers can you easily tell that of the Philips 9300 vs 9700, in the latter, the outer shell has been updated. To state it out, it is just a matter of personal preference, and we prefer the 9700's darker palette. Hence, the final call here between Philips 9300 vs 9700 is a matter of your personal choice.
When we compare Norelco 9300 with 9700 on ergonomics, both models have an eight-directional contouring system. This is an incredibly well-engineered system and is backed by a comfortable, rubberized grip, making it very easy to hold. So, Norelco 9300 and 9700 show no disparity on the ergonomics front, and both of them assure phenomenal arm position and are easy to use.
Shaving Experience
Now, we will compare both these items based on the shaving experience. So, when we place them side by side and compare Norelco shaver 9700 vs 9300, we can say, for sure, that both of them provide you with an equivalent shaving experience. Well, it is not really a bad thing. In fact, this is fantastic news because when we were doing an experience Norelco 9300 Vs 9700 comparison, we found one thing: both of them assure a superb shaving experience. The eight-directional head, top-notch rotary blades work exceptionally well through your face's contours.
Accessories
Now, let us compare Philips Norelco 9300 vs 9700 on the accessories front. It is one category where Norelco 9300 Vs 9700 does show a difference.
So, upon our Philips 9300 vs 9700 research, we found out that both products come with an identical travel case. Further, speaking about the Philips 9300 vs 9700 accessory comparison, you will find an attachable trimmer and a charging cord in both the trimmer packaging. More so, in Philips 9300 vs 9700, each of them possesses a SmartClean system.
So, up till this point of Philips 9300 vs 9700 accessory comparison, you may not have noticed any difference. So, what is the difference that we are talking about? If you look at it carefully, you will find that you get an attachable cleansing brush in the latter, which is absent in 9300.
The hard-shell travel case will shield your investment while you are traveling. Even though the travel case and the trimmer are quality additions, we do not quite understand the cleaning brush's usability. It is more like a car buffer for the skin and kind of seems useless.
We would like to state that even though there is a difference in Philips 9300 vs 9700 in terms of accessories, we would not opt for 9700 over 9300 merely for the cleaning brush's presence.
Digital Display
Now, we will compare Norelco 9300 Vs 9700 based on their digital display. This point of Philips 9300 vs 9700 comparison is quite essential. Why? It is where we found a maximum difference in the Norelco 9300 Vs 9700 comparison.
So, while we were analyzing Norelco 9300 and 9700, we realized that both of them come with a different set of indicators. This is not to say that amongst Norelco 9300 Vs 9700, both will provide you with a different set of information because no, that's not true. But the thing in Philips 9300 vs 9700 is that the latter will give away the information a little more precisely.
So, when you look at Norelco 9300 Vs 9700 side-by-side, you will note that the former comes with a 5-stage bar indicating the battery life, whereas, in the latter, you see the exact percentage remaining in the shaver. Again, as for the digital display, too, there is no one kind of setup, which is inherently better than the other in Philips Norelco 9300 vs 9700.
However, in this  Norelco shaver 9700 vs 9300 point of distinction, we would give it to the 9700 model. Why? See, if you see in Philips 9300 vs 9700, in 9700 model, it is less confusing to get a sense of the remaining battery life.
Battery Life
The next point on our Norelco 9300 Vs 9700 comparison is the battery life. So, upon battery analysis of Philips 9300 vs 9700, we found that both have an identical lithium-ion battery. It will give you enough juice to last you for a week of daily shaving.
Also, in Philips 9300 vs 9700 comparison, you should know that the charging time is one hour in almost all the 9000 series models. The charging technique in both Norelco 9300 Vs 9700 is also the same. You can charge in the SmartClean system or with the included plug.
SmartClean System
Further, we will take you through their SmartClean system. In all honesty, when we were studying through Norelco 9300 Vs 9700 analysis, we heard mixed reactions regarding the SmartClean system of Philips 9300 vs 9700. In 2019, both the models upgraded their SmartClean system, which presents the cleaning cycle progress. In the older 9300 version, there was only a start and power button.
Typically, the older version or, the newer version, the device is more or less the same. You have to slide the detergent cartridge towards the system's bottom and then slip the shaver in its place. Once that's done, the cleaner will cater to the rest. The detergent lasts about sixty days, and the cleaning cycle goes on for an hour. After the process is complete, you will get a sanitized, clean, and shaver just about ready for the next shave.
Maintenance
In the last Philips Norelco 9300 vs 9700 comparison, we will speak about the maintenance requirement. For adequate maintenance, you will have to run them under water following a shave. So, all the shaven hair will be rinsed, along with the foam or cream used. Of course, the SmartClean system will genuinely give you a better and deeper clean, leaving your shaver to feel fresh, like new.
Further, to ensure longevity, you need to regularly oil the two models by placing only a drop of oil on the rotary head. However, a deeper clean is certainly not a bad idea. It can be done by merely disassembling the shaver head and rinsing the blade under the warm water. The rotary blades will last you about 18-months.
9300 Vs 9700: Key Similarities
Now that we have studied through the Norelco 9300 Vs 9700 differences, it is time we take a look at some of the similarities.
Across all shaving tests, both 9300 and 9700 perform more or less the same.
Both of them can be used for both wet and dry shaving.
Both the 9000 models come packed with a cleaning station to help you wash and dry the razor.
Their eight-directional head works more or less the same.
Performance and battery life are the same. In both, you get 60-minutes of runtime in 50-minutes of charge.
The shaving experience is fantastic in both.
Since they have a similar plastic body, the ergonomics are the same.
Philips 9300 Vs 9700: Frequently Asked Questions
Ques 1. Which is the best Philips Norelco shaver?
Ans. Philips Norelco Electric Shaver 8900 is the best model in the Norelco series.
Ques 2. How long do Norelco shavers last?
Ans. How long your Philips Norelco shavers last depends more on how well you maintain them. If you always clean the shaver after every use and regularly oil it, it will last you several years. Even though they are easy to maintain, you cannot ignore the little maintenance they need.
As for the blades, every replacement blade will last you for about four months to ensure the best shaving experience if you engage in two complete shaves per week. However, of course, the actual results may vary from person to person. We recommend you change the blades every four months for a super-smooth and close shaving experience.
Ques 3. What is the newest Norelco shaver?
Ans. Philips Norelco Electric Shaver 2100 is the newest Norelco shaver.
Ques 4. Is the Philips Norelco Series 9000 waterproof?
Ans. Given their AquaTec seal, all the models of the Philips Shaver 9000 Series are entirely waterproof. So, you can use them for both wet and dry shaving and even in the shower.
Ques 5. How do I clean my Norelco Series 9000?
Ans. For cleaning your Philips Norelco Series 9000 shaver, you need to pull off the shaving head from the shaver and then rinse it under warm water for at least half a minute. You need to shake off all the excess water from the shaving head and leave it to air dry. To open the shaving head's top part, you have to press the release button and simply pull it off.
Final Verdict
Having covered every little aspect of both the models, we can say for sure that both of them deliver a similar shaving experience. Of course, there is a difference in the packaging when it comes to the 9700 model, and the cleaning station is also slightly more upgraded in it.
However, the customers have reported that the brand has updated the 9300 model, and today there is no difference in the cleaning station. Their cleaning system, too, works alike. But they do have different indicators. If you need to save some money, you can undoubtedly opt for the Philips Norelco 9300 model because it does come cheaper.
Even though there is a cleansing brush attachment included with the Philips Norelco 9700 model, it does not serve any unique purpose. You can use a cloth to wipe your face, and the result will be the same. However, of course, if you get 9700 on sale, there is no reason you should not invest in it.
In reality, the noted price disparity between the two is primarily because 9700 is a relatively newer model. If your sole concern is the advanced shaving experience, then that is guaranteed by the whole of the 9000 line. So, why not pick one that is cheaper? If you're considering other brand such as Gillette or Schick, RazorHood has got you covered for that as well.