Philips 9300 Vs 9700 Detailed Review With Pros and Cons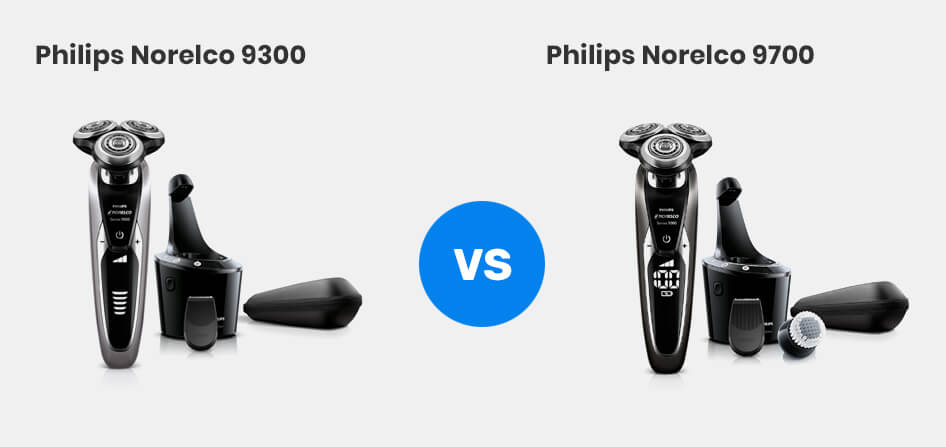 Speaking of the Philips Norelco 9000 series, the entire range is renowned for its distinctive, unparalleled features. Just like most other modern shavers, this range, too, has a bunch of options. What's surprising is that each model in the range is superior to others. Despite that, spotting differences in them is not one of the easiest things to do as Philips keeps on improving the existing product to offer you a better item.
This article will discuss the Norelco shaver 9700 vs 9300 because of the huge similarities in them. However, there is no denying that there is a good range of differences in them, making one superior. If you wish to pick from other Philips models, we have a Philips Norelco 4100 vs 4500 comparative review too.
Table of Contents
Now, let us get started and take on the differences between Norelco shaver 9700 vs 9300. The most convenient way to study these differences is by comparing the two models through and through. Therefore, we will first take you through the Norelco shaver 9700 vs 9300 differences and similarities. Then we have a detailed separate Norelco 9700 and 9300 review with their individual pros and cons.
We are certain that amongst Philips Norelco 9300 vs 9700, you would want the best and may not want to invest in the second best, right? So, read below to find out which one comes right at the top.
Philips Norelco 9300 Vs 9700 Comparison Table
| Features | Philips Norelco 9300 | Philips Norelco 9700 |
| --- | --- | --- |
| Image | | |
| Weight | 1.80 lbs | 3.21 lbs |
| Type | Rotary | Rotary |
| Color | Deep Silver Gray | Black |
| Usage | Personal comfort settings | Personal comfort settings |
| Self-sharpening blades | Yes | Yes |
| Quick charge | 5-minutes | 5-minutes |
| Precision Trimmer | Yes | Yes |
| Cleaning brush | No | Yes |
| Wet and Dry | Yes (fully washable) | Yes (fully washable) |
| Smart Clean | Yes | Yes |
| Display | LED | LCD (Multiple indicators) |
| Charging time | One hour | One hour |
| Blade system | V-Track Precision Blade | V-Track Precision Blade PRO |
| Speed Settings | Low, medium, and fast | Low, medium, and fast |
| Run time | 50 minutes | 60 minutes |
| Contouring system | 8-directional | 8-directional |
| Replacement blade | SH90/62 | SH90/62 |
| Warranty | Two years | Two years |
| Price | Check Price on Amazon | Check Price on Amazon |
Philips Norelco 9300 vs 9700 – Feature Comparison
Now let's start with Norelco shaver 9700 vs 9300 points of distinction. Here, we will look at every characteristic one by one to give you a clearer picture. So, let us get started with the Philips 9300 vs 9700 differences.
Appearance, Looks and Design
Let us start with how Philips Norelco 9300 vs 9700 differ in their looks. Give a good glance to the two shavers and you can easily tell that 9300 appears to be deep silver-gray in color, whereas 9700 is black.
In all honesty, amongst the two, neither one is inherently better than the other and look similar. Hence, the final call here between Philips 9300 vs 9700 is yours.
Shaving Experience
Secondly, we will compare Philips 9300 vs 9700 based on the kind of experience they provide because is it not what matters the most? So, when we place them side by side and compare Norelco shaver 9700 vs 9300, we can say, for sure, that both of them provide you with a comparable shaving experience. The eight-directional head, precision trimmer, and top-notch rotary blades work exceptionally well through your face's contours.
Ergonomics and Handling
When we compare Norelco 9300 Vs 9700 on ergonomics, both models have an eight-directional contouring system. This is an incredibly well-engineered system and is backed by a comfortable, rubberized grip, making it very easy to hold. So, both these models show no disparity on the ergonomics front, and both of them assure phenomenal arm position and are easy to use.
Oiling, Maintenance, and Longevity
To ensure longevity, you need to regularly oil the two models by placing only a drop of oil on the rotary head. However, a deeper clean is certainly not a bad idea. It can be done by merely disassembling the shaver head and rinsing the blade under the warm water. Doing so, the rotary blades will last you about 18-months.
Price
Comparing the two models, 9300 is more decently priced for the features it offers. You get more or less the exact same features as the 9700 at a lesser price.
Travel Case
So, upon our Philips 9300 vs 9700 research, we found out that both products come with an identical travel case. This makes the shaver easy to travel around with. The hard-shell travel case will shield your investment while you are traveling.
Cleaning
In the following point of comparison Philips Norelco 9300 vs 9700, we will discuss about the maintenance requirement. For adequate maintenance, you will have to run them under water following a shave. So, all the shaven hair will be rinsed, along with the foam or cream used. Of course, the SmartClean system will genuinely give you a better and deeper clean, leaving your shaver to feel fresh, like new.
Cleaning Brush
If you look at the Philips Norelco 9300 vs 9700 contents carefully, you will find that you get an attachable facial cleansing brush in the latter, which is absent in 9300. This however shouldn't be a deciding factor between choosing the two. We would like to state that even though there is a difference in Philips 9300 vs 9700 in terms of accessories, we would not opt for 9700 over 9300 merely for the cleaning brush's presence.
Weight
Comparing Philips 9300 vs 9700, highlights that Philips 9300 weighs less than 9700. So, if it all boils down to the weight of the item, choose 9300.
Battery
The next point of comparison is the battery life. So, upon battery analysis of Philips 9300 vs 9700, we found that both have an identical lithium-ion battery. With 1 hours of charge time 9300 lasts for 50 minutes and 9700 for 60 minutes.
Charging Time and Backup
Next, in Philips 9300 vs 9700 comparisons, you should know that the charging time is one hour in almost all the 9000 series models. The charging technique in both Norelco 9300 Vs 9700 is also the same. You can charge in the SmartClean system or with the included plug. Upon a full charge, you can expect a backup of 50-minutes with 9300 and 60-minutes with 9700, which is long enough to last you for a complete shave.
SmartClean System
In all honesty, when we were studying through Norelco 9300 Vs 9700 analysis, we scanned through Amazon to check on what the customers have to say. Sadly, this is a disputed territory, and some users like it while others find it unnecessary.
In 2019, both the models upgraded their SmartClean system, which presents the cleaning cycle progress. This system self-cleans, dries, lubricates and charges the shaver.
Battery Indicators
Lastly, we will compare these two shavers based on their digital display. This point of Philips 9300 vs 9700 comparison is quite essential. Why? It is where we found a maximum difference in this aspect.
So, while we were analyzing Norelco 9300 and 9700, we realized that they come with a different set of indicators. As per our Norelco 9300 Vs 9700 analysis we aren't saying that both will provide you with a different set of information, rather 9700 will provide you with a little bit more info than 9300.
Philips 9700 comes with an indicator for low battery, cleaning requirement, replacement head, travel lock, and battery level percentage. Whereas, 9300 does not have a detailed display.
In this Norelco shaver 9700 vs 9300 points of distinction, we would give it to the 9700 model. Why? See, if you see in Philips 9300 vs 9700, in 9700 model, it is less confusing to get a sense of the remaining battery life and other aspects.
9300 Vs 9700: Key Similarities
Now that we have studied through the Norelco 9300 Vs 9700 differences, it is time we take a look at some of the similarities.
Since they have a similar plastic body, the ergonomics and handling is the same for both the items.
Across all shaving tests, comparing both Philips 9300 vs 9700 the performance is more or less the same.
Both of them can be used for both wet and dry shaving and are fully washable.
Philips 9300 and 9700 both models come packed with SmartClean cleaning system to help you clean, charge and lubricate the razor.
Their eight-directional contouring head works more or less the same.
The shaving experience is fantastic in both the models with V-track precision blades system.
Both have the same blade replacement model.
Philips Norelco 9300 Detailed Review
Key Features
2015 iF Design Award Winner
3-speed settings
8 directional contouring
Personal comfort settings
Lithium-Ion battery
LED display with battery status
AquaTec technology (both dry & wet shave)
SmartClean system that cleans, lubricates, and charges
The 9000 range from the brand has been around for over eight years now and has been the winner of 2015 iF Design Awards. Let us begin with a quick Philips Norelco 9300 review.
Design: Available in an attractive silverish-gray design, which stands out from the very moment you take it out from its packaging, Philips Norelco 9300 is a visually appealing shaver. Also, it is not a bulky shaver, and its rubberized handle and grip design at its back only makes it very ergonomic for you to handle it nicely and conveniently.
3 Speed Setting Motor: Only by pressing the button can you modify the shaver's speed motor up to three times, making you switch from Gentle to Normal and Fast.
Shaver Head and Blades: Each of its heads is packed with dozens of precise and small blades, which self-sharpen as they cut and the two tracks.
Digital Interface: The shaver's indicators are way ahead of any average product. Philips does not even call them indicators. For them, it is the digital user interface. From there, you can get every vital information about the shaver, such as the battery life, a travel lock notice, and an indicator to tell you when you have to replace or clean the shaver head.
An interesting point that we want to put forth in this Philips Norelco 9300 review is that this device can cut up to twenty percent more hair per pass than the other shaver models or brands in the market. It is majorly because of the new and improved V-Track blade inside the three rotary heads.
8 Directional Contouring: Through our experience with 9300, what stood out for us was its 8-directional heads. While you shave, it seems like a compact robot palm hugging your face as you shave. So, it would not be wrong to say that the magic for the 9300 model, or even the whole of the 9000 series, is widely accredited to its rotary heads. Its 8-directional contouring system of the 9300 is an amalgam of cross pivoting platforms.
Special Features: If you compare the Norelco series with the other competitive series, you will know that this model has in it an array of innovative features, which are not there in others. One such feature is the personal comfort settings. Another exciting feature about the model is that you do not have to pass through the same area more than once. There is a rare possibility for you to miss hair in the first pass.
Cleaning Station: The cleaning station works just as well as advertised. Also, the package even contains the cleaning station and different trimmer attachments. The attachments function well and assure a better trim compared to even the shavers with a flip-up trimmer.
Accessories: To make this 9300 model your best travel partner, it comes enclosed with a hard shell. There is also a charger included to power your shaver on the go. Cleaning and maintenance are super effortless, and will not take much of your time.
Pros

Different speed levels to play around, and tailor your shaving routine.
Suitable for both wet & dry use
Precision blade are efficient and gentle.
Award winning design, ergonomic to use
Cleaning station – it lubricates, cleans, and preps the razor for a shave.
Quick charging option available

Cons

Your skin might feel irritated after first few uses for 2 weeks. Use aftershave lotion or moisturizer to minimize it and allow your skin to adjust for atleast 2 weeks.
Complains about the cleaning system.
Philips Norelco 9700 Review
Key Features
V-Track Precision Blades PRO
SmartClean Plus System
SmartClick Oil-Control Facial Cleansing Brush
Award winning design
Advanced digital interface with multiple indicators
AquaTec Technology
Taking the Norelco shaver 9700 vs 9300 comparisons forward, we will now give you a brief Philips Norelco 9700 review.
We noticed that the resemblance in features is uncanny during our attempt to list the comparisons further. Of course, since both of them belong to the same range, it is not something we did not expect. But does 9700 provide something extra? Let us find out.
Appearance: In all honesty, when it comes to Norelco 9300 Vs 9700, we like the color scheme of 9700 more as it more toward a single color tone. But again, it's a matter of personal choice.
Blades: These have an upgraded quality V-Track precision blades PRO blades giving you 30%  closer nick-free shaving experience.
SmartClick oil-control cleansing brush: You can use the cleansing brush with your choice of facewash for longer oil control on face than what you get with manual cleansing.
Digital Display: Now, when we were assessing the Norelco 9300 Vs 9700 differences, one thing that we noticed was its digital display. So, amongst Norelco 9300 Vs 9700, the 9700 model has a more upgraded display with a new and improved indicator. It displays the battery percentage and has an indicator for battery low, cleaning, replacement head, and travel lock.
Ergonomics: One of the things, which is of prime importance for someone who likes to shave in the shower is ergonomics. The ergonomic grip of this Philips model is just as well-executed as the previous model. So, nothing over the top here.
Type of Shaving: We have examined it for both wet and dry shaving, and the shaver performed exceedingly well. If you are someone who despises the need to make multiple passes when shaving with an electric shaver, then 9700 is the perfect choice for you.
Contouring: Maneuvering it around across the facial contours is easy and effortless because of the eight-directional contouring system's presence. You will appreciate these additional contouring components the most while you shave through your jawline and chin. Not for once do these rotary heads leave your skin.
Pros

Digital display with battery percentage , cleaning, replacement head, low battery, and travel lock indicator.
8 directional contouring
V-Track precision blades PRO are sharper and more efficient
SmartClean Plus System that cleans, dries, lubricates, and charges the shaverwith alcohol free formula.
SmartClick Oil-Control Cleansing Brush
Can be used for both wet and dry shaving, owing to its AquaTec technology.

Cons

You have to be careful with the self-cleaning unit, as it tends to malfunctions at times.
Philips 9300 Vs 9700: Frequently Asked Questions
Ques 1. Which is the best Philips Norelco shaver?
Ans. It is really difficult to pick one from the Norelco Shavers. Some of their best offerings are Norelco OneBlade, Norelco 3500, 2300, and 9700 etc,.
Ques 2. How long do Norelco shavers last?
Ans. How long your Philips Norelco shavers last depends more on how well you maintain them. If you always clean the shaver after every use and regularly oil it, it will last you several years. Even though they are easy to maintain, you cannot ignore the little maintenance they need.
As for the blades, every replacement blade will last you for about four months to ensure the best shaving experience if you engage in two complete shaves per week. However, of course, the actual results may vary from person to person. We recommend you change the blades every four months for a super-smooth and close shaving experience.
Ques 3. What is the newest Norelco shaver?
Ans. The newest Philips Norelco Face Shaver is the 7100 and 5300. As for the beard trimmers Prestige 9000 is the latest entrant in the market. However, this isn't an exclusive list as different categories have different product offerings from time to time. It is best to keep a check on the Philips official website and Amazon for the latest products.
Ques 4. Is the Philips Norelco Series 9000 waterproof?
Ans. Given their AquaTec seal, all the models of the Philips Shaver 9000 Series are entirely waterproof. So, you can use them for both wet and dry shaving and even in the shower.
Ques 5. How do I clean my Norelco Series 9000?
Ans. For cleaning your Philips Norelco Series 9000 shaver, look at the cleaning instructions you get with the shaver's user manual as different models have different cleaning systems and needs.
As for the 9700 and 9300 you get the SmartClean accessory which does the work for you without much intervention.
Final Verdict
Having covered every little aspect of the Philips Norelco 9300 vs 9700, we hope now it will be easier for you to make an informed choice. Regardless of the model you pick of the two, you are assured of a seamless shaving experience. So, go ahead, take your pick, and enjoy a hassle-free shaving experience. You can also read our comparative review of other models like the Philips OneBlade vs OneBlade Pro.