Schick Vs. Gillette: Which Is Better Schick or Gillette and Why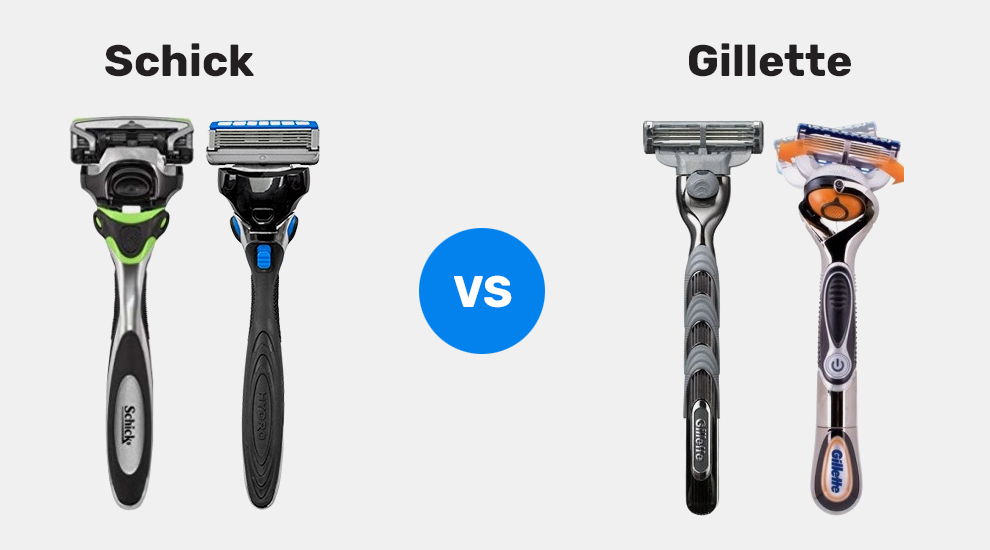 When it comes to your grooming needs, always choose a high-quality durable product brand. In this article, we will do an in-depth comparison of two such renowned brands i.e. Schick vs. Gillette. The range we will be focusing on is Hydro by Schick and Fusion by Gillette, as these two provide the best shaving experience. But, of Schick vs. Gillette, which is better? See, the decision of making a pick and telling you which one is better 'Schick or Gillette' is not the easiest.
With this article, we will try to perform a head-to-head Schick vs. Gillette comparison. This can help you know about their respective features, pros, and cons, and then make an informed decision.
So, let us get started and take on the comparison for both these brands straightaway.
In This Article
Schick vs. Gillette: Features Compared
Here, in this part of the article, we will do a comparative analysis of Schick vs. Gillette. Hopefully, this feature analysis will help you make a pick between Schick razor vs. Gillette. So, Schick or Gillette, which one to shop for? Read below to find out.
| Features | Schick Hydro | Gillette Fusion |
| --- | --- | --- |
| Image | | |
| Parent company | Edgewell Personal Care | Procter & Gamble |
| Blade coating | Hydrating gel pools but no coating for friction control | Anti-friction coated blades |
| Flex ball technology | No | Yes |
| Blade clogging | Happens sometimes | No |
| Precision trimmer | Yes | Yes |
| Best for | New Users | Experts |
| Ergonomic design | Yes | Yes |
| Replacement blades | Easy to avail | Easy to avail |
| Blade sharpness | Up to 10 shaves | Up to 5-6 shaves |
| Hair pulling | No | No |
| Shaving gel strips | Natural Conditioner | LubraStrips |
| Price | Check price on Amazon | Check price on Amazon |
1) Company Ownership
First things first, Gillette is owned Procter & Gamble whereas Schick is brand run by Edgewell Personal Care.
2) Blade Coating
In the Schick razor vs. Gillette comparison, let us now compare these two based on blade coating. In the latter, you get a specialized coating, which promotes low friction. Hence, the little possibility of tugging or pulling is also eliminated. Such distinguished coating is absent in the Hydro 5 Schick razor. In this case, too, the coating is minimum and is only experienced when the beard or the hair is unusually dense.
Verdict
Gillette Fusion is a clear winner in this aspect of the Schick Hydro 5 vs. Gillette Fusion.
3) FlexBall Handle Technology
Now, we will compare Schick razor vs. Gillette based on their flexibility. Owing to Gillette's FlexBall handle technology, the blades can contour and shave even the tightest spots effortlessly. This also eliminates the need for repeatedly passing around the same area to get a clean shave.
Of course, the Hydro 5's shaving head is also very flexible, but it is still not as flexible as the FlexBall technology of Gillette. The prime reason for Schick Hydro 5 vs. Gillette Fusion comparison is that the Schick Hydro 5 blades cannot shave as closely as the Fusion 5 blades. While we were researching to find out which is better, Schick or Gillette, we found that Hydro 5 does leave a rough stubble on the face. In addition, it results in a bit of a sandpaper feeling, something that you may not quite like.
Verdict
In the Schick vs. Gillette comparison to get you a close shave, Gillette is a winner again.
4) Hair-Trapping Or Clogging
Taking you closer to deciding which is better, Schick or Gillette, we will now compare the two based on their ability to prevent blade clogging. In the Fusion5 ProGlide blades, there is no shaving foam or hair trapping in-between the blades, owing to its phenomenal water flow path.
On the other hand, there may be clogging at times in the Schick blades, especially when you are shaving a thick bunch of hair. But if you are using shaving oil instead of foam, it will be easier for you to unclog.
Verdict 
In this aspect of Schick vs. Gillette, too, the Gillette razor does seem like a clear winner.
5) Ergonomics
In the next part of our Schick vs. Gillette, we will compare the two based on ergonomics. In Schick, there is a heftier handle than there is in Fusion 5. Consequently, the former feels lighter and a lot better in hand.
Moreover, on Schick vs. Gillette's handle comparison, we found that the Schick provides you with better maneuverability. In Schick Hydro handle, you get an exceptional balance too. So, this makes it an excellent pick for newbies or amateur users. If you want to know amongst Schick vs. Gillette, which one should you use, we will help you.
Verdict
Well, honestly, we recommend the Fusion to more experienced shavers. It is because it has a certain learning curve. But, if you have just started shaving and want to know which is better, Schick or Gillette, then the clear answer is Schick.
6) Replacement
The replacement process for both razors is quite simplistic. So, there is no situation for one better than the other.
Verdict
It is a Tie.
7) Blade Sharpness
Now, we will talk about the presence of the blades in this Schick vs. Gillette comparison. See, both of them come with multiple blades each, which sit close to one another. In both models, the blades are durable, sharp, and ultra-thin.
Verdict
But if you want to know Schick or Gillette, which one to go for, we would like to point out that the blades in Schick are sharper. Moreover, they can last you for more than ten shaves before any dullness kicks in. On the other hand, in the case of the Gillette ProGlide, the performance usually starts taking a hit after five or a maximum of six shaves. So, in this respect of Schick vs. Gillette, we give one clear point to Schick.
8) No Tugging Or Pulling
Both the razors assure a clean shave without any tugging or pulling.
9) Built-in Trimmer
Moving ahead in our Schick vs. Gillette comparison, we will now judge the two based on their built-in trimmer. Well, both of these razors do have a trimming function in some models. In Gillette, the trimmer is a separate blade at the cutting surface's backside. Therefore, to use the Hydro 5 for trimming, you will need to flip to expose the top blades.
Verdict
So,  Schick or Gillette, which to pick? Well, in reality, both the trimmers do a fantastic job. However, on thorough usage and analysis of the Schick vs. Gillette, we choose the ProGlide. It is because, in ProGlide, it is easier for you to see where you are navigating the trimmer.
10) Shaving Gel Strips
Speaking about the last aspect in our Schick vs. Gillette analysis, you should know that be it Schick or Gillette, both of them have reinforced lubrication on the blade. Because of this lubrication, the blade can glide smoothly and offer you an irritation-free shaving experience. So, Schick Hydro 5 vs. Gillette Fusion, which one can be your pick?
See, the Gillette Fusion blades have aqua lubra strips composed of gel, Schick, on the other hand, employs a sealed reservoir that has 100 percent natural conditioner in it. It is for this reason why amongst Schick vs. Gillette, we like the former. It is because, for this Schick Hydro 5 vs. Gillette Fusion comparison, we used both of these for about forty-five minutes, and we concluded the lubrication of the Fusion blade tends to start fading in five to six shaves. But, on the other hand, the Hydro 5 keeps releasing a good amount of hydration gel for over ten shaves. So, in this aspect of Schick Hydro 5 vs. Gillette Fusion, we like the former better.
11) Precision Trimmer
Both of these brands offer precision trimmer in their different variants. So, you may pick any one from these two that fits the bill for you.
4 Best Schick Hydro Razors To Buy
Of the many offerings available from the brand, the Hydro 5 Sense is their most sought-after product. Be it from the perspective of the user ratings or the customer experience; this one has garnered accolades globally. Also, it is a dream come true for people with sensitive skin, susceptible to itching, burns, and redness following a shave.


Special Features Of Schick Razors
Operating on the brand's Avante-Garde technology, the Schick Hydro 5 cartridges are composed of several novel features. Let us address them one by one.
Ultra-Glide Blades
Thanks to their ultra-glide blades, there is negligible friction against the facial hair or the skin. Consequently, the user's susceptibility to burns, cuts, irritation, etc., is minimum. It also ensures that you can get rid of maximum hair in a single pass. Hence, accredited to this feature, you are guaranteed a smooth shaving experience sans any pulls or irritation.
Lubrication
With its seven gel pool designs, you get the best possible lubricating strips in Schick's razors. Since the cartridge will release the gel only gradually by adhering to the skin's requirements, your overall shaving experience will be unprecedented. This razor offers three different options in lubricating strip gel. Let us briefly elucidate them.
Hydrate – Meant for regular skin shavers and has coconut oil in it
Energize – Meant for regular skin shavers and has menthol in it
Sensitive – Meant for sensitive skin shavers and has a good composition of herbal extracts in it
Wider Guard Bar
To enable proper skin stretching, you get a guard bar. Nestled at the base, this ensures a smoother shaving experience.
Wider Gel Dispenser
Thanks to the Schick Hydro, the friction produced by the razor is reduced by forty percent. Further, because of its width, it can cover a greater surface area in a go. Also, its Hydrating Gel Reservoir's lubrication gel contains nourishing elements, such as Aloe Vera and Vitamin E, which makes it a notch superior to traditional lubrication gels.
Close and Clean Shave Every Time
Thanks to the presence of five blade technology, you will always get a close and clean shave.
Cleaning and Maintenance
The maintenance and clean-up of the Hydro-5 Sense razor is a matter of only a few minutes. Just give it a quick rinse under the shower, and you can get all the remnant bits of the hair out. Further, the cleaning of razor fins is also relatively easy.
Shock Absorption Technology
This is one of the most innovative technologies to have been found in the shavers. So, despite the pressure you exert on the razor, there is no harm inflicted on your skin. It is a great relief for men with sensitive skin.
Bold New Colors
With these razor, you get the same ergonomic handle with a comfortable grip and balanced feel but packed in a bolder, sleeker, and a brighter look.
Protection Against Cuts and Nicks
It comes with five Ultra Glide® Blades, arranged close to one another. Hence, there are a minimum skin bulge in-between blades, thereby lowering the chances of nicks and cuts.
Flip-Back Trimmer
The patented Flip Trimmer in Schick's beard trimmer adds to the shaver's distinguished design. The flip back also makes it easy for the shaver to traverse through the more inaccessible areas of the skin. Further, it is this design that ensures that all five blades touch the skin.
Cost
One of the best things about the Schick Hydro 5 razors is that they are quite affordable. So, you do not have to spend a fortune to get access to it.
Schick Razors: Pros and Cons
Pros
Cons

Greater for men who have sensitive skin
Dermatologically tested
Super sharp blades for a neat cut.
Shock absorption technology ensures even pressure distribution.
Premium lubrication
It has five ultra-glide blades.
Hydrate gel formula
Ergonomic design

Razor handle does not enable seamless movement.
On the whole, if you are someone with sensitive skin or need additional lubrication while you shave, then Schick is the perfect pick for you.
4 Best Gillette Fusion Razors To Buy
Moving on to the Gillette fusion razors, we have five anti-friction blades stuck closely together. The shave is so smooth and effortless that you barely feel a thing. It also comes with Lubrastrip that assures a spectacular shaving experience.
You can get at least a month's shave in its single razor blade refill. This Fusion 5 ProGlide refill can be accommodated in every Fusion5 Power and  Fusion5 razor. Its flex-ball technology is quite praise-worthy as it ensures that the razor flows side-to-side. Similar to the last refill, this, too, has a lubra strip.

Gillette Razors: Special Features
Now let us get started and address a few features associated with this shaver.
Flex Ball Technology
In its handle, the razor employs a Flex Ball Technology, which is indeed incredible. Why do we say so? First, you have to use this razor only once to figure it out. It cuts and trims very close to the skin and passes adeptly through all facial contours. So, even the inaccessible facial regions, such as chin or neck, or any other body part can be reached seamlessly. More so, the kind of flexibility this technology adds to is unparalleled. So, even on a single pass, you can tackle a whole lot of hair.
Thinnest and Finest Blades
As discussed, the blades are pretty sharp but thin. Hence, there will be minor pulling and no tugging of hair.
Precision Trimmer
Thanks to the precision trimmer, the abstruse areas are also easily accessible. So, trimming your sideburns or nasal hair is no longer going to be a daunting task. The precision trimmer also aids in styling your sideburns. You can use it to craft neat wedges.
Premium Blades
This has a five-blade cartridge razor, which is packed together and is pretty thin. Consequently, you get an anti-friction revolutionary design. So, you can use this shaver to tackle all hair types for any body part instead of curtailing your razor only to facial hair shaving.
No Slipping
The trimmer's handle has a rubber grip. So, the chances of slipping of the hand are less.
Enhanced Lubrastrip
Thanks to its anti-friction blades and accentuated lubricating strips, you will get a supremely comfortable shave. Unfortunately, when you frequently use the blade, the strip tends to change its color, turning white. This indicates that you need to change your blade for the next refill. Owing to their trademark Gillette precision trimmer, it is easy to get the hair under and around the nose.
Built Quality
It is a compact and lightweight razor, which weighs about 68 grams. Its dimensions are 3.048 x 10.414 x 20.066 cm. The razor's flex ball technology allows a twenty-four-degree head rotation. In addition, the back accommodates a precision trimmer, which helps create a spectacular finishing touch.
Waterproof
It is a 100 percent waterproof shaver. This means that you can comfortably use it under the shower without worrying about its corrosion or rusting.
Capable Of Eliminating All Hindrances
Gillette ProGlide comes with a Streamlined Comfort Guard. It comes with a flexible and soft material that you will notice in the blade's bottom. The guard envelopes the blade head's outer edge completely. It helps you eliminate the excess gel, foam, or other hindrances to ensure that the blade directly contacts the hair. The guard's benefit is not just comfort, but it also provides the necessary contact needed for a good shave.
Can Handle The Coarsest Hair
This razor's shaving head is engineered with anti-friction five blades, catering to even the coarsest or the thickest beard seamlessly.
Warranty
No warranty is included with the razor. But, given its overall management and simple body, you will barely face a problem with it.
Gillette Razors: Pros And Cons
Pros
Cons

FlexBall technology
Anti-friction super-thin high quality blades
Blades always assure a clean, close & sharp shave
Long-lasting replacement cartridges
Can be used for full-body shaving
Precision trimmer enables you to tackle the hard-to-reach places
Maximum control razor handle grip

High learning curve
You will have to purchase refills soon after
High cost
Enhanced lubricating strips are not as long-lasting
Let us conclude this by stating that the Gillette Fusion is a top-notch quality cartridge razor. It is a good pick for men who have thicker and coarser hair. Its sharp and thin blades do their job phenomenally well. In addition, the longevity of the razor makes the high cost bearable. So, the Gillette Fusion is a good pick.
Bottom Line: Schick Razor Vs. Gillette Razor?
In the last part of the article, we will finally tell you which one is better amongst Schick hydro 5 vs. Gillette fusion? See, if you need a well-engineered and power-packed cartridge razor that can give you a smooth shave, your best pick amongst Schick vs. Gillette can be Fusion ProGlide. However, if you ask about Schick Hydro 5 vs. Gillette Fusion in terms of smoothness of shaving and value for money, we feel that the Hydro 5 is 100% more superior.
Hence, Schick razor vs. Gillette choice ultimately comes down to your skin type, shaving needs, and budget. So, understand that amongst the Schick vs. Gillette, what may be the right pick for us may not go very well for your skin, budget, and needs. So, pick the right choice from Schick vs. Gillette, which fits your bill. Good luck!