Top 20 Short Haircuts For Black Females Over 50
Did you ever looked at Alfre Woodard, Viola Davis, and Oprah Winfrey and thought to yourself, 'Wow, their short haircuts make them look so stunning.' Well, if yes, you are not alone.
These women are iconic, and their hairstyles make them look even better. When you look for hairstyles for black women over 50, you will find them fashionable and appealing.
Typically, most of them are short. The short hairstyles make them look very much in vogue. Also, these are timeless. So, if they are in trend now, they will be so 10 or 20 years from now.
There are several short natural haircuts for black females over 50. The best thing about these short hairstyles is that they are flattering and effortless to maintain. Use the short styles to show off to the onlookers how much you love and adore your hair's natural texture.
However, before you opt for any short afro cuts for older ladies, please be sure that it suits your facial features, lifestyle, and health issues and sits well in your current hair care needs.
Below we will discuss some of the best short haircuts for black females over 50. Let us get started and address them one by one.
Jump To
Some Short Natural Haircuts For Black Females
Here is a list of the top 20 short natural haircuts for black females over 50.
1. Faded Glory Haircut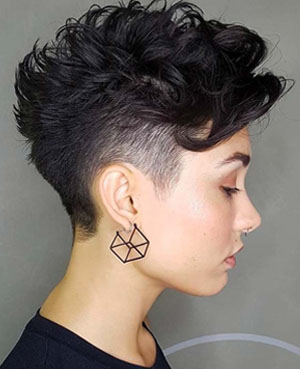 You may be 50, but that does not take away your right to look stylish and edgy. So, why not try this faded glory haircut. It is one of the best short afro cuts for older ladies.
You can elevate the look of this fauxhawk by personalizing it your way. Undercuts always are synonymous with black lady style. It adds a color that complements your hair and skin tone.
2. Short Caramel Taper


Short hairstyles are effortless and save you so much time. If the short taper cut in caramelized hue is your style, great choice. You can tailor it as per your style by adding a razored line to the cut. It can make the whole look glamorous and bold.
3. Layered Pixie Cut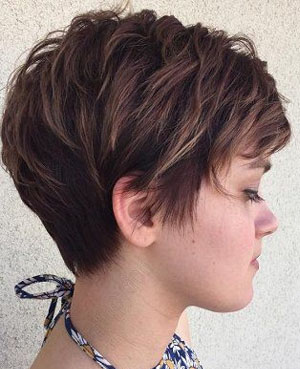 A pixie cut can never go out of style, especially for women who like to keep it short. You can add some highlights to the cut to make it more eye-catching. Keep the base darker, and you can include burgundy highlights.
4. Short Cut With Bangs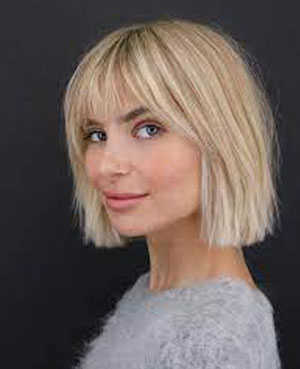 Short natural haircuts for black females over 50 are the best if you are an active woman who likes to keep it stylish and trendy. The bangs are perfect for curly hair as they add volume and character to the hair. Make sure to keep the hair neat and short at the sides and the back to make it look completely pulled together.
5. Pink-Hued Cropped Curls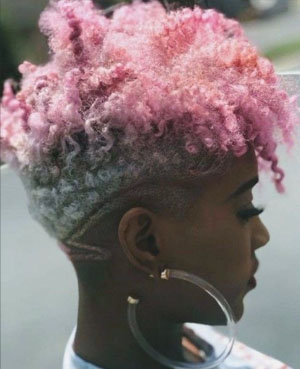 Have you found your signature silhouette? If yes, it is time you experiment with color. If you have the curls, try to make them look bold and stylish but adding a bright pink hue to them.
To style the curls, you can add a range of styles, such as flat tops, fades, undercuts, and mohawks, to make them look more appealing.
6. Cornrows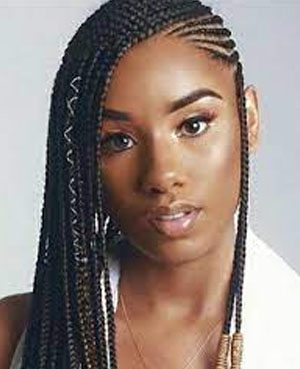 Are you bored of traditional things? Why not adopt a modern way to carry pigtails. Pigtails are a savior during the summer months. But, gone are the days when pigtails were worn solely from front to the back.
Now, you have to give your beachy waves a rest and seek ways to make your pigtails stand out. How? Try the cornrow! You can get the cornrows done in several shapes and styles. These are low maintenance and give you ample to decide on the following few short haircuts for black females over 50.
7. Short Twists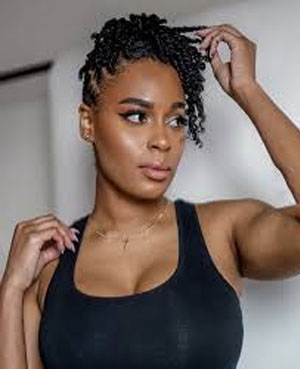 Do you need the best hairstyle to give you a gorgeous, low-maintenance look? Short twists can be your pick as these are the best for natural hair and give you a textured and spiky appearance.
You can try this cut with several different hair lengths. But it is one of the best short natural haircuts for black females over 50 who intend to grow out their hair. Further, if you have the buzz cut, this style can add more character. It has a bold appeal.
The short twists can reduce your everyday grooming time and prevent friction and breakage.
8. Short Bob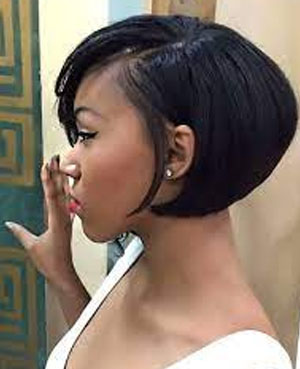 You cannot go wrong with the classic bob as it is one of the trendiest and most adaptable short hairstyles. You can pick from the short, inverted, or long bob. One best style to try is the long side bangs with a short bob.
9. Natural Fohawk With Low Fade


One of the best short afro cuts for older ladies is the natural fohawk with a low fade. Of course, the low length on the sides is extremely low-maintenance. However, what adds to the appeal is the natural coils on the top.
You can choose the kind of coils you want to add a more shape around the crown. If you wish to shape your forehead, you can extend some coils to the front.
10. Undercuts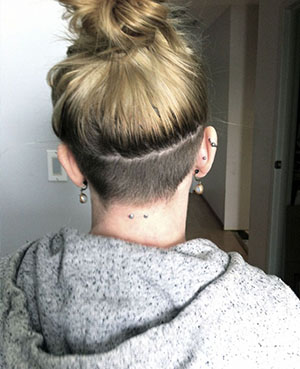 There is no doubt about it, but the undercuts are extremely risky to pull off. But, if it suits you well, it can be one of the most elegant hairstyles. There is no lack of options in undercuts. So, channel your inner Rihanna, and get the most stylish undercut.
Undercuts typically have a natural tapered look on the sides with a longer top layer that gives the wearer a sharp look. You can style the top layer as you like – let it be wavy, curly, or straighten it. It can make the classy look extremely trendy and stylish.
11. Bouncy Curls


It is a curly, short hairstyle and looks gorgeous. It is also easy to carry off. You can use the hair rollers to get the perfect bouncy and voluminous curls.
12. Bowl Cut


If you have an oval face shape, the bowl cut or the mushroom cut is best suited. You can personalize the style to complement your style. You can further style the bowl cut with the salt and pepper hair or highlights.
In addition, the bowl cut also looks good with a layered, choppy, or blunt cut. Bowl cuts take only a few minutes to style and are very low-maintenance. Overall, the bowl cuts make you look sophisticated. You can style it with a cute outfit, makeup, and jewelry, and you are good to go.
13. Braids With Beads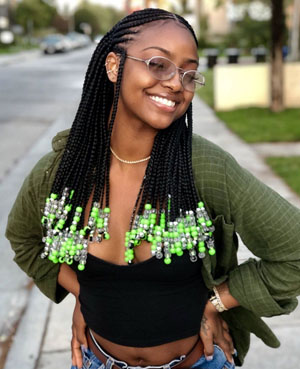 Black women can not go wrong with braids. But, braids with beads give an all the more stylish look. It adds a modern twist to the braids. You can choose colorful beads to make them look ravishing. An excellent benefit of this hairstyle is that it shields your hair from seasonal damage.
14. Top Only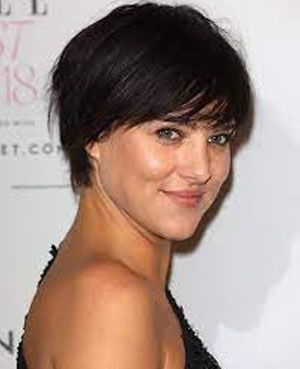 It is one of the best short haircuts for black females over 50 who wish to give out a boss lady look. Professionals and businesswomen barely have the time and energy to style their hair first thing in the morning.
They are multi-tasking and have to rush from one place to the other. Hence, the perfect hairstyle for them is top only. As part of this cut, you have to worry solely about the top portion of the hair. It also looks quite natural.
15. Temple Shave Pixie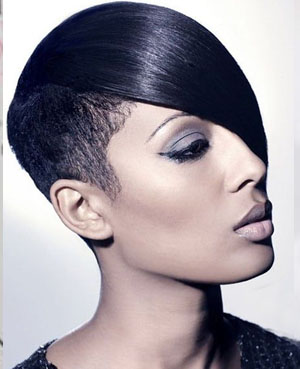 Pixie cuts are widely popular amongst older black women. But, if you wish to make this classic hairstyle a little cooler and edgier, add a twist of temple shave to it. As part of this hairstyle, you shave from down the head's side.
It adds a beautiful contrast between the back and the top of the hair. It is an expressive style that highlights your hair texture. You can style the fringe in multiple different ways to suit your personality.
But, the side-sweeping long fringe is the best. It can draw attention to your face and shine on your best features. If you do not want a traditionally feminine look, this is one of the best picks.
16. Long Bobs With Looser Curls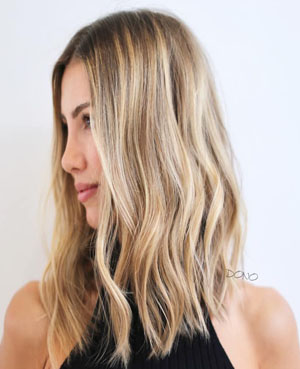 Often women with short hair are apprehensive about styling their curls. Well, fret no more. The long bob haircut with wavy curls can be your best pick. You can opt for an inverted bob to accentuate this style.
17. Tapered Platinum Cut With Feathered Crown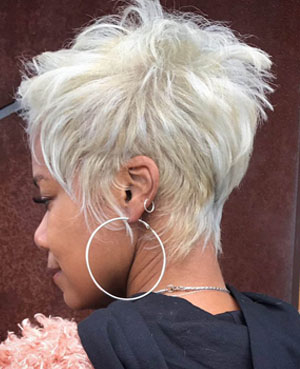 It is another one of the best short afro cuts for older ladies. This style is suitable for women who have long been waiting to try out platinum hair. It can instantly take up your personal style and makes you look years younger.
You can team it with a feathered cut to get that extra bounce and contemporary appeal. However, for African-American hair, this can be a massive color change. So, be very careful with the before and aftercare to product your hair, and avoid hair damage. Keep your hair hydrated after that.
18. Half-Up Dreadlocks


Dreadlocks appear like ropes. But, this modern hairstyle gives you a cool, bold, and edgy appearance. Often people believe that dreadlocks are suitable solely for women with long hair. But, if you want it on your short hair, it would look just as in vogue. This trendy hairstyle is also very effortless to style. However, before you get dreadlocks, remember that the only way to eliminate them is to cut them.
Women residing in warmer regions will love this style as it helps keep the hair off the face and the neck.
19. Teeny Weeny Afro


Also known as TWA, this hairstyle can delight any African-American woman with short hair. It looks spectacular on black hair and makes you look trendy and stylish. Do ensure that you keep the hair well-moisturized for a shiny appearance.
20. Buzzcut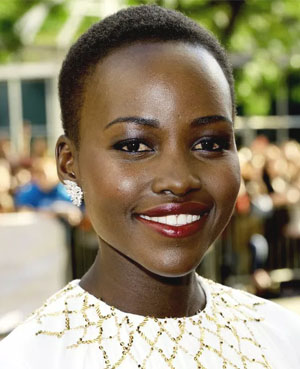 Last on our list is the buzz cut. It is suitable for women who need a no-fuss haircut that requires absolutely zero styling time. It is precisely how low-maintenance this cut is. The barber will cut close to your head, and your hair will be very short.
Though popular amongst men, women, too, are experimenting with it. The best part about this hairstyle is that it draws attention to your face. So, if you have solid facial features, this can be your go-to hairstyle.
Also, since the style requires a lot of confidence to pull this hair off, it adds a feather to your personality. However, it is not something that suits everyone. So, before you decide on the buzz cut, consider your head shape and face.
Related: How to cut your own hair? Is Nexxus shampoo good?

Frequently Asked Questions
Ques 1. How can I style my short natural black hair at home?
Ans. There are several ways to style your short, natural black hair at home. You can curl it, straighten it, tight it in a fountain ponytail, or make a pigtail. Choices are endless. You can pick one that best elevates your personal style.
Ques 2. How do you style thin hair after 50?
Ans. Your first attempt should be towards making your thin hair look thicker and fuller. So, nourish and moisturize your hair regularly for the same. In addition to it, some hairstyles can help. A few hairstyles you can try are:
Tousled Angled Bob
Ultraviolet and Platinum Pixie
Messy choppy short hairstyle with bangs
Stacked bob with wispy bangs
Modern blunt bob
Long Pixie Cut
Neck-length wavy bob
Jaw-length bob with choppy thin bangs
Short asymmetrical bob
Short textured bob
Ques 3. What hairstyle is best for very thin hair?
Ans. The tousled angled bob is best-suited for thin hair. This angle can help your hair strands appear thicker, especially when chopping them into tousled light layers with blunt ends.
Ques 4. Is a pixie cut good for thin hair?
Ans. When you have thin hair, pixie cut can be a good hairstyle. It adds volume to the hair without thinning roots or ends. The good thing is nobody will notice your thinning hair as the pixie cut adds a natural bounce to the hair. Depending on your preferences, you can opt between a long pixie or a short one.
Ques 5. Does short hair make you look older or younger?
Ans. Often people think that short hair is a sign of aging in women. However, that is far from the truth. Today, short hair is in vogue, and many women like adopting a shorter cut to look youthful, healthy, and fresh. The idea is to pick the right short haircut that suits your facial feature and scalp shape.
Ques 5. What haircuts make you look younger?
Ans. A simple pixie cut can help you eliminate all your damaged hair, leaving you with younger and healthier hair. Short haircuts help visually balance your face shape and bring the attention to your facial features. We have already discussed twenty best haircuts to make you look younger above.
Ques 6. Why do older ladies have short hair?
Ans. As we grow older, the hair changes its natural texture and loses the pigment. It also gets thinner. Hence, they need more care and time. Most women chop off their hair to save time. Also, shorter hair looks neater and is easy to style. It also makes them look younger.
Ques 7. What's a good haircut for a 60-year-old?
Ans. Choppy Bob with Choppy Bangs is the perfect haircut for a 60-year-old.
You might also like to read about the best flat irons for short hair, eyebrow trimmers for women.