Top Trending Styles For Type 3 Curly Hair Men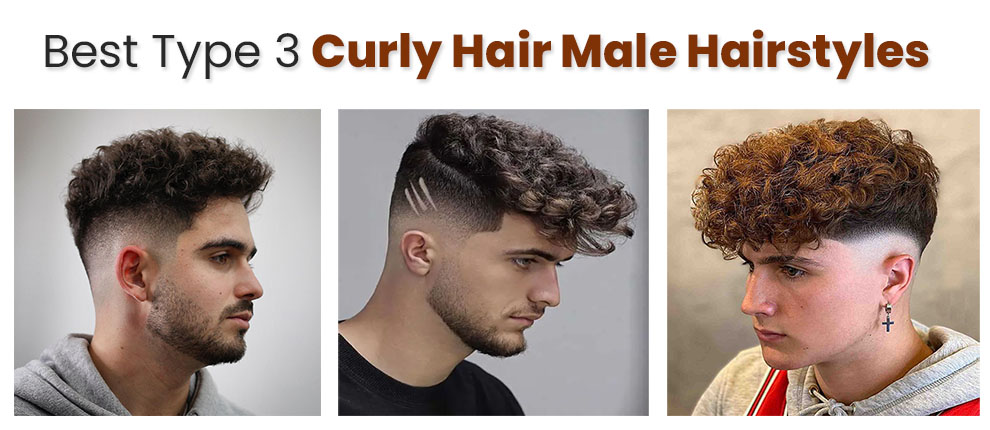 Hairstyling and maintenance directly or indirectly depend on the haircut and the hair type. Broadly, two categories define the man's hair type – the thickness and the texture. For proper upkeep and maintenance, you must understand the hair type.understand the hair type.
However, if you are like most other guys out there, you probably do not know your hair type. One of the most tricky hair types is the type 3 curly hair male hairstyles. So, even when someone asks your hair type, your outright response would be curly.
We cannot say that you are wrong in saying that, but please understand that curly is the broad hair type category. To properly care for your hair, this would not suffice. Every hair type has a different care and maintenance requirement.and maintenance requirement.
Hence, it demands more specificity to care for your hair correctly. Your hair type determines the kind of styling products your hair needs for its overall appearance and health.
Jump To
This guide below will detail you on type 3 curls male.
What Does Type 3 Hair Look Like?
Typically speaking, type 3 is curly hair. In type 3 curly hair men, the curl pattern is well-defined. It is more particular than the wavy hair but still less than the coil-y hair.
The type 3 curly hair black male or curly hair, in general, is susceptible to frizz in humid conditions. They have a thick texture and are vulnerable to damage. Depending on your type 3 curly hair male hairstyles sub-type, the hair can go from loose curls to the corkscrew shape.
Today, the type 3 curly hair are sub-divided into three subtypes – 3A, 3B, and 3C. However, according to the original system defined by Andre Walker, there were just two subtypes of curly hair – 3A and 3B.
The natural hair community members introduced the type 3 curls male sub-category 3C. The purpose was to combat the stigma against coils and curls by advocating the need to love thy hair, regardless of how it looks.
As the men's type 3 curly hair subtypes are vital for the not-straight hair categories, the inclusion of 3C was a pivotal step. It makes Andre Walker's system more conducive, even for people who do not have smooth or fine hair.
What Is The Difference Between 3A, 3B, and 3C?
Below, we will discuss the key features, identification, and difference in type 3 curly hair:

1. 3A
The sub-type 3 curly hair black male, 3A, is defined by big loose curly hair. The curl diameter is 1″ or more. Herein, the curls are very well-defined. They have a natural sheen and look S-shaped or lose spiral form. The hair texture goes from fine to medium.
Unfortunately, these type 3 curls male do not work well with heavy curly products. They tend to weigh it down, and after styling, hair looks more wavy and less curly. So, let them be as natural as possible. Naturally, the hair appears effortlessly beautiful, but they do not have much volume. Hence, they appear flat. Also, extreme humidity can make this hair type frizzy. But, their susceptibility to frizz is far less than the other type 3 curly hair male hairstyles.
2. 3B
There is a faint similarity between sub-type 3A and 3B, especially in texture and bounce. The sub-type 3 curly hair black male, 3B, is defined by loose, spiral curls, and they are the size of a Sharpie marker.
Herein, the curls are spiral and very well-defined. They usually go from fine to coarse in texture. But, typically, the hair appears parched.
Hence, you will have to give more attention to moisturizing the hair and its overall maintenance. It is best to use sulfate-free and parable-free haircare products. These type 3 curly hair men styles are relatively more voluminous.
Also, their circumference is smaller than the men's type 3 curly hair in subtype A. This hair type is prevalent in black and African men. In this type 3 curls male, frizz and puffiness are common.
3. 3C
These type 3 curly hair male hairstyles appear composed of corkscrews or ringlets. It is the kinky, curly hair type. The hair grows in a rounded shape. Herein, you will see springy tight spiral curls.
These are the most textured curly hair types. Their circumference is like straw or pencil, and such curls are known for their volume and fullness. The curls are very tight here and appear densely packed.
They are susceptible to dryness and frizz as the sebum from the scalp does not work its way to the tips. Hence, they do not possess a natural sheen. They have a higher density and are coarser than type 2 or type 3 curly hair black males.
How Do Men Maintain 3A Curly Hair?
Here are some tips for maintaining and managing type 3 curly hair men:
Sulfates can be drying. They damage the strands. Hence, stay away from products with sulfate.
The hair tends to dry out rather quickly. Hence, hydration is pivotal. You can spray the hair with a thin leave-in serum and let it air dry. Alternatively, for this men's type 3 curly hair, you can use the water-based lightweight leave-in conditioners.
Understand the hair's porosity level to understand the products that work for you. Regardless, use lightweight products.
Dry hair is susceptible to breakage. So, be gentle with the strands.
Best Hairstyles For 3A Curly Hair Men
Curly Undercut – Hair from the back, sides, and top of the head is removed almost completely.
Curly Fringe – Top length is cut, bearing in mind the direction of the fringe
Curly Quiff –  Top hair is puffed up and rolled on a brush to stay in the position
Side-ways swept – Hair is all swept to the side. It gives the curls some volume, and the hair looks effortlessly chic.
A Slicked Back – A professional-looking, classic hairstyle where the curls are neatly slicked back together with a gel or a wax.
You might also like to learn how to cut your hair at home and check out these flat irons for short hair.
How Do Men Maintain 3B Curly Hair?
Here are some tips for maintaining and managing type 3 curly hair in men:
Wash hair only once or twice a week to prevent drying. Use a shampoo once a week and a conditioner twice a week.
For type 3 curly hair men, hair needs a leave-in condition with a lightweight curl cream to prevent frizzles. Wash and go works best for this hair texture.
Use fewer products – The more products you add to the curls, the more they weigh down.
Understand the hair's porosity level to adjust the haircare routine accordingly.
Use moisturizing products as frequently as possible.
Avoid heat styling to prevent damage.
Best Hairstyles For 3B Curly Hair Men
Man-Bun – As simple as it sounds, collect all your hair and tie them in a bun.
Classic messy curls – These are classic and need minimum effort. You can leave your hair just as is and achieve this look.
Short crop – The choppy curls are laid on the top, and the side and back hair are then removed.
Curly bob – You can opt for a short curly bob where the hair ends at the ear or a long curly bob where hair reaches the shoulders.

reaches the shoulders.

Full curls – Love your curls, and want to show them off proudly? Well, use rollers to achieve full curls. Avoid any heat styling product (curler) as they can cause dryness.
How Do Men Maintain 3C Curly Hair?
These type 3 curly hair male hairstyles are characterized by frizz. But, they are easy to maintain. Here are some tips for maintaining and managing them:
Consider co-washing, meaning washing with only a conditioner as the hair is susceptible to breakage and drying. If you still want to shampoo, restrict it to once a week maximum.
Apply a leave-in conditioner and with the proper moisturizing, managing them is straightforward.
Always reach out to a sulfate-free shampoo to keep them hydrated.
Find a good variety of post-shower care products – deep conditioner, leave-in conditioner, hair oils, hair creams, and hair mist to keep the curls in shape.
Do not run your fingers through the hair – The more you touch, the frizzier it gets.
Best Hairstyles For 3C Curly Hair Men
Hard part curls – Hard part is the definite parting made with a razor that separates the hair on the top from the hair below. The curls on top should be tight, and the bottom half must have a tapering fade.
Cupid curls – Tight curls majorly close to the head
Curly pompadour – An upward blow-dry that focuses the curls onto the face
Curly tail – A ponytail that ends with curls
Angular curls – add volume to the hair and give you a height.
General Maintenance Tips For Curly Hair
Maintenance of type 3 curly hair male hairstyles can be a challenging task. However, the below-listed tips and tricks can come in handy:

Plan the time and days to wash your hair to save time and effort.
Always use cold water for the hair.
Use a wide-toothed comb before shampooing, and never brush your hair.
Opt for a mild shampoo, free from toxic chemicals like parabens, alcohol, silicones, and sulfates.
Avoid excessive shampoo as it robs the hair of its natural moisture.
Before shampooing, perform a pre-shampoo treatment to detangle the hair and remove frizz. You can use a hair mask or a conditioner and leave it for 20 minutes before washing.
Pick a conditioner rich in protein to nourish the curls and prevent breakage.
Keep your scalp healthy to ensure the growth of good quality curls. Once a week, you can use a blend of Moroccan red clay powder and argan oil to nourish the scalp. The latter also helps with dandruff.
Opt for a conditioner that offers SPF protection to prevent curls from sun damage.
Every once in two weeks, use a leave-in, dry conditioner for thorough hydration.
Never brush on wet hair as wet hair is susceptible to damage and breakage.
Frequently trim to avoid split ends.
Keep heat styling to the minimum.

Related: How to do a high and tight haircut?

Type 3 Curls Male: Frequently Asked Questions
Ques 1. Can 3A hair get braids?
Ans. Yes, 3A hair can get braids. They can also be slicked back, fluffed out, or pinned up.
Ques 2. Is type 3 hair difficult to maintain?
 Ans. The type 3 curly hair black male can be somewhat challenging to maintain. They are climate-dependent and tend to damage or get frizzy quickly. But, with the correct care and hydration, you can easily manage them.
Ques 3. Which hairstyle is best for curly hair males?
Ans. Some best hairstyles for curly hair in men are:
Forehead Falling Medium Curls
Rusty Blonde Highlights With Curled Top
Dense Curled Shag With Temple Undercut
Equal Thin Curled Shag
Big Curls Shag With Undercut Taper
Thin Curled Strands With Rusty Blonde Dye
Ques 4. Is 2c wavy or curly?
Ans. The 2C hair is wavy and not curly.
Ques 5. Can Africans have Type 3 hair?
Ans. Type 3 and Type 4 hair are most prevalent in African American women.
Ques 6. What are some good long curly hair male hairstyles?
Ans. Slicked back and curly hair bun looks best on men with long curly hair.