Wahl 9864 Vs 9818 Features, Differences, and Pros & Cons Compared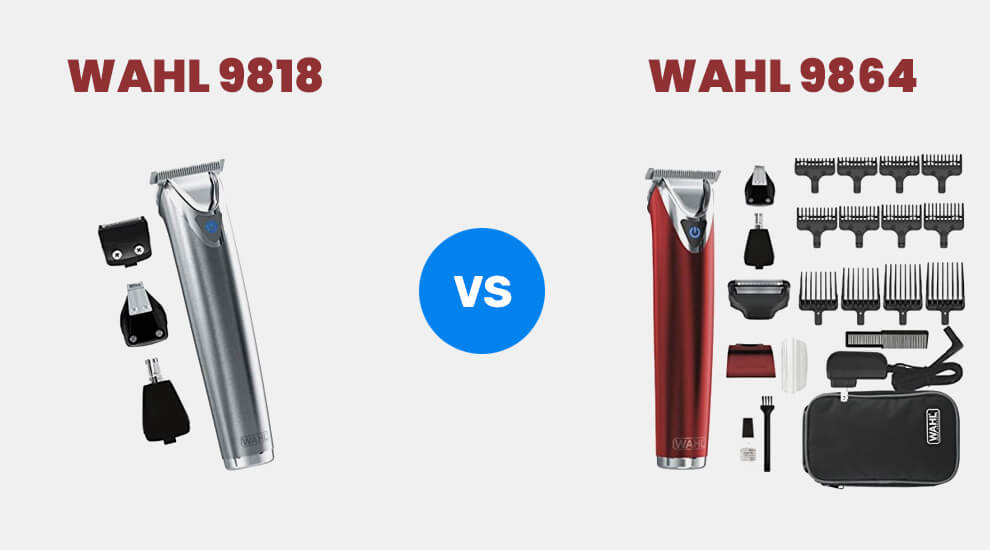 When it comes to picking hair trimmers, one brand does not disappoint, and that is Wahl. However, if you are a first time shaver you might first want yourself to get accustomed to electric trimmers. There are abundant beard trimmers in the market from Wahl, and amongst them, the two that have indeed been a customer delight for a long time are the Wahl 9818 and Wahl 9864. These are the two most popular and magnificent cordless trimmers from the brand.
They are both rechargeable and loaded with abundant unique features and components, making them very efficient. Both of these Wahl trimmer models come with an array of accessories that can help you effortlessly trim, cut, and maintain your body hair. Of course, both of these are fantastic models, but you will only be selecting one. So, here, in this article, we will take you through Wahl 9818 vs 9864 comparison, wherein we will perform an in-depth comparison between the two to help you make a wise selection.
In This Article
Wahl 9818 vs 9864 Comparison Table
| Features | Wahl 9818 | Wahl 9864 |
| --- | --- | --- |
| Image | | |
| Heads | 4 | 4 |
| Combs | 12 | 12 |
| Foil Shaver Head | No | Yes |
| Battery | 4 hours | 6 hours |
| Blade | Wide | Wider |
| Charge time | 1 hour | 1 hour |
| Quick charge | Yes 60 seconds | Yes 60 seconds |
| Travel lock | Yes | No |
| Made in | USA | USA |
| Storage | Zippered Case | Zippered Case & Trimmer Stand |
| Real stainless steel body | Yes | Yes |
| Charge Indicator | Yes | Yes |
| Nose Trimmer | Yes | Yes |
| Detail Shaver | Yes | No |
| Precision T-Blade | Yes | Yes |
| Plug Protector | Yes | No |
| Voltage | Dual | Dual |
| Price | Check price on Amazon | Check price on Amazon |
Wahl 9818 Overview
Before we take you through Wahl 9864 vs 9818 comparisons, we would want to give you an individual review of both of these Wahl beard trimmers.
Wahl 9818 is indeed the original Wahl trimmer, and it came into existence much before the featureful and the much advanced and specification-rich 9864 was launched. It does a reasonably incredible job at trimming a lot better than the older models.
Before we get to the details, let us first examine some specifications, which make 9818 stand out.
Key Features
It comes with four grooming shaving heads: a rotary ear, nose, eyebrow trimmer, a detailed shaver, and a detailed trimmer.
The trimmer has 12 T-blade hair length attachments, which go from ⅛" to 1".
It is not waterproof. So, you cannot directly rinse under the water.
The kit comprises a blade oil and a compact cleaning brush.
Quiet but powerful motor.
High carbon steel round blades, which allow seamless cutting and contouring.
One hour charge time and 4-hours of run time
Quick charge of 1-minute, gives a runtime of three minutes.
It has a tiny red-colored plug protector, which guards the machine against getting turned on accidentally while you store it in the bag.
Supports dual voltage, and thus, can be used in any corner of the world.
The package comprises a zippered storage bag wherein you can stack all the accessories.
Pros

It feels great in hand owing to its compact size.
Small size lets you glide through effortlessly.
Stainless steel housing adds to the durability of this Wahl beard trimmer.
The stainless steel body makes the trimmer very lightweight and assures guaranteed protection and continued usage.
It comes with 12 different comb lengths and features four self-sharping blades that let you style and trim through different lengths easily and effortlessly to help you achieve the needed precision.
The zippered case makes it perfect for men on the go.

Cons

Battery is not replaceable. So, when the battery goes out of order, you have no option but to replace the trimmer.
The blades are shorter in width compared to many other Wahl beard trimmers.
What Makes Wahl 9818 Special?
Given its premium-grade, high-performance carbon stainless steel blades, this Wahl beard trimmer 100% overshadows many trimmers in this price range. Wahl 9818 comes with self-sharpening blades, which can zap even the coarsest and the thickest beard without pulling, irritating, or plucking the skin. However, if you have a dense beard, we recommend some pre-trimming with a barber scissor to prevent pulling.
Going further ahead, the Wahl 9818 beard trimmer comes with a bundle of attachments that can cater to your grooming needs effortlessly. Thanks to the 12 comb attachments, which can help you take care of different hair lengths at the other areas of your face effortlessly.
Further, the T-blade in this trimmer helps you cater to your bulk shaving requirements efficiently. You can use it with or sans the guards to get rid of the uglies from the chest, underarms, legs, back, and arms. Its broad head makes it a good pick for head shaving too. We would recommend the detailed trimmer to you for an effortless and smooth shave below the belt. You also get a rotary trimmer, which helps you eliminate the junk from the nose and the ear.
Wahl 9818 comes with a detailed trimmer and detailed shaver heads, specifically designed for shaping, outlining, touching up, and outlining the hair in the delicate corners. Its two-micro attachments are ideal for maintaining a sophisticated and stylish 5 o'clock shadow look. It is for this reason it has secured its place in our best goatee trimmers list as well.
As there is no foil shaver in the kit, getting a classic clean shave may be hard to achieve with this Wahl beard trimmer. In general, the shaping, outlining, and maintaining a heavy and light stubble look are the primary focus areas for this Wahl beard trimmer.
The trimmer has a four hours long battery and a quick charge function of 1 minute. While you travel, you can make use of the plug protector that comes with it. The plug protector makes this Wahl beard trimmer a perfect travel companion.
The only problem that we saw in this beard trimmer is that its variable length attachments are composed of cheap plastic, which may not make it through the heavy wear and tear.
Wahl 9864 Overview
Now that we understand everything that is to know about Wahl 9818 beard trimmer, we are taking this Wahl 9864 vs 9818 comparison forward. For this, we will now look at the Wahl 9864 comprehensive review.
Wahl Stainless Steel Lithium Ion 9864 is a comprehensive multi-grooming kit in the most genuine sense. Given its assortment of four grooming heads and 12 comb guides, there is possibly no styling purpose that you cannot fulfill if you have this grooming kit in your bag.
Before we get to the details, let us first examine some specifications, making 9864 stand out.
Key Features
Rubberized body, which assures a firm grip and easy handling.
The body has a decent degree of heft to it, which maintains a proper balance.
Self-cleaning blades, which allow fuss-free maintenance.
Not waterproof, making it usable for dry shaving only.
You can remove the blade easily for cleaning and rinsing.
It takes one hour to charge fully.
It has a runtime of 6 hours.
It has a quick charge feature of 1 minute, which gives you five minutes of battery backup to complete the shave.
Easy to comprehend charging status and battery level indicator.
It comes with four shaving heads – dual foil shaver, T-blade, ear and nose hair trimmer, along with a precision detail trimmer.
The trimmer has 12 comb guides, which range from 1/8" to 1".
You get a blade oil and a small cleaning brush in the kit.
It is perfect for all kinds of skin.
Accessories can be stacked easily in the storage pouch which comes with it.
Dual voltage for worldwide compatibility.
Pros

The trimmer has a Lithium-Ion battery 2.0. The battery delivers six hours of continuous cordless use after an hour of charging.
It comes with 12 individual guide combs, which feature four different trimmers that allow an assortment of styling and cutting preferences.
The trimmer has a worldwide voltage. This means that you can use it in any corner of the world.
Dual voltage supports both 110 V and 220 V.
It is easy to use, and its included user manual only makes it easy.
Further, the customer support team responds quickly and fast.
It allows hygienic grooming, which is excellent news for men who have sensitive skin.
The pouch that comes with it will enable you to tuck the trimmer in a carry-on. So, you can safely secure your attachments while on the go.

Cons

The trimmer does not shut off. It could have been a manufacturing issue with a particular piece or due to voltage issues.
What Makes 9864 Stand Out?
This Wahl beard trimmer comes with four assorted shaving heads in the kit. Of this, many of you will like and appreciate the T-blade head. The blade is known for its fantastic sharpness and the very ability to cut smoothly, regardless of what you throw in its way. You can use this trimmer for trimming the stubble and shaving your head.
Further, the trimmer has a dual foil shaver, which can be your go-to accessory anytime you seek a classic and clean-cut shave. As may be clear from the name, this foil shaver is ideal for cutting super close to the skin. Your cutter will be super handy, especially when you have to tackle thick or coarse body hair.
Additionally, the trimmer comes with a well-functioning and dedicated nose and ear hair trimming attachment in the kit, which does precisely what it is designed to do. More so, it is narrow enough for a pain-free and quick touch-up, even around the most inaccessible areas on your face.
For men who take their grooming a tad bit more seriously, you will thoroughly love and enjoy the precision detail trimmer, which will give you a barber-style final touch. You can use it to outline your beard neckline, mustache, sideburns and create intricate beard styles.
Also, with the twelve comb guides, which go from 2 mm to 24 mm, you can easily manage every hairstyle, beard, and stubble that you think would look good on you. Given its adjustable length settings, you would never miss the salon-level precision when you have this trimmer in your grooming kit.
The groomer's rubberized body does feel a bit bulky. However, that only adds to the groomer's durability, compared to the other plasticky and flimsy stuff found in many beard trimmers. The heft offers the right balance, which accelerates the whole shaving process, sans any nicking or pulling of the hair.
Lastly, this Wahl beard trimmer is renowned for its Lithium-Ion battery. Once you have charged it fully, the battery will be preserved for 2-3 weeks. However, if the battery does run out while you are in the middle of the shave, you can use this Wahl trimmer's quick charge feature, which packs adequate torque for an effective and quick touch-up.
One flaw with this model is that there is a massive gap between the two corresponding attachments. Even though you can find adequate comb guides for long and short beard hairstyles, the same cannot be said for medium-length hair.
Wahl 9864 vs 9818: Which Is Better?
| Feature | Wahl 9818 | Wahl 9864 |
| --- | --- | --- |
| Image | | |
| Size | Similar size | Similar size |
| Foil shaver | Absent | Present |
| Accessories | 12 attachments | 12 attachments |
| Battery Life | Four hours | Six hours |
| Charge Time | 60 minutes | 60 minutes |
| Battery technology | Lithium-ion technology | Lithium-ion technology 2.0+ |
| Quick charge | 1 minute charge gives 3 minutes juice | 1 minute charge gives 5 minutes juice |
| Head | Smaller | Bigger |
| Plug protector | Present | Absent |
| Body color | Silver | Different color variants |
| Usage | Personal | Professional |
| Travel friendly | Yes | Not as much as the 9818 |
| Price | Check price on Amazon | Check price on Amazon |
Wahl 9818 vs 9864: Some Differences
Now that we have reviewed both the products individually, we can finally do a detailed Wahl 9864 vs 9818 comparison.
This section will compare Wahl 9864 vs 9818 on a couple of disciplines, which are vital metrics for a buyer when shopping for a beard trimmer. Let us start with the Wahl 9818 vs 9864 and get you closer to deciding which is the best Wahl beard trimmer for you.
Size and appearance
Firstly, we will compare Wahl 9818 vs 9864 based on their size and appearance. So, typically, both of these Wahl beard trimmers have a stainless steel body. Hence, even though these beard trimmers were many, many years apart in launch and creation, the makers have kept a good similarity in size and weight. Even though the two do have a similar size, upon thorough Wahl 9818 vs 9864 analysis, we did note a slight difference in the appearance.
So, when we placed the two Wahl trimmers side by side for a Wahl 9818 vs 9864 comparison, we noted that the latter has a curved, plastic guard towards the trimmer's bottom end, which is absent in the 9818 model. In Wahl 9818, the body is silver, through and through, which puts its stainless steel make on the forefront. On the other hand, in Wahl 9864, the body is available in different colors such as black, blue, red, silver etc.
Ease of usage
Next, the metric on which we will compare the Wahl 9864 vs 9818 models is the ease of usage. As both the models have a similar-sized body, they are both effortless to hold, even sans the presence of ergonomic handles. Both of these Wahl beard trimmers come with easy-to-press buttons, which can be seen somewhere around the blades' top-end. So, in this aspect, the Wahl 9818 vs 9864 barely show any difference.
Shaving blade features
Moving forward, both Wahl beard trimmers are equipped with self-sharpening blades. These are patented blades, which offer an excellent cutting even for all kinds of hair and hair lengths. So, regardless of the trimmer you use, the blades can last you a long time.
More so, this comparison also helped us realize that both of these trimmers are all-in-one. This implies that you can use both of these Wahl trimmers for trimming and cutting your beard and for detailing, body grooming, touch-ups, and haircuts. Another thing that we noticed in our Wahl 9818 vs 9864 is the multiple attachments that come along. Hence, you need to pick the right attachment, and the blade will help you achieve the perfect hair details or the most complicated hair designs and styles.
Battery power
When we asked our experts about this discipline of the Wahl 9818 vs 9864 comparisons, we honestly had a clear winner – Wahl 9864. Why? See, it runs on Lithium 2.0+ battery technology and has a greater run time. Its dual worldwide voltage is a cherry on the cake because no matter, which part of the world you are in, you can quickly charge, use, and recharge the trimmer and get your necessary shaving or trimming output.
Parts and accessories
During our Wahl 9864 vs 9818 analysis, we found that both of these come with twelve cutting length combs. This adds to the trimmer's versatility and lets you use the trimmer in different body areas, such as the head, neck, body, and back hair.
Upon a deeper Wahl 9818 vs 9864 analysis and after reading through the manual, we found something intriguing in the attachments. So, in Wahl 9818, there are four basic attachments – detail shaver, precision detailer, nose or ear trimmer, and the T-blade trimmer. These attachments are just enough to cater to your routine trimming and grooming needs. In addition to that Wahl 9864 has 8 T-blade guides for tackling long and short haircuts, 12 individual guide combs, and four beard grooming guide combs.
Maintenance
Lastly, in the Wahl 9818 vs 9864 comparisons, we tried to understand the kind of maintenance each of them required. During this review, we found that they are equipped with self-sharpening blades. It implies that the blades will be sharpened before use. You do not need any secondary sharpening device or take them to a sharpening service for maintenance.
Hence, the Wahl 9818 vs 9864 comparisons has led us to conclude that the former is more like a personal trimmer with its four-in-one trimmer kit, which helps you cut hair and cater to all-round grooming and hygiene. On the other hand, the 9864 model is more like a professional model. Beyond the basic grooming guides, with this, you also get some maintenance and professional hair-styling tools. Hence, you can use it for both personal and professional use.
Wahl 9818 does not have a foil shaver
In the Wahl 9864 trimmer, you get a dual foil shaver head, which is just right for an ultra-close and smooth shave. Its thin metal foil works as a seamless barrier around the skin, minimizing all possibilities of post-razor skin issues, such as burns, bumps, and cuts. It also allows the blade underneath to move back and forth seamlessly onto your skin contours, thereby resulting in hair-free and super smooth skin.
On the other hand, in the 9818 model, there is no shaver head. But then, it also costs less, which makes complete sense.
9864 has a broader and a bigger trimmer head
Only upon a close analysis of the shaving head will you note that the blade opening of the 9864 model is a lot bigger than the 9818 model. It implies that 9864 is better able to cut more hair with every pass. So, if you wish to cut short your everyday shaving time, the 9864 model does better justice.
Wahl 9818 comes with a plug protector
It may be a bit embarrassing if your trimmer turns on automatically and starts vibrating in the travel bag while you are in a public place. This will not only leave you feeling embarrassed but isn't safe too. It will also drain the whole of your trimmer's battery. To overcome this issue, the Wahl 9818 presents a small plug protector to you, which fits into the charging port. This is absent in the 9864 model.
Wahl 9818 vs 9864: The Similarities
Honestly, before we did the Wahl 9818 vs 9864, we got confused between these two models more often than once. It is probably because of the sheer number of similarities between the two.
Both of them have a slightly curved and solid stainless steel body, along with the texturized grip, which goes all the way to the handle's bottom. The trimmers have a decent degree of heft, which is evidence of their durability.
They have an LED battery level indicator, which helps you keep a tab on the battery status. Thus, size and look wise, though there is a slight difference, an inexperienced eye would often overlook it. They support dual-voltage. This means that you can use them in Australia and Europe without needing a voltage converter.
More so, none of these are waterproof trimmers. This implies that you can use them for dry shaving only. For cleaning, you will have to pop the head off and remove its blade. Even though they are not waterproof, you can still run the accessories under water to clean them.
The latest versions of these two flagship groomers come with a similar number and sizes of comb attachments. There are 12 T-blade comb guides in both the kits, which go from ⅛" to 1". These identical-looking swanky trimmers are designed for a complete grooming process with minimum effort and salon-grade precision.
Hence, having these shavers in your kitty would enable you to trim and shave every shavable area of your body and simultaneously adjust the hair length via the trimmers.
We would like to conclude this section by stating that the customer support service and the post-sale service of Wahl are unparalleled.
Frequently Asked Questions
Ques 1. Can beginners use the Wahl clippers?
Ans. Yes, Wahl clippers are safe for use for all, regardless of age. However, if you are new to it, we recommend using the Wahl beard trimmers' base models as they are cheaper and assure better precision. You can find some of the best Wahl clippers here.
Ques 2. Which Wahl trimmer is the best?
Ans. Well, to name one trimmer here would be so difficult and unjust, as there are multiple offerings from Wahl with each of its own special features. However, there is one that is particularly popular among the customers i.e Wahl Elite Pro High-Performance Kit.
Ques 3. Why do the Wahl clippers pull?
Ans. There could be multiple reasons why Wahl clippers are pulling your hair. If you are experiencing a sudden hair pull, we recommend applying a few drops of hair clipper oil onto the blade and testing them again. Alternatively, at times, the clipper might pull hair when its battery is hot. So, allow the trimmer to cool down a bit, and then you can try once more. If none of these work, you may have to replace the blades or have them sharpened.
Ques 4. Which is better, Wahl or Philips?
Ans. Even though Wahl is one of the top recognized brands amongst the barbers, if you are an amateur or need a trimmer for home-use, we would recommend Philips to you. Hence, if you need a cutting-edge trimmer that performs fine DIY haircuts, Philips can be your go-to pick.
Related Read: Trimmer Vs Clipper Comparison
Conclusion
We would like to conclude by saying that the best Wahl beard trimmer for you is a matter of individual preference and what you wish to do with your trimmer. If you want to use the trimmer for hair trimming, cutting your beard or hair, or any other general-purpose grooming, Wahl 9818 will suffice as it has all the basic trimmer attachments, is easy to use and very lightweight. Further, the battery life is also good and is decently long for personal use.
On the other hand, if you need a more professional trimmer, which has caters to more than just hair cutting or beard trimming, Wahl 9864 should be your preferred pick. It has a longer battery life and gives you a more close shave. Lastly, we would say, what you choose is a matter of your personal needs, expectations, and demands from a trimmer.