12 Best Goatee Trimmers With Buyer's Guide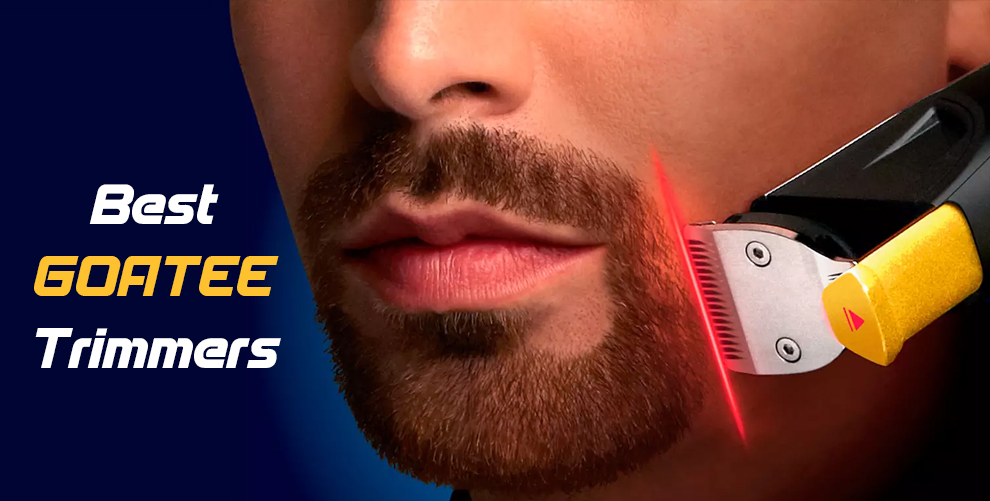 Today a lot of people like to own a goatee beard trimmer for their goatees. It can help even out the surface of the goatee. Further, if you wish to style the space, you can shave off the layers. The goatee beard trimmer can help you when you start a new goatee or want to shape everything. Either way, the choice you make must be based on how much of you are ready to prepare for this new goatee look.
RazorHood is here to tell you about some of the options you have for buying the best goatee trimmers.
Quickly Navigate Through The Best Goatee Beard Trimmers
Best Beard Trimmer for Goatee
| Product | Rating | Price | Buy Now |
| --- | --- | --- | --- |
| Wahl 5622 Groomsman Rechargeable Beard, Mustache, Hair & Nose Hair Trimmer for Detailing & Grooming | 4.3 | $18.50 | Buy Now |
| ConairMAN All-in-1 Beard & Mustache Trimmer | 4.2 | $16.54 | Buy Now |
| Philips Norelco One blade Pro QP6520/70 | 4.4 | $ 74-$79 | Buy Now |
| Braun Beard Trimmer for Men BT5265 | 4.6 | $ 54.94 | Buy Now |
| Remington PG6170 Crafter Trimmer | 4.5 | $ 60.44 | Buy Now |
| xtava Pro Cordless Hair Clippers and Beard Trimmer | 4.5 | $ 34.99 | Buy Now |
| Andis 32475 Slim line Pro Lithium Ion T-blade Trimmer, Black | 4.5 | $ 53.23 | Buy Now |
| Philips Norelco Multigroom Series 7000 MG7750 | 4.7 | $ 45 | Buy Now |
| Wahl Lithium Ion+ Stainless Steel Groomer #9818 | 4.4 | $ 72.98 | Buy Now |
| Philips Norelco Multigroom Series 3000 MG3750 | 4.6 | $17.95 | Buy Now |
| Remington MB6850 Vacuum Beard and Stubble Groomer | 4.2 | 49.97 | Buy Now |
| Panasonic Beard Trimmer for Men Cordless Precision Power, Hair Clipper with Comb Attachment and 19 Adjustable Settings, Washable, ER-SB40-K | 4.5 | $99.99 | Buy Now |
Now let us get started, and take a look at some of the best goatee trimmers that you can find in the market.
Factors Of Consideration When Shopping For Goatee Trimmers
When it comes to trimmers, everyone has their share of likes and dislikes. It is for this reason why we have prepared a small guide, which can be helpful for people who want to research for goatee trimmers beyond the ones recommended by me. This guide will help you find alternatives to the products that we have mentioned on this list. So, go ahead, and give it a good read.
What length do you want your beard to be?
Firstly, you need to get a fix on the length of the beard that you want when shopping for the best beard trimmer for goatee. It is only based on this; you will be able to find a trimmer, which cuts the hair into different lengths. Based on this information, the design of the goatee trimmers will be variable. It would help if you were very careful about this when you go out shopping from our listed best goatee trimmers or any other trimmer of your choice.
Features of the Combs
Of course, it does help to have combs in the trimming kits. However, one needs to ensure that these combs can be used to cut the beard into a variety of different shapes. The combs ought to be of different sizes and well-organized. You need to keep a check on the material of the comb too. Read through the reviews, and find out if they happen to cause rashes or they are suitable for the skin.
Does the trimmer pivot well?
Many of the best goatee trimmers do come with pivoting blades. Some even have a shaving head, which pivots too. These goatee trimmers tend to have the blades arranged in a certain pattern. It enables the people to get the requisite cut that they may want from their trimmer.
It would be best if you watched out for the pivoting points and the functioning during the touch-ups. It should cover the faces in a manner where the goatee trimming feels like a breeze. Further, you also need to ensure that the trimmer is not very rough on the face. It can help prevent cuts, bruises, and nicks.
The layout of the blades is also vital
In our opinion, the angular blades are perfect because they perfectly cut the beard. Also, it helps you have a foil cover on the blades. It will ensure that your blades stay clean and are effective at the job. The foil cover is also helpful in reducing the irritation of the skin when trimming or shaving. Always go for goatee trimmers that have flexible blades. The adjustable blades make it relatively easy for the trimmer to travel across the face contours. Moreover, it prevents the possibility of catching the skin flakes in between the blades too.
What should be the battery life of the best goatee trimmers?
Usually, the best beard trimmer for goatee that you find in the market will be cordless. Now, the thing with cordless goatee trimmers is that they need to have a good battery life to service the users. It becomes all the more vital if you have a barbershop or a salon and wish to use it for professional usage. Of course, we understand that the batteries do take a while to charge up. However, you should pick the best beard trimmer for goatee, which does not take over an hour to charge.
How does the handle feel while operating the device?
Okay, let me be honest with you here. When you hold your goatee trimmers, you must feel completely at ease even before you actually go on to use that device. In other words, the best beard trimmer for goatee will always be ergonomic in feel and shape. People usually opt for ambidextrous machines, which fit well in both hands. It is a great tip.
However, please know that you may not find these devices in abundance in the market. My advice is to opt for trimmers, which have a well-defined gripping system. The best ones are the trimmers with rubber grip. These grips ensure that you are comfortably able to hold your trimmer. These goatee trimmers also do not slip. When the gripping system is good, your trimmer will not slip. Thus, preventing any chance of cutting your face.
Can you do both wet and dry trimming with your trimmer?
People believe that the wet or dry trimmer is only required when you have to shave your beard completely. However, that is not true. The wet trimmer also works well when you have to shape your goatee. It can help you trim when the hair is softer. It happens when your hair is wet. People find it easy to cut the hair down to a reasonable size.
Dry trimming machines are excellent when you wish to trim the space of the goatee to get you a chic look. You will be able to assess how the hair is lying on the face better when they are dry.
We recommend you to shop for the goatee trimmers, which work well for both dry and wet shaving. It will save you from the unnecessary hassle of cleaning the trimmer.
Conclusion
Men usually take their beard, moustache, and goatee seriously. It is the pride that they face on the face, which expresses their vigour and high spirits. Thus, it would be best if you exercised due care while you trim and shave them. For that to happen, you need to have good goatee trimmers. Hopefully, our review above will help you pick the best. If you have any more suggestions or tips to add to the list, do let us know in the comment box. Happy Trimming!