7 Best Mustache Trimmers: Mustache Trimmer Reviews, Grooming Tips And Buyer's Guide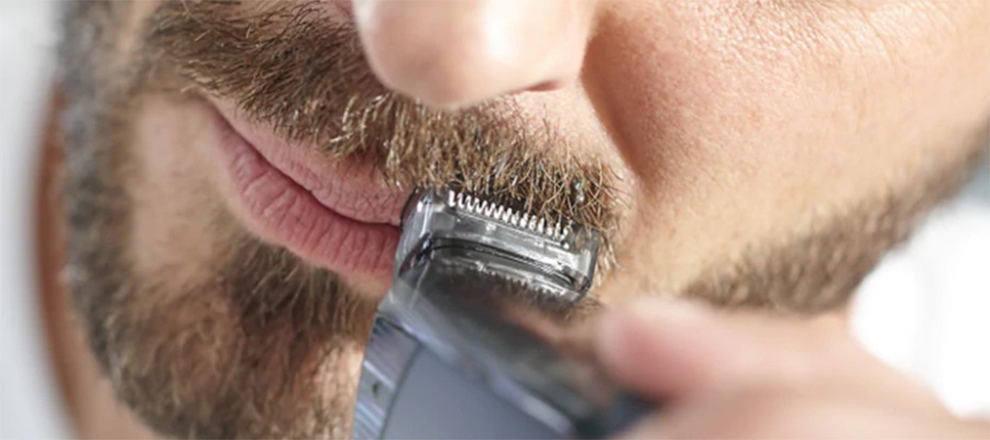 We all know it; a mustache is a hugely risky venture. Honestly speaking, it is one area where you can easily go wrong, and if you do, it can ruin your entire look. However, when someone puts in adequate effort into making the mustache look appealing, the results can be magnificent.
However, to be able to cultivate a neat and proper mustache, you need the right tools. In this time and age, there is more than scissors available for your mustache. You can find a mens mustache trimmer, which is a trimmer designed exquisitely for grooming your mustaches. A lot of these tools brand label themselves as general facial hair trimmers. However, from this immense variety available, how do you shop for the best beard and mustache trimmer?
Quickly Navigate Through The Best Mustache Trimmers
Best Beard and Mustache Trimmer Reviews
Top Rated Best Mustache Trimmers
Buyer's Guide – Shopping For The Best Mustache Trimmer
What may be the best professional mustache trimmer for you may not be even an average pick for someone else. So, it is all a matter of professional preference. However, when shopping for the best beard and mustache trimmer, there are a few things that you need to consider. We will enlist a few pointers to simplify the choice for you.
Blade Quality
A trimmer may be sleek and handy but if the blades aren't good, even the best mustache trimmer becomes absolutely useless. Try to pick a trimmer that has self-sharpening blades which require low maintenance. It is best if the blades are also rust and break resistant ones. Do make sure that the blades are sharp enough to give the desired shave in the first go itself.
Ease of Usage
With an ergonomic design you would be in a better position to move the trimmer around for a précised shave. The trimmer should not be slippery and also fit well in your hands with a good grip for a flawless experience.
Motor
A trimmer with powerful motor will let you trim through any kind of hair (thick or thin) at ease. You won't have to move over the same place, again and again, to trim everything off.
Cordless vs. Corded
Most of the trimmers that we have enlisted above in our beard and mustache trimmer reviews are cordless. See, the thing with corded trimmers is that they tend to restrict your movement, but it also means that these trimmers would not die mid-trim. This will come in quite useful if you foresee a need for a long grooming session and do not want to be interrupted.
Battery Runtime
If you choose a cordless mustache trimmer or even a cordless hair clipper for that matter, always do check the runtime and charging time of your preferred device before buying. A good battery backup lets you trim your mustache at ease without the fear of running out of battery. Ideal combination is short charge time with long runtime. This becomes more imperative if you are looking for professional mustache trimmers.
Accessories and Attachments
The higher the number of length settings, the more options will be available for you. Moreover, shopping for the best beard and mustache trimmer with more options will give you more room to experiment. So if you're someone who likes to experiment with his look, pick one with multiple attachments and combs.
Waterproof Body
You generally get washable blades and attachments with these trimmers. Wet hair gets chopped off more easily. So, if the trimmer in itself is waterproof, it can be used in the shower too.
How To Trim Your Mustache?
Start by dry combing your mustache and giving it a rough shape.
Now, slowly cut along the mustache's bottom and then around the outer edges. It is best to work from the center towards your way out to one side.
Then from the edge of the other side back to the middle portion of your mustache.
Go easy on the trimming length and do not chop it all of at once and regret later. Touch up at the end using a comb again and use scissors to cut off any uneven strands of hair.
Tips To Grow and Groom Your Mustache
Here are a few grooming tips that will be helpful for you to maintain your mustache.
Comb regularly
Combing your mustache is the first step for self-grooming which people usually ignore. Make sure to comb your mustache regularly after shower. This will keep it civil and easier to work upon in the next trimming session.
Moisturize your skin
Always keep your skin moisturized as it will also provide nourishment to the hair follicles underneath resulting in healthier hair growth.
Use Wax or Beard Oil
Use a beard and mustache wax to tame the unruly hair. Apart from helping in growing & styling your handlebars, it also provides nourishment to the hair to grow better.
You can also use simple plain coconut oil which is enough for your multiple grooming needs.
Related Read: Trimmer Vs Clipper Comparison
Bottom Line
We genuinely understand that shopping for the best beard and mustache trimmer from the thousands available in the market can be quite a daunting task. Hopefully, with our beard and mustache trimmer reviews, you are better equipped with the knowledge of what's trending in the market. Having said that, all of these are the best mustache trimmers in our view, and they indeed are. But you cannot buy them all.
On the careful analysis of the different beard and mustache trimmer reviews, you will have to pick one that is closest to satiating your needs. For that, you can use our buying guide, and it will enable you to make a more informed choice. See, shopping for the professional mustache trimmer will not be worth it if you do not pick the best one available out there. Therefore, give it time, read and analyze our mustache trimmer reviews, match them with your needs, and make the pick. Happy Grooming!