8 Best Outliner Clippers: Tips For A Flawless Edge and Buyer's Guide Included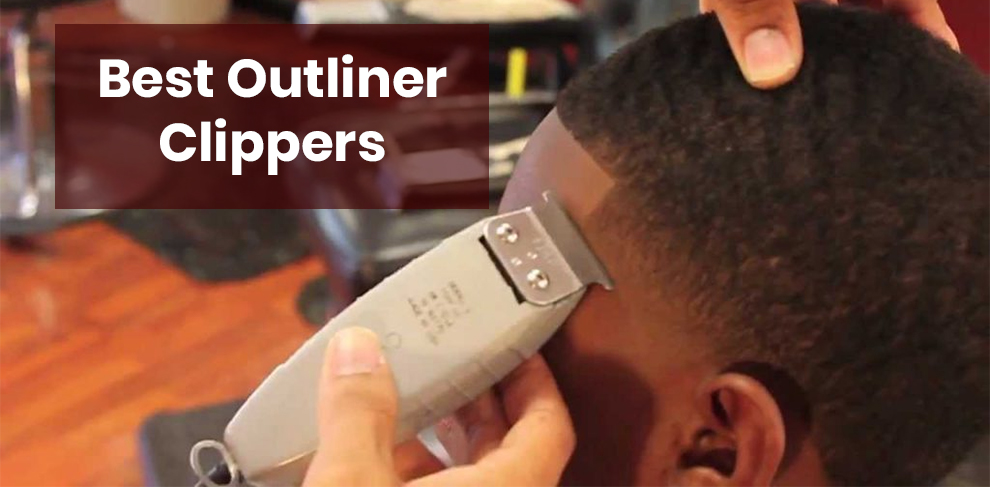 Everybody enjoys their trip to a barber and walking out with a fresh clean look. What if we tell you that you can get the same look from the comfort of your homes? All you have to do is to get your own set of best outliner clippers. You can keep your lid in check all time, every time, especially if you like to keep it short. Yes, all of that comes without stepping out of your home. Sounds incredible, right?
Now, the problem is to select the best hair liner clippers available in the market. Well, how do you make your pick? For first-time buyers, the vast choices can be a bit overwhelming. So, you may naturally have tons of questions in your head. We understand the position that you may find yourself in. Thus, to help you make a choice, we have come up with a list of some of the best hair liner clippers. You can browse through our list and make an informed decision.
Quickly Navigate Through The Best Liner Clippers
Top Outliner Clippers
| Product | Rating | Price | Buy Now |
| --- | --- | --- | --- |
| Andis Professional T-Outliner 04710 | 4.5 | $60.02 | Buy Now |
| Andis 01557– Best Overall Liner Clipper | 4.5 | $103.20 | Buy Now |
| Wahl 9686-300 – Best Budget Liner Clipper | 4.4 | $39.73 | Buy Now |
| Andis 4775 GTX T-Outliner – Works Clean Along the Skin | 4.4 | $72.11 | Buy Now |
| Wahl Profesional 5-Star Detailer with Adjustable T Blade for Extremely Close Trimming and Clean and Crisp Lines for Professional Barbers and Stylists – Model 8081 | 4.5 | $69.99 | Buy Now |
| Wahl Professional 5-Star Hero #8991 | 4.4 | $62.99 | Buy Now |
| Wahl 9818 – Best Battery-powered Liner Clipper | 4.4 | $74.79 | Buy Now |
| Oster Fast Feed Adjustable Pivot Motor Clipper | 4.5 | $72.5 | Buy Now |
Top Outliner Clippers
Things You Need To Consider When Shopping For Best Hair Liner Clippers
Shopping for the best hair outliner, which best caters to your needs, can be a daunting task at times. However, it is not impossible. To ensure that you make the right choice and always end up buying the best hair liner clippers, we have come up with a few features that you need to bear in mind when purchasing the best hair outliner.
Blades
The quality of the trimmer's blades directly impacts the quality of trimming. It also decides whether the blade will be adept at enabling you to achieve the look you desire. Having said that, the stainless steel blades are the perfect choice when you shop for the best clippers and liners. These blades won't ever let you down.
However, beyond the stainless steel blades, the clippers with other blade types, such as the carbon blades, are also a good pick when shopping for the best hair liner clippers. However, you need to note that the carbon blades are more prone to corrosion and rusting.
Furthermore, the best clippers and liners are the ones that come with self-sharpening blades. These blades will ensure that you do not have to replace the edger because of the blades losing the edge before working enough.
Motor
The best clippers and liners you pick must have a motor, which assures consistent power while simultaneously making it easy for you to perform the job thoroughly. Many of the top outliner clippers come with magnetic motors. We have also reviewed some of the best hair liner clippers, which come with rotary and pivot motors.
It is vital to understand that the top outliner clippers are relatively cheaper than the clippers embedded with rotary and pivot motors. But you must also know that even though they are inexpensive, they are also not very powerful.
The pivot motor reproduces twice as much cutting power as compared to its counterparts. The additional power also makes it easy to cut through the wet hair. Many professional stylists and barbers like to shop for the best hair liner clippers, engineered with pivot motors.
Versatility
The versatility of the best clippers and liners comes down to the attachments that you get with it. Some of the best liner clippers come with guide combs, which aid in cutting the longer or thicker hair and the taper-style combs, which aid in creating unique fade designs. In the best clippers and liners, versatility also means that you can do a lot more. A versatility edger helps you focus on a myriad of different body areas, such as around the ears, back of the neck, sideburns, beards, and more.
Cutting lengths
Several best clippers and liners come with controls, which help you create several cutting lengths. On the other hand, others have taper levers, which allows you to cut through different hair lengths.
Power source
The next important factor of consideration is whether your top outliner clippers are corded, cordless, or can work as both. Regardless of the choice of a clipper or trimmer, you will need a power source, which lasts and helps prevent a motor from losing its efficiency or speed.
There are certain best cordless outliner trimmers, which comes with a rechargeable battery for cordless usage. On the other hand, others come with a power cord edger, which runs on batteries and usually offers more freedom of movement. One of the best things is you can use it anytime and anywhere at your convenience.
On the other hand, a prime disadvantage of the best cordless outliner is that there is always a risk that the battery might run out in the middle of your cut or trim. Cords offer a consistent power source. It means that as long as there is a power source, you can move around without restriction while simultaneously maintaining a firm grip on the hair edger.
Design
The design of your best hair liner clippers also goes a long way towards its effectiveness and ease of usage. See, your edger must have a handle, which is quite easy to use and grip. Some of them are available with rubber grips, which offer a sturdier hold. On the other hand, others feature grooves, which facilitate a better hold.
Bottom line is the best hair liner clippers will be the one that offers you a firm grip, which is easy to hold, and does not put an uncalled for stress onto your hands. Another vital factor that you need to look for regarding the design is whether it is sans vibration or not. Several top-quality hair trimmers come with an insulated housing design, which eliminates all the annoying vibration. However, anything in the design, which keeps vibration at a minimum is a huge plus.
You can find the edger body types in a range of sizes. It is vital to look for the size that you are most comfortable with, something that fits your cutting technique, hand and caters to the day to day operation.
Brand
The functionality is another vital factor for your best hair outliner. However, this doesn't mean that you should not consider the brand. Usually, it is the top brands, which come with good features and offer better versatility. They offer more powerful performance and come with manufacturer guarantees. Of course, it goes without saying, the high-end brands will cost you more, but they sure are a better long-term investment.
Maintenance
Best clippers and liners are always easy to maintain. So, conduct in-depth research when shopping to understand the maintenance and cleaning functions of the trimmer and then pick your best hair liner clippers. Pick a trimmer only after reading the reviews of the customers. Have they experienced any maintenance issues? If not, that can be a good steal.
Tips For Creating A Flawless Edge Every Time With The Best Hair Liner Clippers
How your lines and edges look do put forth a striking distinction between a mediocre and a good haircut (even worse). See, you need to understand that it is all in the details and which of the best hair outliners you select. Your otherwise great haircut can look less than professional if it has sloppy lines and edges.
Thus, creating perfect edges and lines with the best clippers and liners just like anything else takes a good share of the craft's dedication and practice. Here are some things that may be helpful for you as you start the trimming and edging process.
Keep It Clean
Lining and edging can take place after the other haircut work. There may be some leftover hair from the main haircut. So, always ensure that you clean the excess trimmings away from the areas which need adequate edging.
Keep It Subtle
A lot of people go on and attack edging and lining work with the same force as a lumberjack feeling the redwood. Do not do this. You have to trim like a human and not some animal.
Have A Starting Point
See, it is all about your personal preference. Some barbers like to start from the hairline's middle, while there are others who initiate from the sides. You must always line the hair liners or the edger trimmers horizontally to the hairline when you start in the middle and make vertical motions till you get to the sides.
Ensure That It Is All Even
Lastly, you need to ensure that the hairline is straight on both sides. You won't like one side being longer than the other, right?
Conclusion: Which Are The Best Outliner Clippers?
Our review of the best outliner clippers puts forth the most value-packed tools for both professionals and individuals. You can employ them for shaving, contouring, trimming, edging, and a lot more.
So, if you seek one of the best hair liner clippers from our listing, we would recommend Andis 01557. It comes with an adjustable blade and is excessively powerful. It is also enclosed with a heavy-duty aluminum casing. For people on a budget, we feel that the best hair outliner is the Wahl 9686-300. This one is a value-packed and a great clipper, which will cater to your everyday edging needs. For professional stylists and barbers, we recommend the Wahl Professional 5-Star Hero #8991. It is one of the top outliner clippers for professionals and is known for its reliability, versatility, and performance.