8 Best Outliner Clippers: Tips For A Flawless Edge and Buyer's Guide Included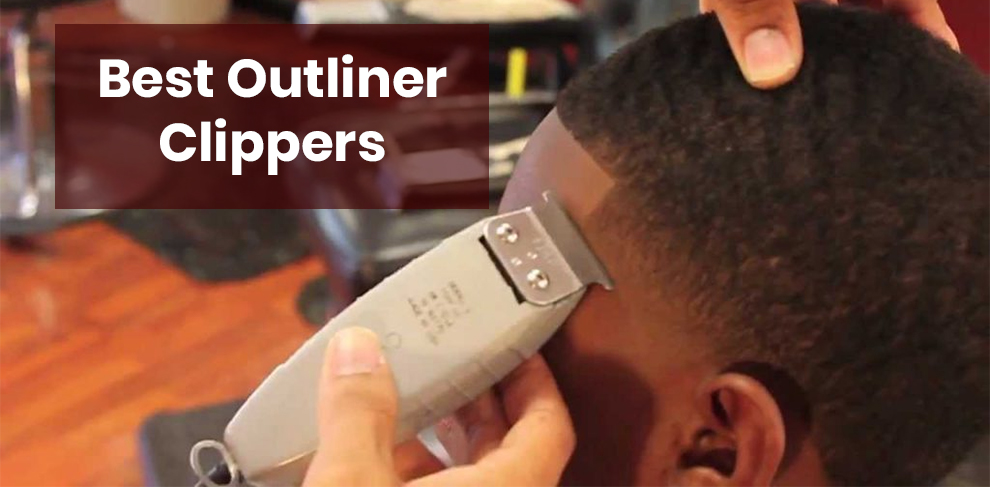 Everybody enjoys their trip to a barber and walking out with a fresh, clean look. What if we tell you that you can get the same look from the comfort of your homes? All you have to do is to get your own set of outliner clippers from the large variety of best hair outliners available in the market.
Now, the problem is to select the best hair liner clippers from the available products. Well, how do you make your pick? For first-time buyers, the vast choices can be a bit overwhelming. So, you may naturally have tons of questions in your head. We understand the position that you may find yourself in. Thus, to help you make a choice, we have come up with a list of 8 best hair liner clippers. You can browse through our list and make an informed decision.
At A Glance: Best Hair Liner Clippers
Quickly Navigate Through The Best Liner Clippers
Top Outliner Clippers
Top Outliner Clippers
1. Andis Professional T-Outliner 04710 – Lightweight and Powerful
Andis is one of the brands known for manufacturing the best liner clippers and T-Outliners. Over the years, with one great product after another, the brand has become synonymous with T-Outliners.
So, the first item on our list Andis Professional T-Outliner 04710. It is 1.75 x 1.5 x 5.25 inches in dimensions and has an incredibly light weight of no more than 11.2 ounces. These are the best clippers and liners you can have as they are equipped with an eight-foot power cord. You no longer will have to worry about standing next to an electric power source and use them.
It is an ideal item for dry shaving, outlining, and fading. The magnetic motor used in this outliner yields around 7200 strokes per minute. Thus, it gives you a cleaner cut, which is very well-controlled. You don't have to worry about ingrown hair caused due to improper shave.
Another notable thing about these clippers is that they do not yield a lot of noise, nor do they generate annoying vibrations. The fine teeth on these clippers are spaced close to one another to provide you with a precise cut every time. This is why we have included these clippers in our list of best hair liner clippers.
These liner clippers have Carbon steel blades. This keeps the blades quite sturdy and sharp. The blades of this best hair outliner are so efficient that they tend to self-sharpen themselves with every pass. With these blades, you can produce a zero-gapped cut even when the hair is pretty short. It also comes with a blade oil so you won't have to buy it separately.
The design of this clipper also makes it a strong contender for best hair outliner. The lever turns the power on in moments, and it offers a single speed, which stays persistent through the cutting process.
These top outliner clippers come with grooved materials around the housing, ensuring that you can avail of a comfortable grip running without risking the trimmer from slipping out of your hand.
A significant aspect of this T-Outliner blade is that it is firm. So, it would not bend much. You can use it effortlessly to get around the back part of the neck, around the ears, and the back. It is quite likable to see how the design works along the hair edges to yield a precise cut.
The abundant features and ease of this clipper surely makes it the best hair outliner there is.
One of the concerns we have with this otherwise best liner clippers is that it has only one single speed option. It would have been much better if it came with specialized settings for specific areas as per the need.
Secondly, a few users have reported the case of overheating after first few uses. Some have also received damaged products, so it is best to be cautious and order it online from trusted platforms only.
Key features
8-foot durable long cord
Carbon steel blades
Body with comfortable grip
Best liner clippers for all-around dry-shaving, outlining, and fade (professional & home use)
Pros

Quiet and powerful motor
Made in the USA
Great for dry or normal shaving or a close cut
Perfect for someone with sensitive skin
No redness, skin irritation, or nasty rashes
Comes with a blade oil
Strong cutting, sharp blades
Perfect for precision work, including; fading and trimming necks, beards, moustaches, goatees, sideburns and edging around ears.

Cons

Compared to several other trimmers, this one seems expensive, but for $60, you get an all-in-one professional trimmer.
Cooling spray mandatory because the blade tends to get hotter after 10 minutes of continual usage.
Less number of included accessories
120 Volts supply only. So, for usage outline Canada or North America, you will need a transformer
2. Andis 01557 – Overall Best Hair Outliner
Best Overall Hair Liner Clippers

Next in our list for the top outliner clippers is the Andis 01557. It would not be wrong to say that this one is the best-overall clipper. The high-performance clipper is indeed one of the best outliner clippers and will help you with your overall professional styling, personal tapering, shaving, and cutting needs.
It has a durable unbreakable aluminum body and roughly measures around 2X1.75X6 inches. The housing is also light weighted and the clipper weighs around 1.25 pounds. This device can easily be operated at the click of a thumb. It has a side switch that supports one-hand on and off operation for ease of use.
Being one of the best liner clippers with a cord, it has a powerful magnetic motor, which can fetch you a high speed of around 14,000 cutting strokes per minute. This can help you avail of fine cuts and good precision every time.
Another thing that makes it a strong participant in the best hair outliner race is its zero gapped blades.
These blades are adjustable from 000-1 within nanoseconds. Hence, you can conveniently use them for multiple hair lengths.
We quite did not like one thing about this otherwise best outliner clipper that is it does not come with blade guide combs like its counterparts.
Tip – Please oil before every usage. Also, before beginning to use these best outliner clippers, you should refer to the manual that you get.
Key features
Best outliner clippers for all-around tapering and cutting.
Side switch for one hand control
Zero-gapped blade adjustable from 000-1 within seconds.
Magnetic motor with 14,000 strokes per minute.
Lightweight and unbreakable aluminum housing
Pros

Super-powerful, high speed motor
Easy to operate
Best liner clippers with adjustable blades
Great and durable build quality

Cons

Blade guides not included
3. Wahl 9686-300 – Best Budget Liner Clipper
Best Hair Liner Clippers (Budget Buy)

Next in our list of the best liner clippers is the Wahl 9686-300 – a personal favorite for professionals. It is one of the most pocket-friendly compact clippers on our best liner clippers list. It is 3 x 5.91 x 9.92 inches in dimension and 1.13 Pounds in weight.
This best hair outliner will help you get a crisp, clean, and a sharp edge because it is engineered with Wahl's renowned zero-overlap T-style 0.2mm carbon steel blades.  These blades are self-sharpening hence require little to low maintenance as well.
Being the best hair outliner, you also do not have to worry about razor bumps while you use this clipper. It comes fitted with a high-torque rotary motor and will always deliver a bump-free trimming experience.
The multipurpose outliner's diverse grooming kit allows edging of beards, mustaches, ear and nose hair.
With this best hair outliner, you get 12 individual blade guides, which means you will get 12 different cutting lengths.
However, users have reported some performance issues with thick & coarse hair. Another area where it can improve is the blades which is not an adjustable one. Lastly, once you decide to buy this model, make sure you buy it from a trusted source and seller as people have reported receiving a used clipper in their package.
Key features
Carbon steel zero-overlapping self-sharpening blades
2 mm blades
High-torque motor
Bump free super-close shave
12 individual blade guards & guide combs
Attachment combs range from short (1/8") to long (1")
Pros

Very affordable
Bump-free trimming
Blade optimized for clean edging
Comes with blade guides

Cons

The blade is not adjustable.
May struggle with coarse thick hair
4. Andis 04775 GTX T Outliner
Next in our best liner clippers list is the Andis T-Outliner. It is one of the best liner clippers and comes with a magnetic motor ideal for dry-shaving, outlining, and fading.
It is 7 x 3 x 10 inches in measurement and weighs around 11.2 Ounces. The perfect contouring on its body provides a good grip and hold. The eight-foot cord of these best liner clippers will offer you the requisite convenience while using them as well. This is a complete package with blade oil and 4 attachment combs.
The magnetic motor of this clipper triggers the carbon steel blades and gives around 7200 strokes per minute, but remains quiet. These blades are deep-tooth pieces, which cut through even the roughest bits of hair in only a few seconds making these clippers qualify for the best liner clippers list.
Another feature that the best hair outliner should have is a comfortable design for ease of use. This clipper has it all providing better control over the skin.
However, one thing that we would like to point out about this one of the best hair outliners is that its lack of speed options may speed problematic to some. We would have wanted something which worked at different speeds for rougher areas.
Also, the overheating issue faced by some customers cannot be completely ignored while making a purchase.
Key features
Comfortably fits into the hand because of contoured housing
8-foot-long cord
Magnetic motor
Zero gapped carbon steel trimmer blades
Pros

High quality
Easy to use
Powerful motor with 7200 strokes
Comes with blade oil and comb attachments

Cons

Gets hot if used for a long duration
Tricky to zero-gap the blade
Heavier than some of the other best outliner clippers
5. Wahl Profesional 5-Star Detailer  – Model 8081
Best For Professional Use

This stylish detailer is 5 inches long and weighs about 6.9 Ounces. It is fairly lighter and more compact than most of its counterparts. These are the best outliner clippers meant for professional use owning to its ease of use. It will also increase the beauty of the space because of its aesthetic appeal. Comprising a strong motor, these best outliner clippers will always deliver the expert performance. The wide T-blade also provide you an extremely close and neat shave with clean lines.
You get this model with three attachment comb guards, a cleaning brush, oil, and an 8-foot cord for easy maneuverability.
This detailer clipper belongs to the brand's top-of-the-line best liner clippers. Its machine is quite similar, but the Pro is a bit on the cheaper side. Thus, if you are serious about barbering and need an edge, which will last you forever, this can be a good pick.
Beinga personal hygiene item, we suggest you buy brand new piece and not a refurbished one.
Key features
Extremely lightweight (6.9 ounces) and compact (5"long). Fits in well within the palm of your hand.
Added advantage is its appealing aesthetics
Works with precision, ideal for lining and a clean look
Works on a rotary motor at 120V/60Hz
Complementary accessories are also included in these best liner clippers, for instance – 3 extra wide T-shaped trimming guides (1/16″, 1/8″ and 3/16″), a trimmer, cleaning brush, blade guard and oil.
Instruction manual included in the package.
8 foot power cord
Pros

Best outliner clippers with powerful rotary motor
Sharp blades
Stylish looks
Crisp, sharp outlining
Very lightweight

Cons

If not careful, you may cut your skin
Can cause skin irritations
Guard compatibility issues
6. Wahl Professional 5-Star Hero #8991
Your search for best liner clippers ends with Wahl. The Wahl 5-Star is an excellent product best suited for professionals giving an excellent cut with each use. It roughly is 4.25" long in dimensions and weighs 4.6 oz only. It is again a corded clipper with 8 foot long power cord
The electromagnetic motor used in these best liner clippers has fewer moving parts. The compact design of these best liner clippers enable you to deliver a quick styling session. Along with the compact size, the clippers body is designed as such to give the maximum comfort grip.
The multiple accessories included with this clipper include: three guards (1/16″-3/16″), the trimmer with a cleaning brush, blade oil, and an operational manual.
Honestly, these best outliner clippers' fast motion was indeed one of the nicest features for us. Users only have good things to say about this product.
However, it is available for sale in the US only, as for now.
Key features
Amazing for professional use
Ideal for lining and precision cuts
Compact size that fits in your palm easily
Corded yet powerful
Best liner clippers with ample accessories
Chemical-resistant cord
Standard electromagnetic motor, which operates at 120 Volts or 60 Hz.
For sale in the US only.
Pros

Stylish and functional
Heavy duty durable built
Comes as a complete package
Fits perfectly in the hand
Lightweight
Compact

Cons

Motor issues
Available only in the US
7. Wahl 9818 – Battery-powered Best Hair Liner Clippers
Best Battery-Powered Liner Clipper
Although listed at number 7, this clipper is no less than any other item. With a rating of 4.4 this is another worthy item in the best outliner clippers category.
This item measures 1.25 x 1.38 x 6.25 inches and weighs around 0.8 Pounds. The first feature to highlight about this product is that it is cordless and battery operated. Being one of the best cordless outliners, it comes with a stainless steel body and self-sharpening  blades.
One of the primary reasons for this being the best cordless outliner is that it is incredibly versatile. It is the best cordless outliner because it is the complete package for your grooming needs. With Wahl 9818 you can easily shave, trim, cut and detail, all of this with just one item.
Another reason for including this item in the best cordless outliners list is the accessories you get with this one. You get four clipper heads – a precision T-blade, a detail shaver, a detail trimmer, and even an ear, nose, and eyebrow trimmer. It even has 12 attachment guards.
What more should the best cordless outliner have? A good battery life, indeed! Well, this item works well for 6 hours after a 1-hour charge. It also has a quick charge feature of 1-min with 3-min runtime for emergencies. It works on dual voltage i.e 110v and international 220 volt.
Another thing that makes this the best cordless outliner is its self-sharpening stainless blades, which indeed are quite a reason for the inclusion of this trimmer in our best liner clippers list. The blades are long-lasting, unlike what you get with most clippers.
Your best liner clippers also have a smart LED Charge Indicator. It indicates when the device is on charge and when the charging is complete.
Key features
Versatile and performance wise one of best cordless outliner
Powerful lithium-ion battery
Best liner clippers with a runtime of 6 hours after 1-hour charge
Emergency 1-min charge for 3-min runtime
Complete grooming kit
Self-sharpening blades
Dual voltage supported (110V and 220 V)
Pros

Lithium-ion battery with a long backup
Superior grooming kit
Versatile
Supports dual voltage
Cordless
Comes with multiple handy attachments
Self-sharpening blades
Multi-purpose edger

Cons

Not usable while charging
On-off switch could be made better
8. Oster Fast Feed Adjustable Pivot Motor Clipper

Last in our best outliner clippers list is the Oster Fast Feed Clipper. This weighs around 1 Pound and is 6 x 3 x 10.5 inches in size. Fitted with a pivot motor this is a powerful clipper available in 7 color variants.
With its Fast Feed Adjustable Pivot Clipper, Oster has introduced the Whisper-Quiet pivot motor. The motor of these best liner clippers keep the noise levels to a minimum and performance to a max.
What more? With the ergonomic design and textured body of these best liner clippers, they are quite easy and comfortable to use.
Furthermore, because of a powerful motor these best outliner clippers can cut through both wet and dry hair. Being a strong contender for best outliner clippers these come with cleaning accessories, 4 guide combs (1/4″ – ½"), oil, as well as a tangle-free 8-foot power cord. It has adjustable steel blades – size 000 to 1.
Though these best outliner clippers make relatively less noise than the Classic 76, they do struggle with thick, coarse hair sometimes. While using these clippers, do not move back and forth; keep it one directional for best results.
Key features
Powerful & quiet pivot motor
Steel blade, which adjusts between size 000 and 1
Textured housing for easy grip
Cuts through wet and dry hair
8 foot power cord
Includes Blade Guard, Oil, and a Cleaning Brush
Pros

Powerful and a quiet motor
Multiple color variants for more choice

Cons

Is a bit heavier as compared to the other best outliner clippers in our list.
Doesn't work on dual voltage
Things You Need To Consider When Shopping For Best Hair Liner Clippers
To ensure that you make the right choice and always end up buying the best hair liner clippers, we have come up with a few features that you need to bear in mind when on the hunt for the best hair outliner.
Brand of Choice
The functionality is a vital factor for your best hair outliner. However, this doesn't mean that you should not consider the brand. Brand is something you should consider first and foremost. Choose a brand that you can personally connect & relate to.
Type of Blades
The blades used in a clipper is of utmost importance for a good shaving experience. Try to pick a clipper that has self-sharpening blades. You should also check if the blades have adjustable settings and what is the range of sizes it cuts through.
You should also be on the lookout for the blade material, which can be anything from carbon steel to stainless steel. The best clippers and liners in our above list have a mix of both.
However, you need to note that the carbon blades are more prone to corrosion and rusting. This isn't something you expect from the best hair liner clipper. So choose wisely!
Guards/Comb Attachments
Every shaver has his own needs and a preferred length while cutting. Make sure you pick the clipper that comes with multiple guards for varied lengths. This way you can try multiple styling lengths at ease.
Motor Type and Strength
The best clippers and liners are equipped with a powerful motor, which assures consistent power while simultaneously making it easy for you to perform the job thoroughly. The more power the motor is the greater strokes per minute you'll get.
There are multiple options ranging from rotary motor, pivot motor, electromagnetic motor etc. Out of the three, the rotary motor produces the max power making it usable for bulk hair cutting. Magnetic motors are compact and good for regular hair cutting. Actually, anything above 7200(SPM) is regarded as a sign of a strong motor.
Versatility
The best outliner clippers should be versatile. You should check for yourself what all clipper is capable of doing. The more styling you're able to do with one clipper, the better your device is. Look for the accessories and attachments you get with the clippers as they will assist you in making the most of your clipper.
Corded or Cordless
You get both corded and cordless clippers in the market while searching for the best outliner clippers. Analyse your usage and pick one from the two. Even the top outliner clippers when corded, restrict you to move around freely. Though there is a long power cord with most of them, you still have to keep in mind the wire tangling issues and remain close to a power source.
With the best cordless outliners you have the advantage to use the device anywhere provided it is fully charged. But once the battery gets drained, you will have to put it back on charge and wait till then.
Design
The design of your best hair liner clippers should have an easy to use ergonomic design. It should have a good and safe grip that does not cause hand fatigue.
Maintenance
Best clippers and liners are always easy to maintain. So, conduct in-depth research when shopping to understand the maintenance and cleaning functions of the trimmer and then pick your best hair liner clippers. Pick a trimmer only after reading the reviews of the customers. Have they experienced any maintenance issues? If not, that can be a good steal.
Tips To Maintain & Use Your Best Outliner Clippers
Creating perfect edges and lines with the best clippers and liners just like anything else takes a good share of the craft's dedication and practice. Here are some things that may be helpful for you as you start the trimming and edging process.

Have a starting point and work through the hair gently.
Have an image in mind what you exactly want to achieve.
Ensure that it is all even after the trim.
Keep your clippers clean using a brush .
If you have waterproof blades, wash it under running water to clean.
Regularly oil the blades, if needed.
Always use a sharp blade to avoid razor bumps.
Use the comb attachments for a fine cut.
Do not leave your appliance unnecessarily switched on or connected to power.

Related Read: Trimmer Vs Clipper Comparison

Conclusion: Which Are The Best Outliner Clippers?
Our review of the best clippers and liners puts forth the most value-packed tools for both professionals and individuals. The list includes both the best cordless outliners and the corded ones. You can employ them for shaving, contouring, trimming, edging, and a lot more. Read the pros & cons of each item carefully and make your pick. The buying guide mentioned above will also assist you in looking out for the features which should be there in the best outliner clippers.